Kim Kardashian Fans Are Calling Her Video With Her Kids Narcissistic
Say what you will about Kim Kardashian, but she certainly wears a lot of hats. For better or for worse, the Keeping up with the Kardashians star has built an empire for herself. The 38-year-old keeps herself busy with an app, a fragrance company (KKW Fragrance), a beauty line (KKW Beauty), and recently, a new line of shapewear (skims). But, perhaps what keeps Kardashian the busiest is raising her four kids, her eldest, North West, Saint West, Chicago West, and her youngest child, Psalm West.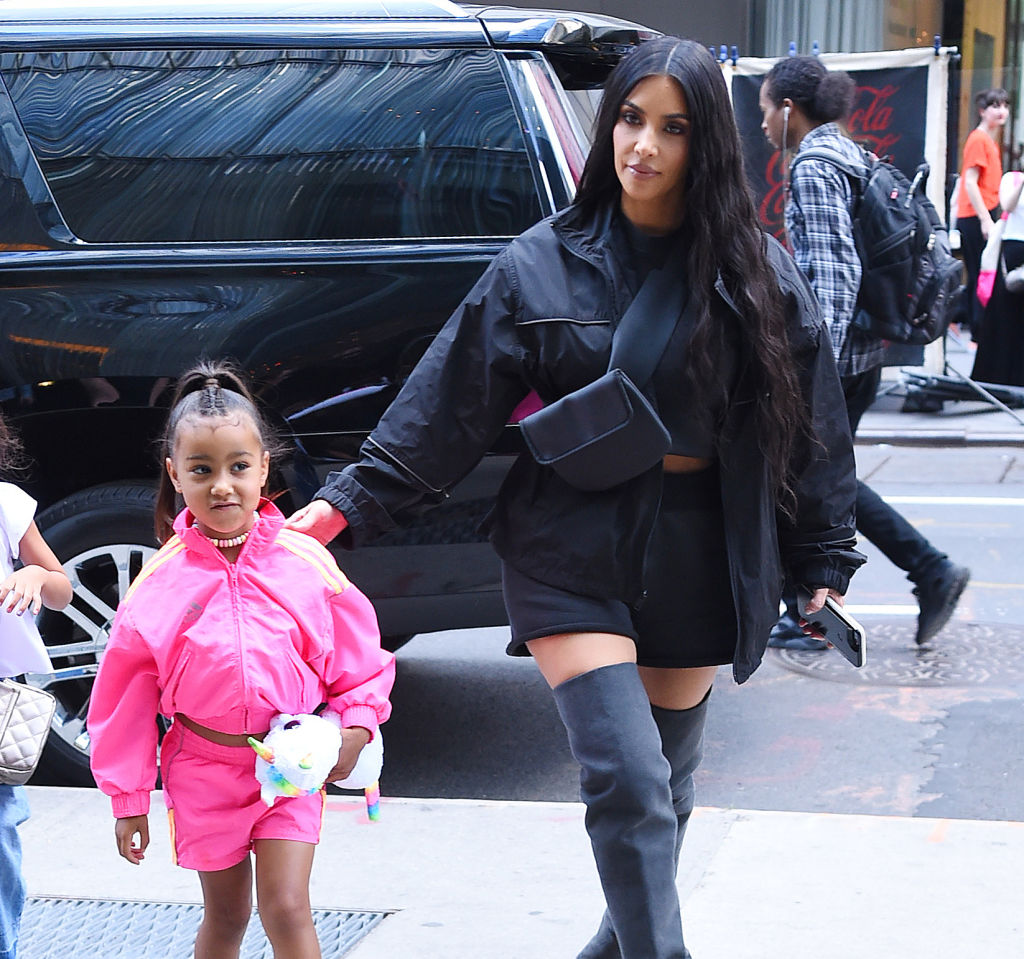 Being a mother is no small feat and remains that hardest and most thankless job across the globe. Being a mother of four children, all aged six and under makes thing even more challenging. Though Kardashian is rich and famous and has more help with her kids than most people, it's still a challenging job. Kardashian also recently admitted that her husband, Kanye West, is currently in a phase where he won't allow any outside help with raising their kids. Of course, this probably makes things a lot more difficult for the reality star.
Kim Kardashian posts a video with her kids
Kardashian recently gave her fans a glimpse as to what it's like raising her four kids. Taking to her Instagram page, Kardashian posted a video of herself spending time with her three kids. The video shows her adorable kids interacting with one another and their mother. Kardashian also asks her kids to tell her how much they love her. What is a seemingly innocuous, albeit cute video, quickly garnered negative feedback for Kardashian.
Instagram users are calling the video selfish
For whatever reason, some fans and critics alike were instantly put off by Kardashian asking her kids to tell her that they loved her. They found the behavior egotistical, selfish, and even narcissistic and were far too happy to express their opinions. "YOU sound so selfish in this video. YOU shouldn't ask your kids how much they love YOU. YOU should tell your kids how much YOU LOVE THEM. So they can learn to love themselves first and then others," one Instagram user wrote.
"I'm confused as to why she is asking them how much they love her and not once did she tell them she loved them…..seems like she is a little narcissistic and needs her ego stroked. Sad to me," another fan chimed in. One "perfect parent" even spoke to their own parenting experience to mom-shame Kardashian. "Shows insecurity when you have to ask esp lil kids how much you love me. When my kids were little I had to peel them off me when I walked in a room," they wrote.
Kim Kardashian is mom-shamed
Other Kardashian critics were concerned with how much Kardashian seems to be looking into the camera rather than at her kids. "It's sad all Kim's concentrating on is the camera, let's make sure the angle is right and my lips are pursed lol kids are gorgeous tho," one Instagram user wrote. "Kim can't take her eyes off the camera and look at her kids. She has to always be posing," another chimed in. "Tell me how much you love me while I stare at myself," one fan wrote facetiously.
Other people seemed to believe that Kardashian wasn't looking at her kids because she is obsessed with her own image. "Kim…your children are gorgeous but would love to see you actually in the moment with them instead of posing for the camera. You are beautiful, I promise you don't have to keep checking," one person wrote. "She only briefly looks at one of the kids breaking the intense stare at herself and the duck lips pose," another Instagram user chimed in. "But y is she looking at herself in the video and pouting her lips more instead of actually playing and paying attention to her kids," one fan questioned.
While we won't deny that the KarJenner sisters seemed to be obsessed with their appearances, we hardly think that Kardashian deserved to be mom-shamed over this video. As is the nature of most self-recorded videos, people look at the camera rather than at each other. We're sure Kardashian spends loads of time with her kids giving them her undivided attention. A one-minute clip of herself posing with them for the camera probably isn't going to do them any harm.