Kim Kardashian & Kylie Jenner Just Teased A Collab & Fans Are Pissed
For better or for worse, we are living in the era of the KarJenners. It seems that unless you are living under a rock, you can't escape the famous family. As the years pass, the stars of Keeping Up With The Kardashians somehow manage to find themselves in the spotlight again and again. However, despite the intense obsession that the wold seems to have for the sisters, they also face a great deal of scrutiny on a daily basis. Now the two most popular sisters, Kim Kardashian and Kylie Jenner, are under fire after announcing their latest collab.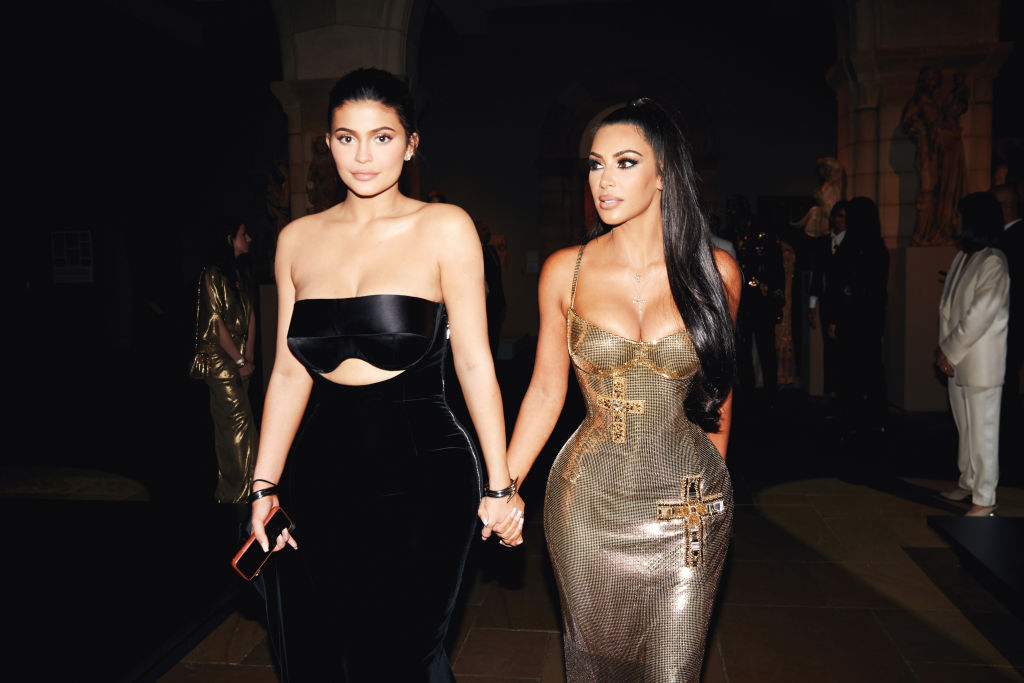 Though Kris Jenner has worked her managing magic on all of her daughters, none are as successful as Kim Kardashian and Kylie Jenner. The youngest Jenner was recently named the world's youngest billionaire by Forbes for her cosmetics empire. Meanwhile, Kardashian has been accruing success for years with multiple different businesses including a beauty line and an app. Say what you will about the KarJenners, but they certainly know how to market themselves well.
A family affair
One of the things the KarJenner's do exceptionally is capitalize off of one another's success. The sisters are constantly collaborating with each other to increase their fan base and their revenue. For example, Kylie Cosmetics recently collaborated with Khloe Kardashian (host of Revenge Body) on the KOKO collection. It seems that diehard KarJenner fans truly love when the sisters work together and this is especially true of Kylie Jenner and Kim Kardashian. But this time, when the pair announced an upcoming collab, they managed to piss off quite a few of their fans.
KKW Beauty X Kylie Cosmetics
"You thought we forgot about you??? KKW X KYLIE perfume coming August 23rd!!!! Check the @kkwfragrance page for more details," Kardashian wrote on her Instagram page to her 145 million followers. In the picture, she and Jenner are seen holding up perfume bottles shaped like lips. Kardashian is sporting a duck face, while Jenner is holding up her middle finger in the photo.
Giving fans the finger
People immediately took offense to Jenner's decision to raise her middle finger. Fans felt that the 21-year-old mom was setting a bad example for the young girls who follow her and idolize her. "Disappointed in Kyle for giving the bird and having her product in hand. Not wise. Should have been more positive for the young women spending their parents' money for her cosmetics," one fan wrote. "Why they do the middle finger for?!Totally low class I don't get it. Beautiful women…mothers acting like this! Attention seekers," another fan wrote calling out Kardashian also.
A question of professionalism
Another fan called Jenner's professionalism (or lack thereof) into play following the photo. "Why the middle finger tho? So uncalled for! Why would you be introducing a new product and be giving your audience such rubbish? So who's gonna buy then? Or you really don't care? This is soooooo unprofessional! You need to go learn some manners," the Instagram user wrote.
KarJenner fans to the rescue
Of course, there were a few fans who were quick to rush to the defense of Jenner. "I don't think she means it in an offense way at all, think she's just messing around whilst having her pic taken ppl r always so quick to turn a positive post negative," the fan wrote.
Another fan noted that giving someone the finger isn't as disrespectful as fans were making it out to be. "My God people flip people off every day. It's not that serious!! It's a cute pic in my opinion. I flip my trainer off when he makes me stay on the elliptical longer. He laughs and says he lives for that and my eye rolls. We all just need to calm down and stop taking everything so personal and serious," the sympathizer wrote.
The bottom line
Honestly, we think people can relax a little in this situation. In the KarJenner realm, a middle finger is pretty dang tame given the number of inappropriate things the family has said and done over the years. At the end of the day, getting riled up over one middle finger isn't going to affect Kardashian or Jenner's bottom line in any way. But if fans are really that upset, their best chance of making the KarJenners feel their disdain is ignoring them altogether.