Kim Kardashian Takes Heat From Fans Over Her KKW Beauty Posts
Kim Kardashian is slowly but surely following in the footsteps of her sister, Kylie Jenner. Jenner, who owns Kylie Cosmetics, was the first of the family to have her own makeup line, but Kardashian followed suit and has since launched KKW Beauty. She's been spending a lot of time on social media highlighting her products, but fans have started to give her heat for some of her posts.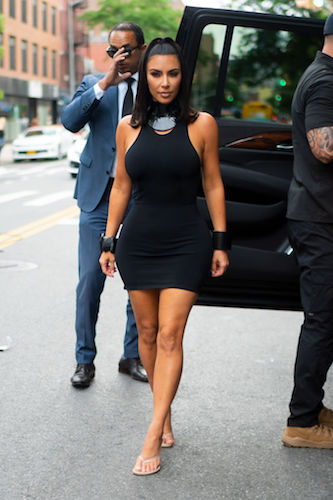 Kardashian launched KKW Beauty in June 2017
Growing up, Kim Kardashian was always the one in her family that everyone wanted to be. She was a model and had hit a level of fame that no one in her family had achieved yet. But as the Kardashian-Jenner family grew up, they started to go their separate ways a bit and take on business ventures that were far different from modeling. While Kendall Jenner still makes most of her money as a model, Kim, Kourtney, Khloe, and Kylie have all taken on different ways of providing for themselves. Kylie Jenner launched Kylie Cosmetics in 2015 in the form of Kylie Lip Kits, all of which sold out in minutes. She's now the world's youngest self-made billionaire. And Kim Kardashian didn't wait long to follow in Jenner's footsteps. In June 2017, she launched KKW Beauty in the form of contour kits that also sold out in no time.
Some think Kardashian is trying to come after Jenner's success
Though Jenner and Kardashian offer different things in their makeup lines, some have accused Kardashian of trying to steal her younger sister's success. It wasn't until Jenner's cosmetics line took off that Kardashian decided to come out with one of her own. But Jenner quickly became known for her lips, which explains why she started with lip kits, while Kardashian has always been known for how she contours her face, which explains why she came out with a contour kit. But now, KKW Beauty seems to be giving Kylie Cosmetics a run for its money.
Fans think Kardashian is posting too much about her beauty line
Kardashian, like any business woman, wants to promote her products as much as she can. But some fans have had it with how often Kardashian is posting about her beauty line. She recently posted a photo of sold-out products, and fans jumped down her throat about posting yet another KKW Beauty post rather than something about her family or friends. Some felt Kardashian's Instagram has been entirely taken over by her beauty line; some commented that they were tired of seeing her beauty posts and wanted to see adorable photos of her children.
Kardashian later deleted the post  
Kardashian has been known to delete photos that see major backlash. Sure enough, the day after she posted the KKW Beauty photo, she deleted it. Fans who went back to check the August 18 post found that by August 19, it was gone. Kardashian then posted a photo with her sister, Kylie Jenner, promoting her new fragrance line (the two collaborated for some of the scents). However, fans quickly noticed that Kardashian had six toes on her left foot in the photo, which naturally opened her up to just as much criticism as the previous post.