Kim Kardashian Reveals What Kind of First Impression Kanye West Made on Her
It's kind of hard to imagine a world in which Kanye West and Kim Kardashian aren't a couple. Since the pair started dating in 2012, their lives have been incredibly in sync. Their developing relationship has also been available for all the world to see through the promotion of their professional projects and on the popular reality show Keeping Up with the Kardashians.
Recently, Kardashian opened up about her relationship with West—to West himself! She was interviewed by her husband for a Vogue Arabia cover story, and some of the tidbits she shared reflect her feelings about West and how they have developed over time.
Kanye West and Kim Kardashian met before they started dating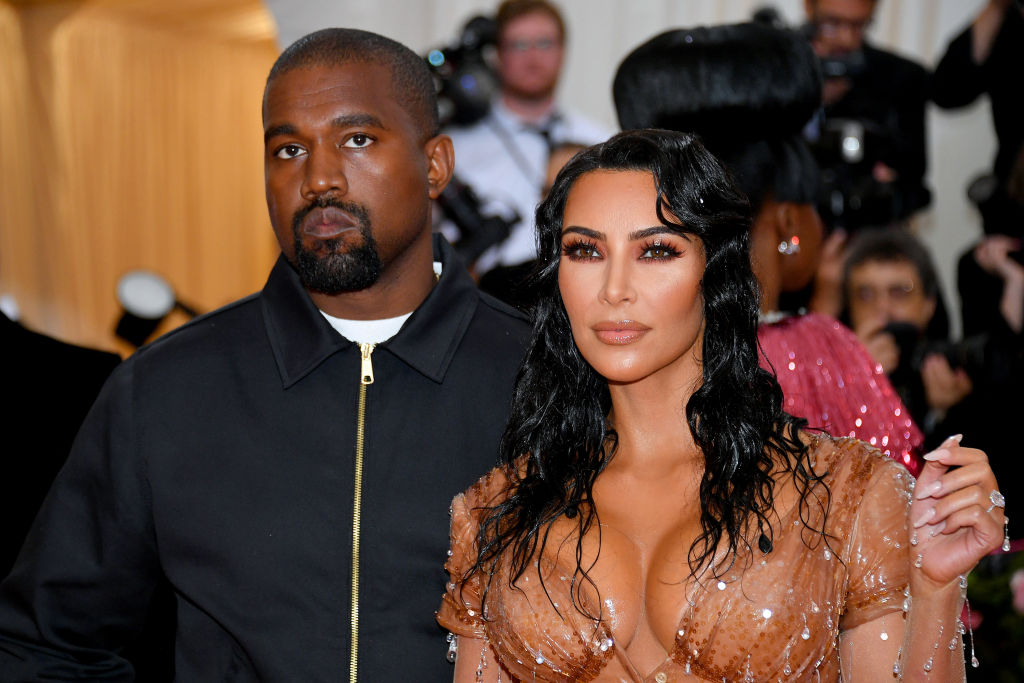 While Kardashian and West officially started dating back in 2012, they had met quite a while before that. They were first acquainted sometime in 2002 or 2003. Kardashian was spending a lot of time with her friend Brandy, who was recording a song with West. Kardashian accompanied her friend to the studio a few times, and it was there that she first bumped into the rapper.
Kardashian was really shy around West, and he apparently mistook her for Brandy's assistant. Both West and Kardashian were in relationships at the time, and neither pursued getting to know the other much more closely at that point. However, West did leave a lasting impression on Kardashian.
Kim Kardashian was "in awe" of Kanye West
Speaking about the way she felt when she first met West, Kardashian had nothing but glowing words to say. "I thought you were attractive, nice, very charming, really funny, powerful – I was in awe of you, but I was really shy, quiet, and a little nervous, to be honest," she explained.
It wouldn't be until several years later that the two would begin talking more intimately. It seems the pair began getting close before Kardashian's divorce following her very short marriage to Kris Humphries was official. Kardashian expected West to call her as soon as news of her marriage ending was made it's way to him. When he didn't, she took the initiative to call him instead. Then, in 2012, West and Kardashian had an official date, and Kardashian was sure West was the one for her within a week.
Kim Kardashian's family approved of Kanye West
In 2013, West and Kardashian had their first child, a daughter named North. The following year, they were married in a private ceremony in Italy. West was marrying into a very famous family that was always in the spotlight for their dramas and feuds. While most people might find that intimidating, West seemed to take to the situation well.
Kardashian's family is very supportive of the pair's marriage and say that West and Kardashian are extremely compatible and caring for one another. Kardashian's sister Kendall Jenner calls the pair "couple goals" while her other sister Khloe Kardashian has referred to West as her sister's "soulmate."
With the support of the family behind them, West and Kim Kardashian have continued to grow their family. Kardashian gave birth to a son named Saint in 2015. Following medical advice for Kardashian not to have any more pregnancies, the pair turned to a surrogate to have a daughter named Chicago and then later another son named Psalm.
Today, motherhood keeps Kardashian very busy: She notes in her interview with West that she had to give up a lot of her social life and fun with friends because of the demands of having young children to care for. She is also buckling down to focus on her new pursuits in law school while standing beside her husband in his own musical and fashion projects. The pair certainly stay very busy, and they seem to have found a strong force in one another to help propel them forward.