Kim Kardashian Is Slammed by Fans For A Recent Video of Her Daughter
Kim Kardashian is one busy mother. Between running KKW Beauty, filming her reality show, and recently welcoming her fourth child via surrogate, Kardashian undoubtedly has her hands full. But she still takes the time to make sure her kids are enjoying themselves and having fun in life. However, a recent video she posted of Chicago has been taking some major heat from fans.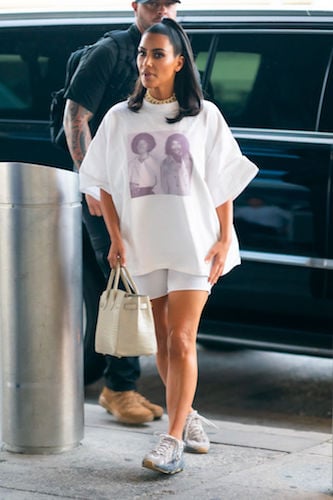 Kardashian and Kanye West recently welcomed their fourth child
Kardashian celebrated five years of marriage with her husband, Kanye West, back in May, right around the same time the couple welcomed their fourth child, Psalm, via surrogate. Kardashian and West have said on a few occasions that they want a large family. Last season on Keeping Up With the Kardashians, Kardashian told a friend that West wants the couple to have seven children. Though Kardashian didn't seem entirely on board, it wouldn't surprise anyone if the two announced baby no. 5 sometime soon. Since becoming a mother, Kardashian has turned her career to focus almost solely on her beauty line while raising the four kids.
Despite being so famous, Kardashian seems like a very hands-on mother
Kardashian consistently posts photos of her children to Instagram, and she isn't shy about showing them off. While some celebrities prefer to keep their kids under wraps, the Kardashian-Jenner family has grown up in the spotlight, so it probably doesn't faze Kardashian to place her children in the same spotlight. Her daughter, North West, already seems to have adjusted well to her parents' fame.
Fans gave Kardashian flack for a recent video of Chicago playing with a snake
Kardashian recently posted a video to Instagram of her third child, Chicago, playing with a snake. The snake is wrapped around her neck, and she appears to be enjoying herself while playing with it. However, some fans called Kardashian out for not reprimanding her daughter's behavior with the snake. "She was grabbing that snake too hard, [I know] she is a kid that's why I'm mad, it's not for the kids safety but more for the snake," one user commented. It received around 600 likes. "Isn't she being a bit rough with that snake? Poor thing," another user wrote. "She is holding the snake way too tight poor snake needs to be able to move around she could have hurt it," someone else wrote. Fans didn't love seeing the way Chicago treated the snake, and Kardashian didn't seem to do anything about it.
Other suggest the video showed Chicago's bravery
Though there were definitely some negative comments on the video, others were entirely amused by Chicago's interest in the animal. "She's crazy!" Khloe Kardashian commented. "I can't believe she handled that snake like that!!!" Lala wrote. "Infinitely braver than me," Simon Huck wrote. Plenty of Kardashian's friends were impressed with Chicago's calm-yet-excited nature of playing with the snake, and most people agreed it's not something they would ever do.
Kardashian has done her best as a parent, though she has taken some heat in the past for some of her parenting moves, such as allowing North to look too grown up.