Kim Kardashian West FaceTimed Chris Harrison During 'The Bachelor' Season Finale to "Get All the Tea"
Just like many of us, Kim Kardashian West loves watching reality television shows — especially ABC's The Bachelor.
Since the very first episode of Peter Weber's season, the Kar-Jenners have tuned in each week to get their dose of Monday night drama.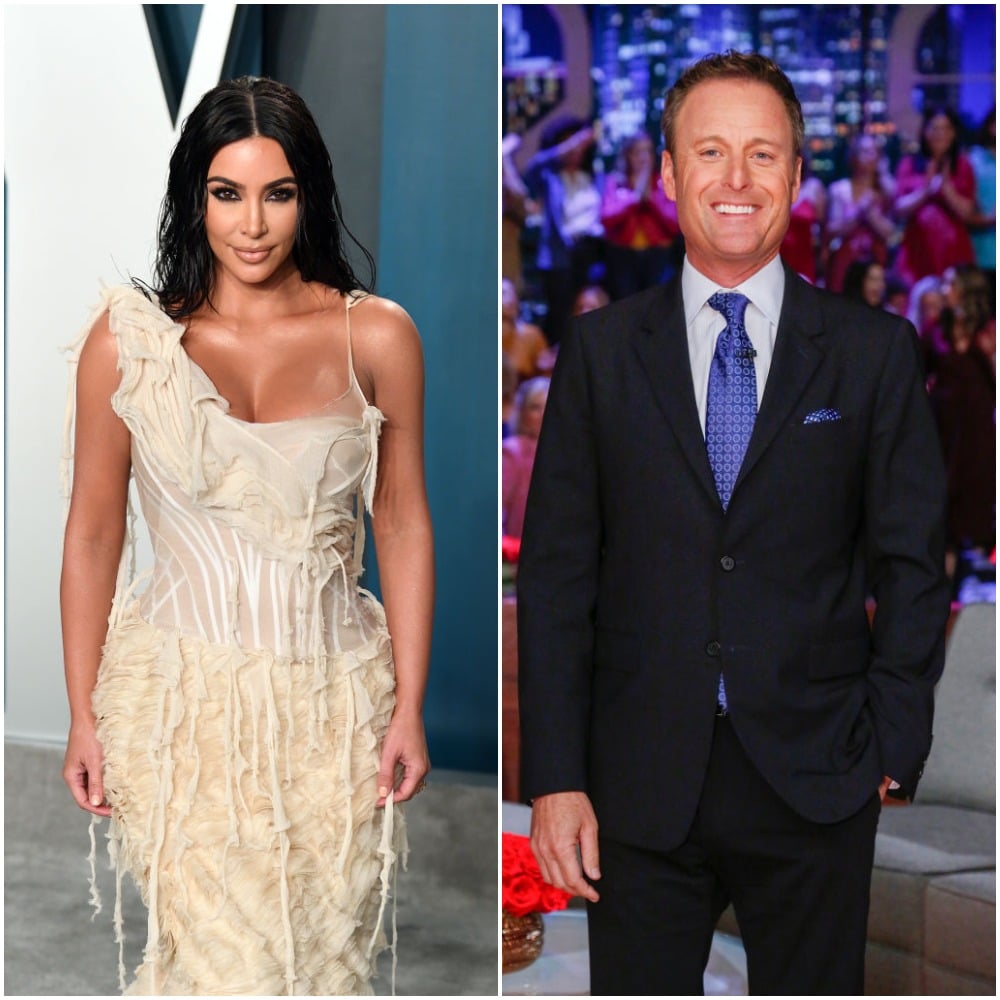 As the season's progressed, the drama has gotten even more intense. So much so that Kardashian West recently reached out to Bachelor host Chris Harrison to get an inside scoop on the behind-the-scenes details because, of course, she can.
Harrison is one of Kardashian's many celebrity contacts
Kardashian West may be buddy-buddy with many A-list celebrities, but one person we were not expecting her to be such close friends with is Bachelor host Chris Harrison.
Much to our surprise, Kardashian West and Harrison are great pals and recently proved that they're a lot closer than many would have guessed.
On Mar. 10, the Keeping Up With the Kardashians star took to her Instagram Story and Twitter to reveal that she and the rest of her Bachelor watch party attendees — which included Hailey Bieber and Kendall Jenner — FaceTimed Harrison after that bombshell two-part season finale.
It turns out that after watching Weber break off his engagement with Hannah Ann Sluss and seemly reignite his relationship with runner-up Madison Prewett, Kardashian and her guests were freaking out and needed answers ASAP.
Since it was clear that there was more to this dramatic season finale than what was shown, Kardashian took it upon herself to find out as much as she could.
And what better person to reach out to for answers than the Bachelor connoisseur himself?
"Getting all the tea from Chris," the reality star wrote on Twitter alongside a photo of her on the video call with Harrison.
Though Kardashian failed to spill the "tea" with fans, she did document her Bachelor viewing party as well as interacted with followers on social media while watching the finale.
From showing off her Bachelor-themed cakes to freaking out on Twitter over the show's twists and turns, Kardashian clearly had a fun night celebrating the season finale.
Kardashian isn't the only one in her family who's obsessed with the show
Though Kardashian West recently proved that she's a huge fan of The Bachelor, her younger sisters Kendall and Kylie Jenner might have her beat.
The youngest siblings of this famous bunch have often filmed themselves tuning in to the show and have proved that they're just as obsessed with Weber's season as we were.
In January 2020, the Kylie Cosmetics CEO took to Instagram to show fans just how much she and her big sister enjoy watching the show.
While she was getting her hair and makeup done for a photoshoot, Jenner filmed herself and Kendall as they contemplated the idea of joining in on Bachelor watch parties with their friends.
"No, tell Shelli about The Bachelor this season," the mom of one declared to her sister, who was on the phone with their friend. "Oh Kylie's been watching The Bachelor on her phone all morning she's obsessed," the supermodel shared.
Weeks later, the billionaire took to her Instagram Stories to film herself watching a new episode of The Bachelor alongside the supermodel after they returned home from vacationing in the Bahamas.
Just from these instances, it's clear that the Jenner sisters are just as addicted to the show as the rest of Bachelor Nation.
Now that Kardashian West has also expressed her obsession with the show, we have a feeling that she and her younger sisters will be hosting many Bachelor viewing parties in the foreseeable future.