Kim Kardashian West Is Getting Slammed By Fans For Not Looking Like Herself In New Makeup Campaign
Kim Kardashian West is just one of those celebrities who just can't seem to catch a break when it comes to online criticism.
The reality star has been slammed for everything, from her parenting skills to her physical appearance.
We thought there was nothing else Kardashian could be criticized for, but it turns out, fans are now calling out her out for not even looking like herself.
Kardashian's new makeup campaign isn't being received well by fans
Many of us thought we've heard Kim Kardashian West called every name and phrase in the book, but not looking like herself is a first.
On August 5, Kardashian took to Instagram and Twitter to announce a new line of '90s-inspired makeup in all matte formulas as her upcoming KKW Beauty collection.
While many people are used to seeing Kim Kardashian get dragged for her products, this time, the reality is receiving backlash for just her campaign.
In the promo pic, Kardashian is rocking a leather and buckle top along with intense smokey eyes.
"I'm so excited to announce my new 90's inspired collection of all matte formulas- The Matte Smoke & Matte Cocoa Collections!!! I get a lot of my makeup inspiration from the 90's and love how nostalgic this entire collection is," Kardashian West captioned the post along with a photo people has many opinions about.
Many can see that Kim K. was embracing her inner '90s "It Girl" but fans think she looks nothing like herself in the photo.
Comments range from "Who is this?" to "That's not Kim, right?" and there are also a ton of complaints about Photoshop.
One fan took Instagram to write, "So photoshopped you don't even look like yourself anymore, Kim."
While another fan wrote, "Am I the only one who didn't recognise sis for like a good 10 seconds."
Though the criticism surrounding her promo pics continue to grow in number, Kim Kardashian West has yet to comment on the backlash.
Kardashian took inspiration from '90s fashion icons
While there are many people who are slamming Kim Kardashian West for her new promo look, others can see where the reality star got her inspiration for her new collection from.
It turns out that Kim K. brought back one of the most iconic looks of the '90s as she appeared to be wearing an iteration of Gianni Versace's famous strappy belt dress, which was first worn by Donatella Versace.
While Kim Kardashian West is known for her interesting and one of a kind fashion, this isn't the first time she has paid homage to iconic fashion moments of the past.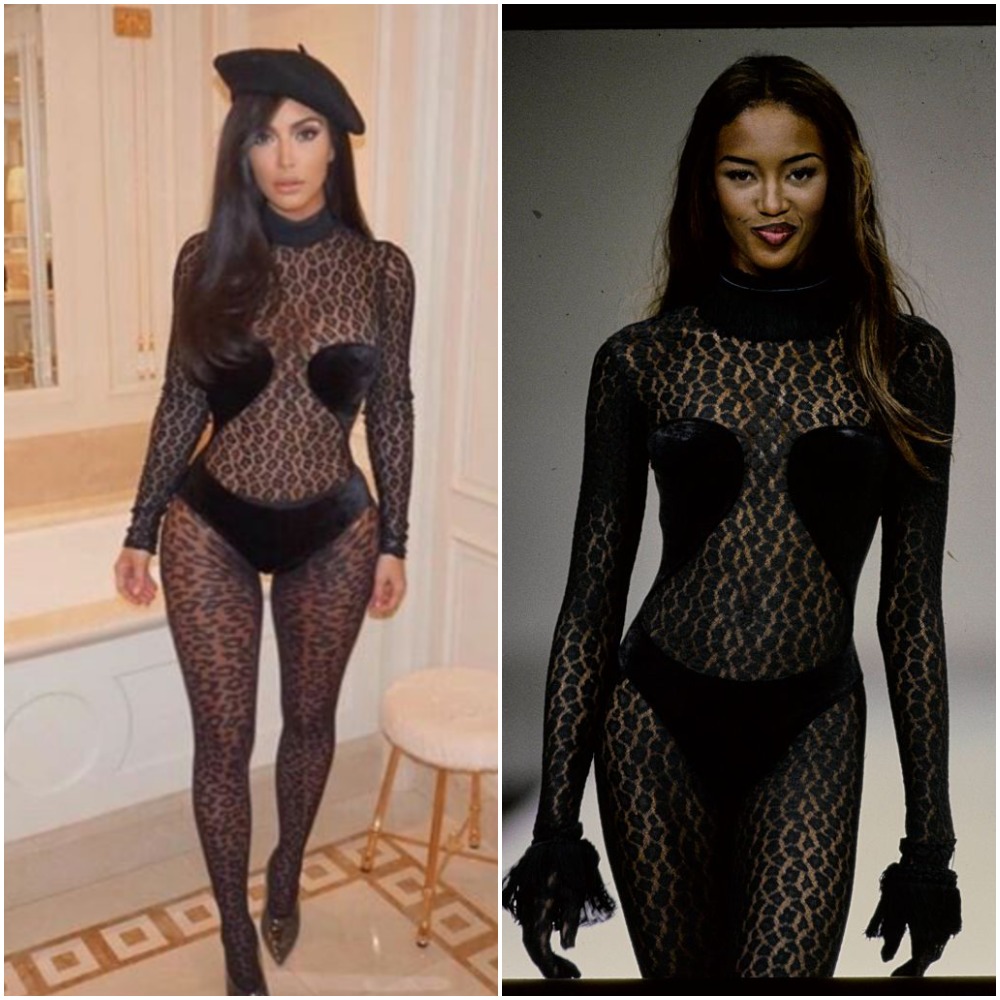 Over the past few months, Kardashian has showcased looks that were once worn by Naomi Cambell, Helena Christensen, and other '90s icons.
Since she has been inspired by the decade for her new makeup collection, Kardashian plans on sending the products to her own personal '90s icons, such as Jennifer Aniston, Janet Jackson, Alicia Silverstone, Candace Cameron Bure, Kate Moss, and more.
The new KKW Beauty makeup collection will feature two 10-pan eyeshadow palettes, six lipsticks "in a brand-new matte formula," six lip liners, and five eyeliners.
The collection launches on KKWBeauty.com at 12 p.m. PST on August 16.