Kim Kardashian West Says There Is No Drama Surrounding the Family Christmas Card: 'This Isn't My Job'
Kim Kardashian West is essentially the head of the family behind her mother, Kris Jenner. Each year, the Kardashian-Jenners pose for a Christmas card with the entire family. But this year, Kardashian West decided to do things differently and posed with only her own family instead. She sat down with Ellen DeGeneres to explain why she did and clarified the rumors about the drama surrounding it.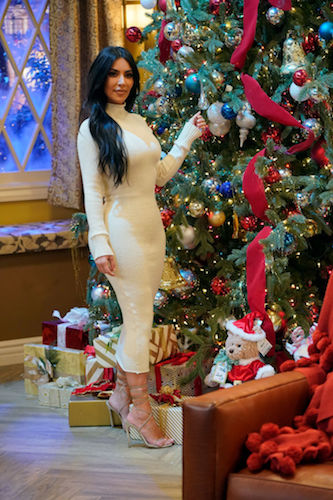 Kardashian West posed for a Christmas card without her whole family
On December 13, Kardashian West posted a photo of her, Kanye West, and their four kids to Instagram and captioned it, "The West Family Christmas Card 2019." Fans were obsessed with the card, discussing which children looked more like their mother and who looked more like their father. Celebrities such as Snoop Dogg and Ty Dolla Sign commented on the post, too, and it received more than eight million likes (most of Kardashian West's photos receive between one and three million likes). But Kardashian West confessed there was one thing that had been altered about the photo.
She Photoshopped North West into the photo
Despite how perfect the family looked posed together, there was actually more editing to the image than we realized. Kardashian West later confessed to Ellen DeGeneres that she had actually Photoshopped North West into the image. "North was having a day, so she refused to be in the shoot," Kardashian West said.
The next, North changed her mind, so Kardashian invited the photographer back and had a photo taken of just her and North but she asked the photographer to Photoshop North into the image. Thankfully, it was hardly noticeable, and the photo came together perfectly.
Kardashian West explained that rallying everyone for a photo 'isn't my job'
Kardashian West made it clear that, despite what some were saying, there was no drama surrounding the card. Normally, the entire Kardashian-Jenner family takes a photo together, but this year, fans noticed that wasn't the case. "I saw online, like, 'They're feuding…They won't do a card together' and all this stuff," Kardashian West said. "It was just a time thing of why I couldn't wrangle everybody and I was like, 'This isn't my job. I'm not going to sit here and try to get everyone to do a card." She clarified that the drama on the show was not the reason the family didn't do a card together this year.
The family has been plagued with drama amid Kourtney Kardashian quitting the show
There has been plenty of drama surrounding the Kardashian sisters, as Kourtney Kardashian is at her wits' end with the show. The drama on the show surrounding the oldest Kardashian's departure reportedly gets worse before it gets better, though the women have made it clear that they will always love each other and will always be a family. Season 17 of Keeping Up With the Kardashians just ended, but people are already waiting to see how everything plays out in season 18. For now, though, Kardashian West made certain the Christmas card was not a result of a feud among the sisters.