Kim Kardashian West Posts a Rare Photo of Rob Kardashian in Celebration of His Daughter's Birthday
Rob Kardashian used to be just as much a part of the family reality show, Keeping Up With the Kardashians, as his famous sisters. However, over the years, Rob ended up hitting a few speed bumps, and he became more reclusive and decided he no longer wanted to appear on the show. Since then, fans have been wondering whether he'll eventually make a comeback and how his relationship is with his massively famous family. But his older sister Kim Kardashian West recently posted a rare photo of Rob in celebration of his daughter's birthday.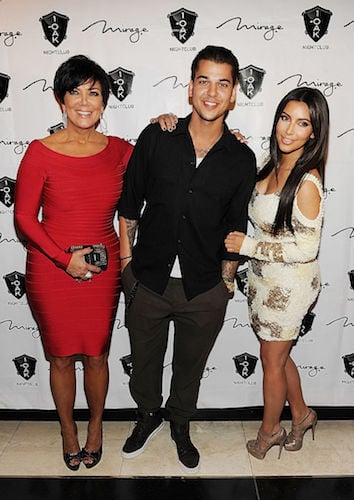 Rob has changing views on the family's reality television show  
At one point, Rob was a staple on the show alongside Kourtney Kardashian's then-boyfriend, Scott Disick. Rob and Scott were two peas in a pod, and though they disagreed sometimes, they were mostly best friends. They brought comedic relief to KUWTK amid all of the drama that was constantly surrounding the sisters. However, after season 7, Rob started to make fewer appearances on the show. He wasn't in a good place; he'd gained a lot of weight and seemed to become a recluse. When Kim Kardashian West was asked about her brother's absence from the show on Watch What Happens Live in 2019, she said he "has his moods." She mentioned sometimes he hates the reality television thing, and other times he's "cool" about it.
He hit a road block with his family because of his relationship with Blac Chyna
Rob surprised everyone when he started dating Blac Chyna, the ex of rapper Tyga, who was dating Kylie Jenner at the time. Things were even more shocking when the family learned that Blac Chyna and Rob were engaged. The Kardashian-Jenners felt betrayed that they were kept out of the loop of Rob's life. He hadn't been himself in some time, but he was still their brother, and his lack of communication about something so important caused tension between him and his family. However, they all seem to have ended up back on good terms since then.
Kim Kardashian West surprised fans with a recent photo of her younger brother
On November 10, the Kardashians celebrated Rob's daughter's birthday with social media posts showering the little girl with love. Kris Jenner posted a photo collage of Dream, and Kim posted plenty of photos of the little girl, too — many featuring her own children to show the strong relationship they all have.
We don't see much of Rob these days, since his Instagram account was shut down after he posted NSFW photos and videos of Blac Chyna during a blowout fight the two had. Kris has since taken over his account, but he's kept his life very private. Kim let fans in on a rare photo of Rob in Dream's birthday post, though. She posted several photos of Dream and Saint, who appear to have a very close relationship. But the last photo in her collage was a picture of Rob alongside his daughter — something fans have rarely seen since Rob became a father.
Rob appears to be on good terms with his family — but a comeback remains to be seen 
The post's from Rob's family for his daughter's birthday made it clear that the brother is on good terms with all of his siblings. Khloé Kardashian said earlier this year that Rob was doing his best to get back in shape and seemed very happy. However, a comeback to KUWTK still remains up in the air. Reality television can be a difficult space, and if Rob is happy being off-camera, we likely won't see him make a full return to the show any time soon.