Kim Kardashian West Reveals Snake Print Hair and Fans Don't Know How to Feel
Kim Kardashian West is the ultimate trendsetter. There are no ifs, ands, or buts about it. The KKW Beauty mogul has a unique style like no other and has inspired many different looks over the years — from long coats and chunky shoes to highlighting and contouring.
Kardashian West recently took things a step further when she debuted snake print hair on social media but this time, fans are divided on the look. While many people dig the creativity, others have given it a big no.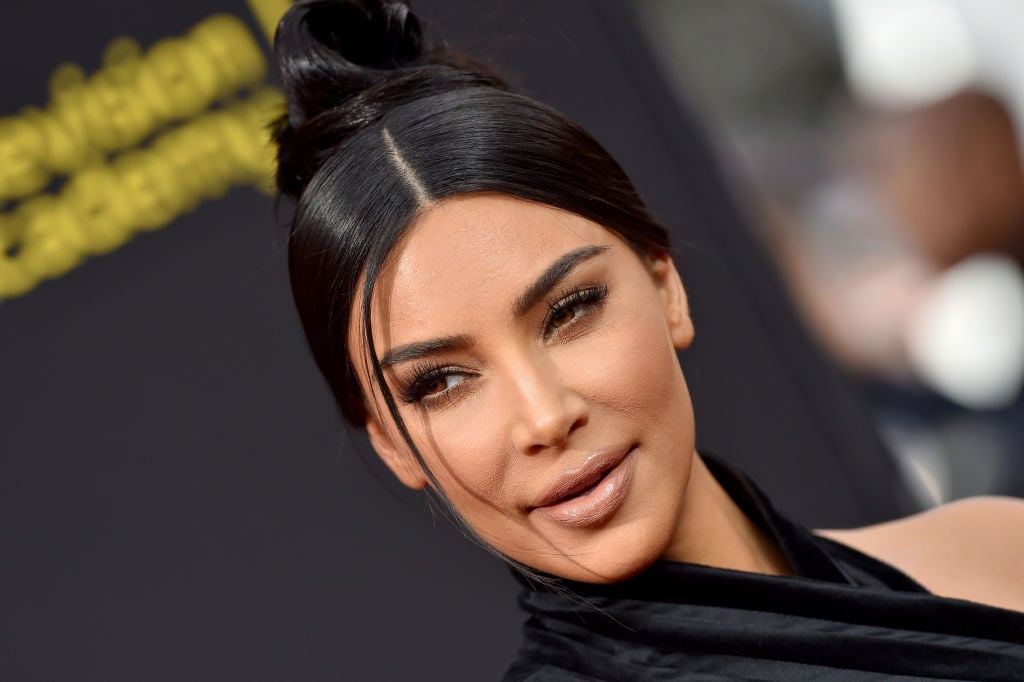 Kim Kardashian West's snakeskin hair
On May 4, Kardashian West took to Instagram and showed off her new hairdo. In a post captioned "Venomousss," she is seen rocking long dark hair that is covered with a snake print pattern. She paired it with matching nails and a two-piece set with a similar pattern. See the photo here.
So far, the post has received more than 3 million likes, with everyone from Kylie Jenner to Emily B of Love & Hop Hop swooning over the look. But not everyone is feeling the hair. There were plenty of negative reactions from fans who were not used to such an unconventional style and felt it looked downright weird.
"Why her hair look like that?" asked one fan.
"Seriously Kim? No I don't like this," read a second comment.
Echoing that, a third person wrote, "Nooo!! Looks creepy."
Someone else warned fans not to try the hairstyle.
"Kanye get your wife," said another comment.
Other fans fixated on an apparent mistake in the image
While all of that was going on, a few fans accused Kardashian West of Photoshopping the pictures.
If you look closely at the top right side of Kardashian West's head in the first photo, you'll notice a couple of fingers sticking out from beneath her hair. Almost immediately after it hit social media, fans began to call out the reality star and urged her to do better with her photo editing skills in the future — though she did not say the images were edited.
"Is nobody going to talk aboutt the fingers in her hair?" asked one fan.
"Uh there's nails in ur hair girl. Someone messed up the editing," said another comment.
"The nails coming out of the right side of her head are creepy," added a third person.
As of writing, Kardashian West has not addressed either matter.
It's not the first time fans have criticized Kim Kardashian West's hair
She infamously came under fire in 2018 after getting Fulani braids, which she referred to as "Bo Derek braids." Given that they originate in Africa, people were offended that she chose to credit Derek, a white woman, and strongly criticized her. Amid the backlash, Kardashian West addressed the drama in an interview with Bustle.
"I obviously know they're called Fulani braids and I know the origin of where they came from and I'm totally respectful of that. I'm not tone deaf to where I don't get it. I do get it," she said.
"Maybe if I had come out and explained that from the beginning instead of calling them 'Bo Derek braids,' then it wouldn't have gotten such backlash," she said.
Going on, she added: "But in no way am I ever trying to disrespect anyone's culture by wearing braids. If anything, [North West] was so excited to see me get matching braids with her. [When] we did her hair in these braids, she was so excited."
Later, Kardashian West uploaded a photo wearing the braids along with the caption, "Hi, can I get zero f*cks please, thanks," which only worsened the blow. But nonetheless, it could be how she really feels when fans give their unsolicited opinions on her life choices.