Kim Kardashian West Shows Off Her Christmas Decorations, Compares Her Home to 'Whoville'
Kim Kardashian West loves Christmas. Last year, fans might remember that Kardashian-West took over the famous Kris Jenner Christmas eve party, which she and Kanye West spent more than $1 million to put together. Clearly, Kardashian West goes all-out for the holidays — and she's done it again this year. Kardashian West's minimalist style shows through in her home's all-white Christmas décor, which she let fans see in her recent Instagram story.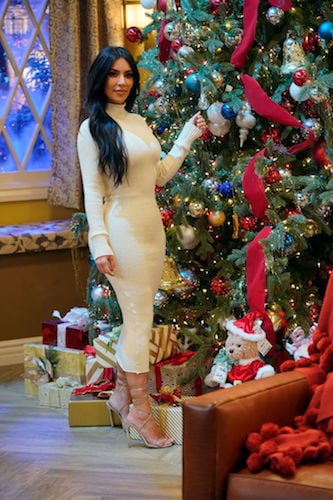 Kardashian West is slowly becoming the queen of Christmas decor
OK, we're not trying to take any kind of role away from Mariah Carey. We're just saying that when it comes to throwing parties and going all-out on decorations, Kardashian West is stopping at nothing. Last year, she threw an insane Christmas Eve party at her home; a role once played by Kris Jenner, who reluctantly passed the torch to Kardashian West after all the kids agreed that she should host. Kardashian West and her husband spent an estimated $1.3 million on the Christmas party, which included a 10,000-light tunnel and plenty of fake snow.
Kardashian-West has a very minimalist style
Anyone who has had a sneak peek at the West family home has seen that the couple's décor is unlike most homes in the United States. The two have hardly any color; everything is beige or white and neutral-toned. Fans probably remember Kardashian West showing off her infamous bathroom sinks; picture architecture like that in every inch of their home. And when it came to decorating for Christmas, the Wests stuck with the decor they know best — absolutely no color whatsoever.
She took fans on a tour of her 'Whoville' home
Kardashian West's home has been turned into a winter wonderland. White decorations are in, and she definitely capitalized on that trend. She recently took fans on a tour of her home, showing off all of the professionally-done Christmas decorations. Everything was white; the only pop of color was the green Christmas tree in the family's living room (decorated entirely in white lights and tinsel, of course). The entryway of the home was lined with oddly-shaped Christmas trees, as was the hallway that led into the family room. Kardashian-West referred to the setup as looking "so whimsical, like Whoville."
It's assumed that Kardashian West will be hosting the Christmas Eve party once again this year, and she'll probably be swapping out these holiday decorations for something much more over the top. The home, though tastefully done, didn't show any sign of life (let's be honest), but we're certain Kardashian West will create another unforgettable night complete with pizazz and sparkle now that she's the new host of the Christmas Eve party.
Kardashian-West's decorations are actually nothing like Whoville
Sorry, but someone had to say it. Kardashian West comparing her home to Whoville is just absolute nonsense. Whoville loves color — the Whos live for tacky Christmas lights and décor. If Martha May Whovier stepped one foot in Kardashian West's home, she'd probably shrivel up right then and there. Still, if it fits Kardashian West's style and she's happy with it, then we're here for it.