Kim and Kourtney Kardashian Fight Over North and Penelope's Candy Land Birthday Party in New 'KUWTK' Clip
Can you have a Candy Land themed party without the candy? That was the topic at the heart of a heated fight that Kim and Kourtney Kardashian got into when planning North and Penelope's joint birthday party. It turns out that Poosh guru Kourtney isn't a fan of candy.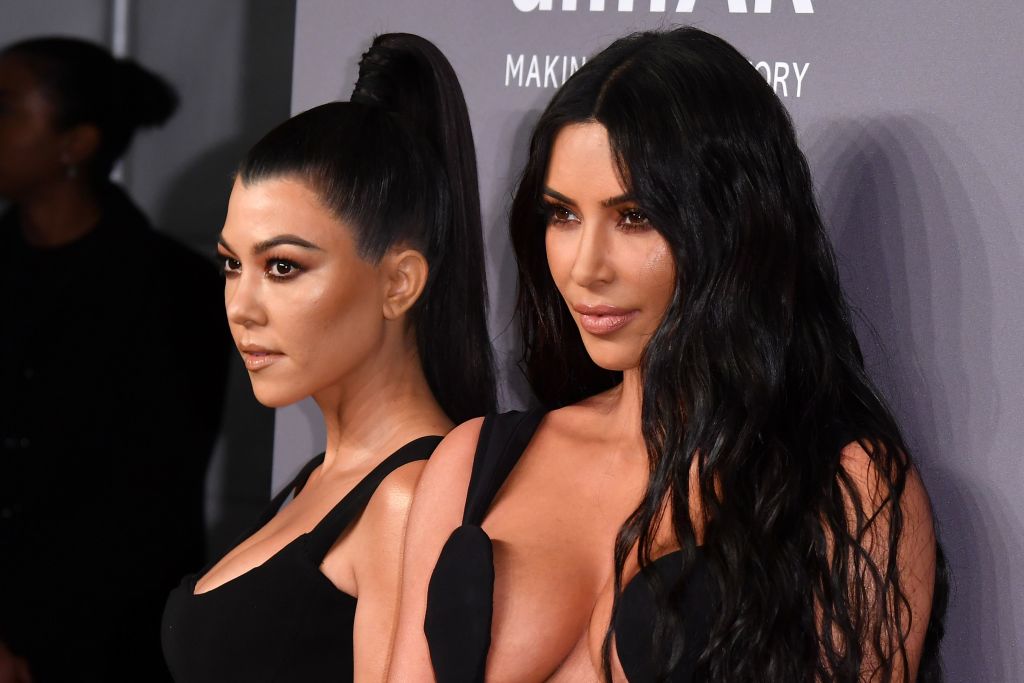 Kim and Khloe make an interesting discovery at Kourtney's house
Kourtney isn't a fan of sugar or processed food, which was made crystal clear when Kim and Khloe stopped by their sister's house and made an interesting discovery: a giant container filled with candy.
In the clip for Keeping Up With the Kardashians' 17th season, premiering in the fall, the sugary centerpiece, provided by mom Kris Jenner, opened up a conversation about why Kourtney isn't a fan of the sweet stuff.
"Call the police," Kim joked while popping open one of the glass candy jars, adding, "There's candy in here!"
Kourtney explained it's her "only hidden stash of candy," with Khloe responding, "Oh my god."
Why doesn't Kourtney eat candy?
It seems the sisters have a differing viewpoint on sweets, as Kourtney is a firm believer in healthy eating and Kim follows a moderation model.
When Kourtney shared how it makes her feel bad to eat candy and that she has to drink two bottles of water after eating one piece, Kim explained that she doesn't share that opinion, noting that it makes her feel young to indulge in some sweets.
The dispute lent itself well to an argument about the Candy Land themed birthday party — yeah, putting that glass container full of candy in the house seemed like an obvious setup — and the sisters hashed out the details in a pretty lukewarm fight.
Kourtney kicked things off by noting, "There's no reason that you can't have the theme of the party and have treats that are…" while Kim interrupted, pointing out the obvious: "It's Candy Land."
Kourtney argued that there are candies that aren't "filled with chemicals," and Kim's not a believer, arguing, "It's a Candy Land-themed party! That's, like, what the party is about. It's not f**king Gluten Free Land over here."
It ended with Kourtney suggesting they throw separate parties and Kim agreed, saying, "Perfect. That's exactly what we'll do."
The joint Candy Land party was a success
Of course, they went on to throw an epic joint birthday party for Penelope and North because, despite their disagreement over the candy theme, it was for their girls and not about them.
On her Poosh website, Kourtney took fans inside the candy laden party and it was clear they didn't hold back, despite her not being happy with the sugary spread.
The blog post explained: "At Poosh, we're all about living a balanced life. So while we tout the cleansing properties of Ayurveda and the mind, body, and beauty benefits of vitamin C, we believe it's OK to indulge sometimes and make your children's candy-coated birthday dreams come true."
The writer added: "That's why Penelope and North's Candy Land-themed birthday party last weekend was a sweet escape of ooey gooey goodness, complete with candy floss clouds, gumdrop forests, lords of licorice, and frosting princesses. Their birthdays are only three weeks apart so they love having a joint celebration."