Kim Petras Releases New Album 'Turn Off the Light'
It's officially spooky season, because Kim Petras just released an album for Halloween. Turn Off the Light came out the first day of October and is a follow up to Petras' EP, Turn Off the Light, Vol. 1.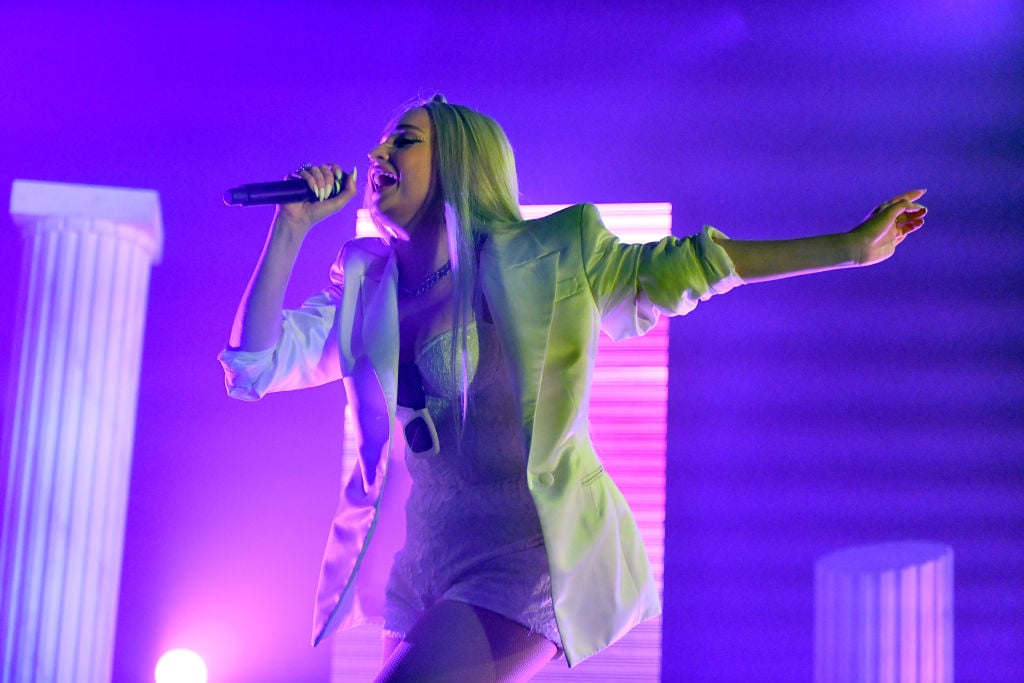 Kim Petras released the album because her favorite holiday is Halloween
While it seems artists are rushing to release Christmas albums, Petras discovered no one had ever really released a Halloween album. So Petras decided to make her own Halloween album with Turn Off the Light, Vol.1.
"It started with the song 'Close Your Eyes.' I thought the song was a strong lead, so I wanted to do a project with similar sounds. Along the way, we were kind of like, 'Wait, are there any, like, Halloween albums or EPs or…?' That's where we were confused—we just kind of realized that there were basically none! There's so much Christmas music, but my favorite holiday is Halloween, so that's really the whole reason behind it," Petras said in an interview.
The new album expands on Kim Petras' EP
Turn Off the Light features 17 songs. Eight of the songs fans originally heard on Turn Off the Light Vol. 1, and nine of the songs are new. Instead of being considered a sequel to Petras' EP, Turn Off the Light is a complete album. The singer also plans to perform songs from the new album while she tours her album, Clarity.
"It's definitely gonna have a huge chunk of my Halloween stuff but will also have some of my bubblegum-pop era in there. There's stuff from my album, Clarity, singles that I've dropped, and my older Halloween music too," Petras said.
Some are choosing not to support Kim Petras' new album
While Petras' fans love the new album, some people are refusing to support it. All of the songs on Petras' album were co-written by Lucasz "Dr. Luke" Gottwald. In 2014, Kesha accused the producer of emotional distress, gender-based hate crimes, and employment discrimination. The singer also accused Dr. Luke of rape and sexual harassment.
Because of this, some do not support Petras' work in support of Kesha.
"Salient reminder that every track on this new Kim Petras Halloween album is written/produced by Kesha's alleged abuser, Dr Luke (who has rebranded himself as MADE IN CHINA)," wrote a Twitter user.
"good to know rape apologist kim petras still has dr. luke writing and producing all her songs even though she's not contractually obliged to yasss queen," wrote another. 
Some people were not aware Kim Petras works with Dr.Luke
After Petras released the album, Blair St. Clair tweeted, "If you haven't streamed TURN OFF THE LIGHT by @kimpetras what are you doing with your life?"
Michael Foss replied, "not supporting rapists."
Others also replied to St. Clair about why they do not support Petras' work with Dr. Luke. St. Clair then tweeted to the fans who also replied and said, "thank you for bringing this to my attention. I honestly didn't know about this. I will educate myself on this situation."