'Kingsman 2′ vs 'Robin Hood: Origins': Is Kingsman Taking Priority?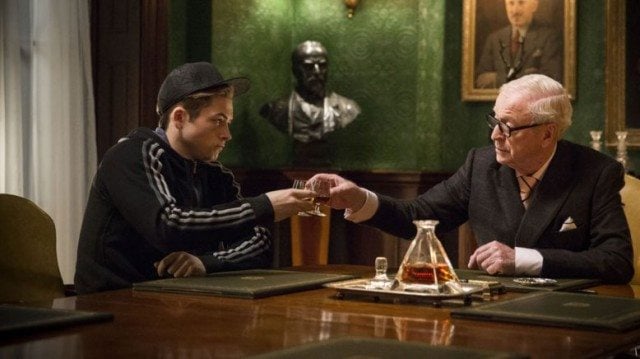 When Fox recently confirmed plans to move forward with a sequel to Kingsman: The Secret Service, there was one notable problem: Star Taron Egerton had already signed on to film Robin Hood: Origins for Lionsgate and the two projects had dueling schedules. After some reshuffling, it seems the conflict has been resolved. Egerton will reprise his role in Kingsman 2, but unfortunately for Lionsgate, its Robin Hood reboot will have even longer to wait before it hits the big screen.
According to The Hollywood Reporter, things got tense after Kingsman director and producer Matthew Vaughn exercised his option on Egerton (whose experienced a breakout moment with his lead role in the 2014 action flick). The move solidified the actor's participation in the Kingsman sequel, but left Robin Hood: Origins temporarily in the lurch. At the time, it was unclear whether Lionsgate would delay production to match Egerton's schedule or recast the role altogether. Now, it seems the studio has decided to go with the former option, even though it means bumping the Robin Hood reboot to later in its schedule.
The new plan, per THR, is for Egerton and Vaughn to kick off filming for Kingsman 2 in April. Meanwhile Robin Hood: Origins will push back its planned February production to after the sequel wraps, likely at the end of summer 2016.
While it may not seem like too significant of a delay, it becomes a bigger deal when you take into account just how many Robin Hood films are now on the market. There are at least six movies based in the iconic archer currently in development. In addition to Lionsgate's Robin Hood: Origins, Disney, Sony, and Warner Bros all have similarly themed flicks in the works, as do several other studios.
With so many rival projects getting made around at the same time, it's basically a race to the big screen to see who can get their movie to theaters first. After the recent change in scheduling, Lionsgate's Robin Hood: Origins could find itself either behind or right up against one of the studio's projects in release.
Though Hollywood may be going through a Robin Hood craze right now, it's pretty clear that Kingsman 2 is the safer bet of Egerton's two upcoming starring vehicles. After all, audiences haven't exactly crazy about origin stories lately. Just look at Pan, the expensive Warner Bros. flick that recently crashed and burned at the box office.
But more importantly, Kingsman has already proven to be successful. The original film only cost $81 million to make and ended up grossing $412.6 million worldwide. In addition to being a commercial hit, the spy flick earned largely positive reviews, with critics calling it stylish and fun. Whether the sequel will live up to its predecessor remains to be seen, but it should have no problem drawing its fans back to theaters.
In the meantime, Egerton is keeping busier than ever. He'll next appear in the titular role in the sports comedy drama, Eddie the Eagle, due out in April 2016. In addition to having both Kingsman 2 and Robin Hood: Origins on his lineup of upcoming films, the actor is also reportedly attached to star in the indie crime drama, Crooks County.
Kingsman 2 is currently expected to premiere in 2017.
More from Entertainment Cheat Sheet:
Want more great content like this? Sign up here to receive the best of Cheat Sheet delivered daily. No spam; just tailored content straight to your inbox.