The Writer of 'Kingsman' Wants BTS on the Next Movie's Soundtrack
On Dec. 27, BTS performed at the 2019 KBS Song Festival. Their performance of "Dionysus" was based off of the Kingsman film franchise, and one very important person took notice of the performance.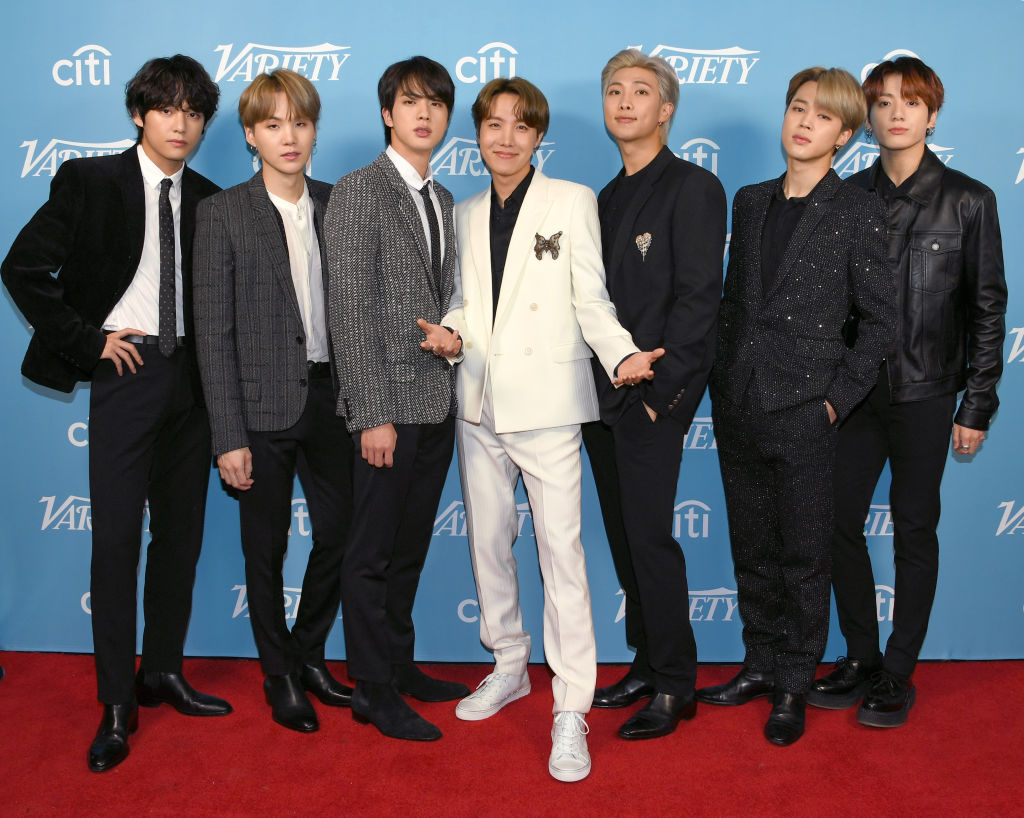 BTS performed at the 'KBS Song Festival'
The KBS Song Festival is an annual music show that is broadcast by the Korean Broadcasting System. BTS performed a number of songs at the music show. The group performed "Go Go," "Home," "Boy With Luv," "Mikrokosmos," and "Dionysus."
It's safe to say "Dionysus" is really that song. It does not matter what concept BTS incorporates for their performance, the song is always a standout. For KBS Song Festival, BTS incorporated a Kingsman concept. The members wore dark suits, while some of the members wore glasses and others had their hair slicked back. The group performed with the backdrop of a gold-themed bar.
BTS have been fans of the 'Kingsman' franchise for years
Kingsman: The Secret Service, the first film in the Kingsman franchise, premiered in 2015. A sequel titled Kingsman: The Golden Circle premiered in 2017. Both films were directed by Matthew Vaughan and starred Taron Egerton. An untitled third Kingsman movie is currently in the works with Vaughan set to direct again.
BTS have been fans of the Kingsman film franchise since its creation. Since 2015, there are several tweets on the BTS_official Twitter account referencing BTS's love for Kingsman.
"Welcome to Kingsman agency for the secret Service. Represent hitman bang group. Call us #킹스소년단," reads one tweet.
"The suit is a modern gentleman's armor, and the Kingsman are the new knights for you. #한손엔_콜라 #한손엔_아미밤," reads another.
In a 2018 interview with Lorraine, the members of BTS were asked what they wanted to do during their first visit in the U.K. Jimin told the interviewer he wanted to go to the "Kingsman shop."
The writer of the 'Kingsman' comics saw BTS's performance
Kingsman originated as a comic book series in 2012. It was created by Mark Millar and Dave Gibbons. After BTS's "Dionysus" performance, Millar learned of BTS's appreciation for Kingsman.
"The love for Kingsman in Asia is amazing, particularly S Korea where it had a massive cultural impact. Someone sent me this today and I love it…," he tweeted about BTS's "Dionysus" performance.
One fan tweeted at Millar, writing, "I have an idea, why don't you cast BTS on the next Kingsman movie, maybe the south korea division. that would be legendary. Me and my parents love your movies btw."
Millar replied, "Thank you, Leci. Actually, given the big Kingsman fan-base in Asia I personally think it would very cool to have BTS do a SONG for one of the movies."
While nothing is confirmed, it is super cool that the creator of the Kingsman comics thinks BTS would be a great addition to the next movie's soundtrack. After BTS's stellar "Dionysus" performance, we also would not be opposed to the group making a cameo.
Mark Millar thanked BTS's fans
After expressing his appreciation for BTS's talent, Millar also thanked ARMY based in South Korea.
He tweeted, "Thanks to all the lovely @BTS_twt fans yesterday for their kind words on our Kingsman movie. South Koreans are THE BEST! Hoping to get out there for a signing next year!!"
Millar then thanked BTS's international fans.
"Note to all the @BTS_twt fans OUTSIDE South Korea (many of whom are saying hello!) my love and thanks to you all too, especially those helping look for that missing family bear :)," Millar wrote on Twitter.