Kourtney Kardashian Admits Her Breakup Episode of 'KUWTK' was the Most Difficult One She's Ever Filmed
Kourtney Kardashian is one of the many Kardashian sisters who stars on the family's reality show, Keeping Up With the Kardashians. And just like her sisters, many of Kardashian's ups and downs in life have been documented on the show — including her high-profile breakup with longtime boyfriend Scott Disick. Kardashian shares three kids with Disick, and though they have seemingly mastered co-parenting and appear to have a very friendly relationship, she once said their breakup episode was the hardest thing she's ever filmed.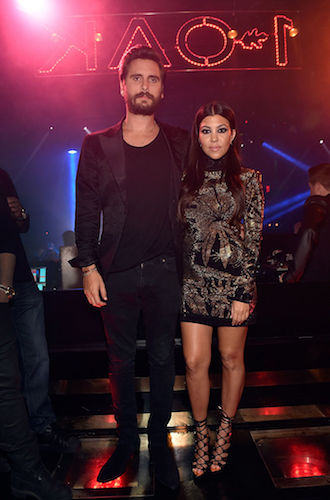 Kardashian and Disick dated for nearly 10 years
When KUWTK first premiered, Kardashian and Disick had already started dating. The two met through a mutual friend back in 2006, and from there, things only grew between them. The couple went through a few breakups, but in 2015, after more than nine years together, they split for good. The breakup reportedly stemmed from Kardashian seeing photos of Disick partying on a yacht with his ex-girlfriend, and the two have come a long way since their tough breakup four years ago.
They had their ups and downs but welcomed three children together
During Kardashian and Disick's relationship, things weren't always perfect. Disick had trouble controlling his drinking, which in turn meant he had trouble controlling his behavior. They went through several break ups, though their first major split came to an end when they learned Kardashian was pregnant with their first child, Mason. (Kardashian and Disick reportedly had a fling while on a break that resulted in her pregnancy.) Over the next several years, they welcomed a daughter and another son together, though they never wed. Then, in 2015, after questionable photos of Disick partying with his ex-girlfriend surfaced, the two split and haven't rekindled things since.
Kardashian revealed their breakup episode was the hardest thing she's ever filmed
After filming KUWTK for more than 12 years, naturally, there were things that were difficult for Kardashian to go through on camera. And she once told Entertainment Tonight that her split with Disick was the most difficult of them all. "I had a lot of anxiety about [the breakup] and finally said, 'Let's just get this over with,'" she said. Kardashian said she would move past the breakup but then sit down to do her interview (for the show) and get upset again. Then, when the episode aired, everything was rehashed once more. "I sat down and started crying," she recalled.
The two are now great co-parents
The couple's breakup happened four years ago, and since then, they've worked hard to return their relationship to a good place for the sake of their children. They have become great friends, and Kardashian said that therapy helped them arrive at a good place. Disick has been in a relationship with Sofia Richie for two years now, and Kardashian has even spent time with the two of them. The exes go on vacations together with their children and have even all dressed up for Halloween as one big family. For their kids' sake, they are making things work, and they have become a family we can all admire.