Kourtney Kardashian Kills the Parenting Game As She Proves Her Dedication Her Kids
Kourtney Kardashian has always been a bit lower key than her sisters when it comes to dealing with all of the fame. She has three kids with ex Scott Disick, and though they aren't together anymore, they have worked hard to master the art of co-parenting. But Kardashian just proved that she goes above and beyond for her kids in the cutest way.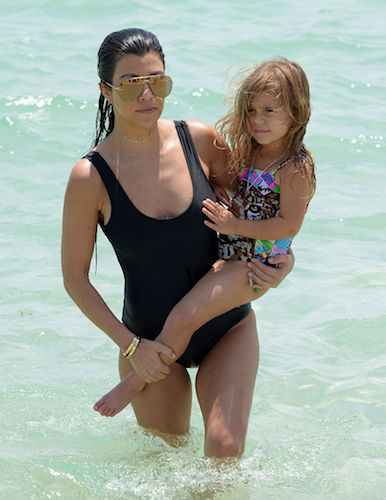 Kardashian and Disick have been working hard to be great co-parents
For nearly a decade, Kardashian and Disick were in a very on-and-off relationship. It was clear there was a lot of love between them, but they just couldn't seem to make it work. However, over the course of their nearly 10 years together, they welcomed three children: Mason, Penelope, and Reign. Now, the two have been working hard to be the best co-parents possible. Kardashian once said they attend counseling together to make sure they keep a close relationship for their kids. And so far, they've been doing an awesome job. Disick has even attended Kardashian family vacations since the breakup, and Kardashian seems to have a good relationship with his girlfriend, Sofia Richie.
Kardashian has put her kids before fame
Kardashian was never as into the fame as her sisters; she's always remained in the background despite being a key part of the show. While Kim, Khloé, and Kylie have gone on to launch their own businesses, Kourtney, Kendall and Rob remain the three more inconspicuous siblings. Kourtney has a lot of love for her kids, and though she is now running Poosh.com, she still makes sure they are always her focus. She has even opted out of some of the business opportunities her sisters have suggested to her because the fame has never been her thing.
She recently proved she's a rock star mom when Penelope lost a tooth
Kardashian takes a lot of pride in being a mother. And she proved that she goes above and beyond for her kids in her recent video of Penelope's visit from the tooth fairy. On November 24, Penelope lost her front tooth, and Kardashian left her a $2 bill along with a pile of glitter. The glitter led into an entire trail that traced back to the kitchen, where Kardashian had made a "tooth fairy door" so as to make it look like the tooth fairy was visiting for a while and it was the entrance to her tiny home. The door seemed to be up against the back of the counter and probably didn't open, but it was an adorable idea to keep the youth alive and well in her kids.
Kardashian has caused speculation that she could be leaving the show
For a while, fans have questioned whether Kardashian will remain on the show, and for how long. She has previously made comments suggesting she no longer wants to be a part of reality television, though she hasn't actually pulled the plug on her contract. Kardashian once said she wouldn't care if the show ended, and some think the tension that's built in season 17 is setting the scene for Kardashian to officially quit. There's a part of us that thinks she wouldn't ever fully quit for good, but she might want to take a step back from filming for a while and take a break from it all.