The 1 Way Kourtney Kardashian Utilizes Her Bathroom During a Workout
The Kardashians have always been open about how much they exercise. And if you've ever watched their show, you know just how many salads they eat on a regular basis. But the ladies also tend to sneak in workouts wherever they can, especially with their busy schedules. And Kourtney Kardashian has a smart way of utilizing her bathroom as a workout space.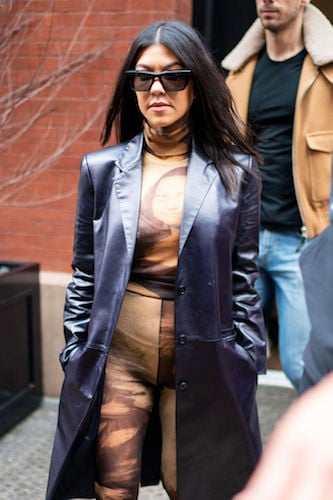 Kourtney Kardashian has one of the strictest diets among anyone in her family
The Kardashian sisters have been starring on Keeping Up With the Kardashians since 2007, so fans have been able to see them evolve as they've grown older. And one thing that's also evolved is Kourtney Kardashian's diet. She's much more "whole" than her sisters, in the sense that she eats whole, unprocessed foods and at one point avoided gluten and dairy altogether. She recently began eating both gluten and dairy again, but says she eats them both in moderation.
Kardashian's typical workout routine is surprisingly simple
Kardashian spends a lot of time keeping her body in good shape. She may be turning 40, but she's somehow managed to not age a day since the show started. Although Kardashian works out often, her exercise routine is surprisingly less complex than most would have thought.  She tries to get out of the stuffy gym and often posts photos hiking. On the show, the girls used to frequently walk their dogs through the California hills. Her YouTube channel revealed that she adds in burpees and mountain climbers when she wants a good cardio workout that tones her muscles. Kardashian is all about full-body workouts rather than targeting certain muscle groups.
Kardashian also does 100 squats in her bathroom before she showers
In honor of Kardashian's 40th birthday, E! network hosted a show featuring some of Kardashian's best moments, along with behind-the-scenes information received from both Kardashian and the show's producers. E! revealed that Kardashian does 100 squats in her bathroom before every shower. It's a good way to keep a workout consistent, since Kardashian most likely showers at least once per day. While she doesn't necessarily lift weights at the gym for hours, she has still managed to have one of the most impressive 40-year-old bodies anyone has seen.  
Recently, the sisters have been accused of being deceitful to fans about their bodies
People often wonder how the Kardashian sisters get their infamous curves. The ladies have posted Instagram advertisements about products such as tea-toxes (a tea drink that supposedly curbs the appetite and aids in weight loss), but they've recently gotten push back on some of the dietary supplements they promote. People have accused the sisters of being deceitful, since they clearly have the money for things such as cellulite removal treatments that cost thousands of dollars. Plus, the products often aren't regulated or approved by the FDA and it's unclear exactly what's in them. Plus, there is an idea that weight loss teas and products promote an unhealthy body image among women. Kourtney Kardashian has since deleted one of her sponsored tea posts.
Check out The Cheat Sheet on Facebook!