Kristen Bell's Character, Eleanor May Fight Over a Guy With You On-Screen but She Will Get High With You Off-Screen
Kristen Bell enjoys smoking marijuana once a week. See which costar she has been getting high with, recently.
Kristen Bell received a Golden Globe Award nomination for Best Actress in a Television Series for her work in NBC's The Good Place. The critically acclaimed show is now in its fourth and final season, and the actors are making the most of their last time together. 
Let's take a look at how Bell's character, Eleanor is at odds with someone on the show, but behind the scenes, they like to get high together.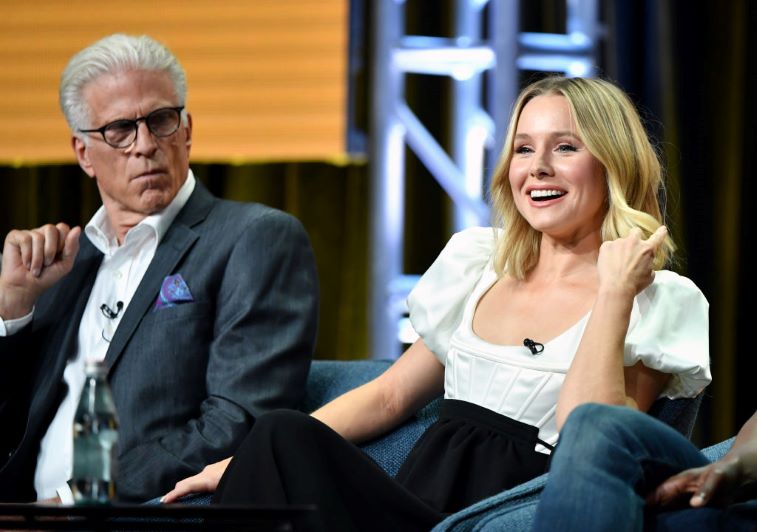 'The Good Place' cast loves to have fun together
Bell recently posted a photo on her Instagram story of her and costar Kirby Howell Baptiste high in a hotel room together. In the next story, she describes the photo, "P.S. Yes, we were stoned in that picture. Safely tucked into the sheets, ordering room service, and watching the Cats trailer over and over, giggling."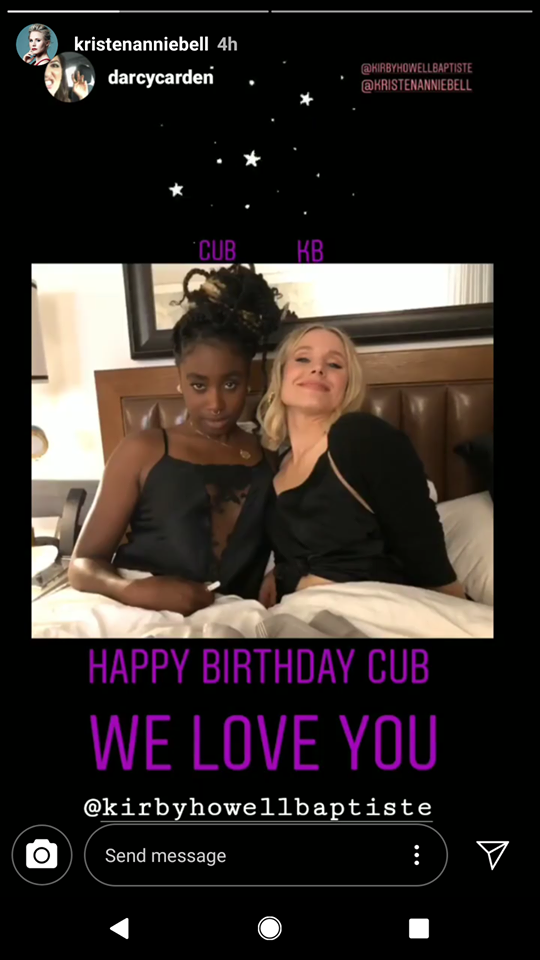 On-screen, Baptiste's character, Simone dates Chidi (William Jackson Harper). Bell's character, Eleanor also fell in love with Chidi in season 2 of The Good Place. In season 4, Eleanor, Simone, and Chidi are all in the Heaven-like afterlife together. Eleanor has a severe problem with Simone, no matter how hard she tries to put her feelings for Chidi aside. 
Once the cameras quit rolling, Bell and the rest of The Good Place cast are the best of friends. It's evident from their Instagram accounts that they hang out often and laugh excessively. 
D'Arcy Carden told Assignment X, "It's this perfectly little magical cast and crew and group of writers, and I think everyone's very aware of how lucky we've had it."
With how close the cast is, it comes as no surprise that they smoke weed together, despite their on-screen feuds. 
Bell takes CBD oil every day to help with her depression and anxiety
Recently, Bell opened up to Women's Health for a cover story on her battle with depression and anxiety. Bell told the magazine that she only just began working out consistently about a year ago. 
She realized that "It should be the first stop for anyone who experiences depression or anxiety because it encourages serotonin and endorphins. I feel so much more centered, patient, capable. It sets the next 48 hours for me."
Bell works out three times each week and has found muscles she didn't even know she had. In addition to an antidepressant, Bell also takes a daily dose of CBD oil after her work out. She credits the oil with helping her turn off her mental to-do list that was always nagging at her. 
Bell was slammed for smoking weed in front of her sober husband, Dax Shepherd
In 2018, The Good Place star was the center of attention over admitting that she occasionally smokes weed in front of her recovering addict, husband, Dax Shepherd. 
The backlash began after Bell was on Marc Maron's "WTF" podcast, when she said, "Weed rules. Weed is my drug of choice, for sure."
She continued, "I can't do it around my kids, which is a phenomenal amount of hours each week. Once a week, if I'm just exhausted and we're about to sit down and watch '60 Minutes,' why not?" 
Shepherd, who has been sober for 14 years, defended Bell publicly. Bell told The View that her husband, "He said he lost his privilege to drink, I didn't," she continued. "He's like, that would be like asking a diabetic spouse, don't ever eat sugar in front of me."
Bell and Shepherd are very open, honest celebrities. They both post everything from family life to how they forgot their anniversary to struggles with mental health. It's no surprise that they are also open about their drug use and how it affects their marriage. 
If you are looking for more hysterical stoned photos of Bell, give her Instagram account a follow. You won't regret it.