'KUWTK': Tristan Thompson Gave Khloé Kardashian An Apparent Engagement Ring — Watch Her Reaction
Tristan Thompson knows that he messed up with Khloé Kardashian, and he's apparently doing everything he can to win her back. 
Kardashian cut ties with him in February following his cheating scandal with Jordyn Woods, which was at least the second time that Thompson had allegedly been unfaithful to her during their nearly-three year relationship. But he's not letting her go without a fight.
A new midseason trailer for Keeping Up with the Kardashians shows Kardashian revealing that Thompson went as far as giving her a diamond ring. From the look of it, it could very well be an engagement ring.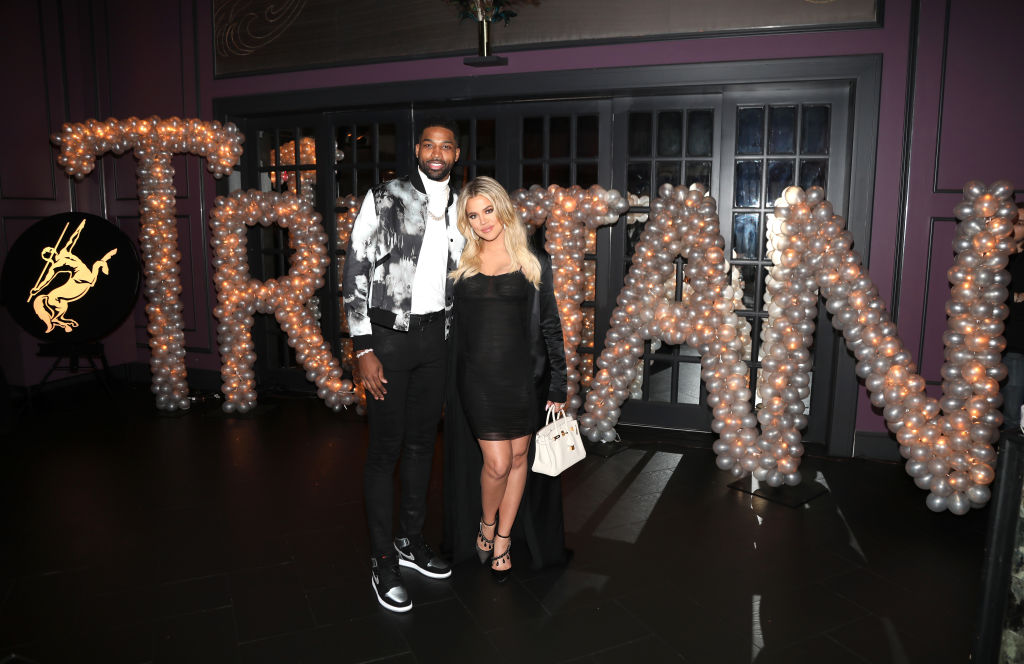 More on the ring Thompson gave Kardashian
In the trailer, which came out on Oct. 15, Kardashian tells Scott Disick that the NBA star gave her a huge pink sparkler.
"Look what Tristan gave me last night," she says, showing off the ring. "A pink diamond."
Examining the diamond, Disick exclaims, "It looks fully like an engagement ring."
The clip cuts to Kardashian screaming, "Nope! No!"
The remainder of the moment will play out on the show, which airs at 9 p.m. ET on Sundays on E!.
That's not the only thing Thompson has done to win Kardashian back
Thompson has reportedly pulled out a bunch of other stops to win his ex-girlfriend back.
According to Kardashian, he's sent her "countless amounts of flowers, calls, [and] texts," and invited her on dates.
He also allegedly bought her some lavish gifts, including a $500,000 Porsche. Thompson reportedly got the car after seeking advice from his good friend, Drake, who allegedly told him to pull a "power move."
"Tristan is good pals with Drake and has been using him as a sounding board as he plots his return to the Kardashian fold," a source told The Sun on Sept. 4. "Drake told him to pull out all the stops if he wanted to win Khloé back."
He recently started making his attempts public, sharing several flirty comments on her social media pages. Though she didn't respond to the remarks, fans did not hold back. They slammed Thompson for all his alleged wrongdoings during their relationship, which began in 2016.
Has Kardashian moved on?
The Good American co-founder has said that she's forgiven Thompson and that she's ready to move on. But she hasn't started to date yet.
"I haven't jumped into dating. I don't care to date right now. I'm not in a rush for it," she explained in an October appearance on the On Purpose With Jay Shetty podcast. "I feel so good in my life and I don't really need much else. So, something that I'm focusing on is just making sure that I process everything."
She noted that she would cut Thompson off completely, but she has to consider their daughter, True Thompson, who was born on April 12, 2018.
"You know, it would be easier for me to keep my daughter away… but he never hurt True," Kardashain explained. "Him and I have our own relationship and then Tristan and True have theirs, and I will never come in between that. I don't believe in that."
"I want to show my daughter that it's okay and it's a beautiful thing to also forgive her dad," she continued. "He's a great person. Maybe him and I weren't compatible or whatever [in] that way, but that's okay. Nobody's gonna die here, and I always want True to be surrounded by love."
It sounds a bit like their romantic relationship is over. Let's just hope that Thompson gets the memo.