Kyle Richards From 'RHOBH' Throws a Gorgeous Baby Shower for Her Niece
Kyle Richards from The Real Housewives of Beverly Hills should consider adding "professional party planner" to her lengthy resume. She just conjured her party magic again and threw what looked to be the picture perfect baby shower for her niece, Brooke Wiederhorn.
Richards has thrown quite a few gorgeous parties while being on RHOH. But the recent baby shower she co-hosted for Andy Cohen showed that Richards really has a knack for creating the ultimate party. Cohen's shower set the bar quite a bit higher for baby shower expectations. From the crystal, candles, and flowers to the food and dance party; Cohen's shower was one for the books.
So what was the baby shower like she threw for Wiederhorn? Richards integrated her signature style, plus added some special, sweet elements.
It was a family affair
The guest of honor is the daughter of Richards' sister and former RHOBH alum, Kim Richards. The party was also held at Richards' lavish home but she had help. Niece Nicky Hilton co-hosted the party with her too. Hilton is the daughter of Richards' sister Kathy. And while Richards has spoken through tears about her sisters, both Kim and Kathy attended and the sisters looked very happy and comfortable together.
Richards generously posted about the baby shower to her Instagram story. She included video of the children and grandchildren running outside, around the long family table set up in the backyard. "I'm at Brooke's shower at Kyle's beautiful house," Kathy says in her Instagram story walking over to the long table. "Look at this table, how gorgeous." Meanwhile, Kyle says thank you, laughs, and comments on the gorgeous day.
Quite a few kids are having fun on the tree swing set up in the backyard too. Richards' daughter Sophia is home from college. Her dad Mauricio Umansky pushes her pretty high on the swing as she catches serious air.
She always makes it nice
Richards has an uncanny ability to capture the right mood and create the perfect ambiance for any occasion. The backyard luncheon was elegant, yet casual as the children were able to run freely.
No Richards party would be complete without some fun food. For instance, she set up a cotton candy burrito station. It included a number of jars filled with different types of candies and crunchy cereal. Also, since several family members were celebrating birthdays, Richards had a birthday cake for each person. "There's a lot of celebrating going on today," Richard says as the camera pans the delectable cakes.
And includes sweet touches too
This baby is a second child for Wiederhorn. Her adorable son Hucksley is also at the baby shower, so Richards did something to help the toddler feel included. In addition to the many other cakes at the shower, Richards had a special cake made for Hucksley too. "Welcome Hucksley's Baby Brother," was written on top of a cake.
No party is complete without music. She has fun tunes piped into the backyard, plus comments on one song. "Oh my God, that's Teddi's dad's song," Richards giggles as she pans down the long, gorgeous harvest table. The John Mellencamp song "Jack and Diane" is heard playing in the background.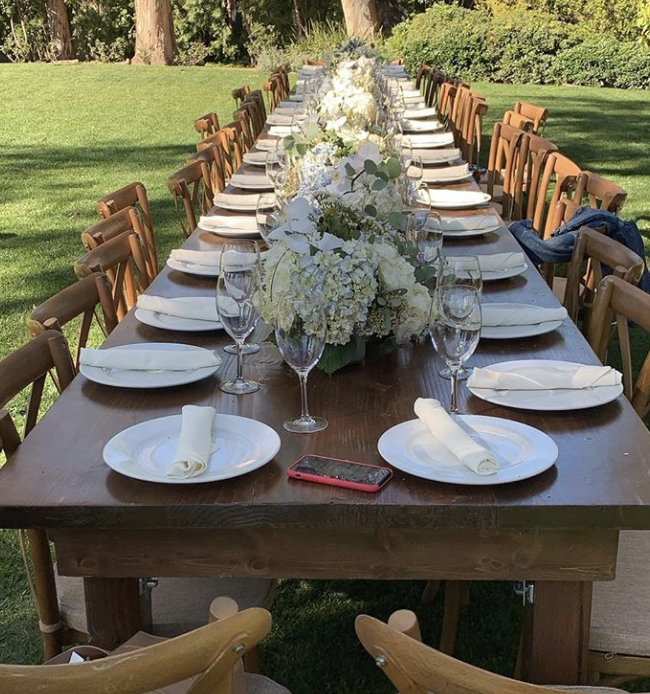 Thankfully, Richards included a few pictures of the table on her Instagram story too. Like at Cohen's party, she set one long farmhouse-style table so all guests could sit together. She used classic white linens and plates, along with gorgeous crystal glassware. Flowers cover the table, which included hydranga hues of both white, cream and light blue.
Check out The Cheat Sheet on Facebook!