Kylie Jenner's Adorable Photo of Stormi In the Bathtub Is Just What Her Fans Needed: 'This Makes Me So Happy'
Kylie Jenner loves posting photos of her daughter, Stormi. And these days, she's showing off her little girl more than ever, since they're both stuck inside during this worldwide quarantine. Jenner and Stormi have an inseparable bond, and despite the beauty mogul's busy schedule, she always makes time for her daughter. And her recent photo of Stormi surrounded by bath bubbles was just what her followers needed.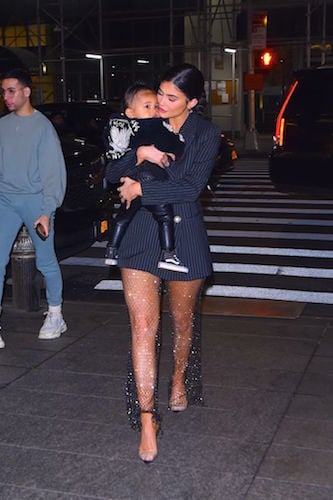 Jenner welcomed Stormi with Travis Scott in 2018
When Jenner first started dating rapper Travis Scott, things didn't seem totally serious. After all, she had only recently ended things with ex Tyga. But only about two months after Jenner and Scott started dating, she learned that she was pregnant with their first child.
In February 2018, Jenner welcomed Stormi after keeping the baby a secret for her entire pregnancy. She and Scott dated for about a year and a half after Stormi's birth before breaking up in October 2019, but they always remained amazing co-parents to their daughter — and rumor has it the two have since gotten back together.
Jenner loves posting Stormi on Instagram
The Kardashian-Jenner family loves Instagram because it's another way for them to share their lives with their followers. And Jenner is still a new mom, so naturally, she's obsessed with sharing pictures of her child. Plus, it's clear that Stormi has already developed quite the personality.
Jenner has posted pictures wearing matching outfits with her daughter. she's also posted videos of Stormi doing some hilarious things in the past, such as trying to shoot a basketball or demanding that her mom play "daddy's" music. Stormi lives a life of luxury too, as Jenner often takes her on private jets and has already given her a purse collection that is probably worth more than most people's cars.
Her bath tub photo had fans obsessed
Jenner recently posted a photo of Stormi that fans adored. The little girl appeared to be in the bathtub surrounded by bubbles, and only her face was visible. "This pic makes me happy," Jenner captioned the photo.
"This makes me so happy!!" Kim Kardashian West wrote. "Angel baby," Stassie Karanikolaou commented. "Omg stop!! This is toooooo adorable," Olivie Pierson added. Jenner's followers loved the image as well, with most comments saying some variation of how happy the photo made them and how much they love Stormi.
Jenner pulls out all the stops for her daughter
Jenner never stops short of doing everything she can for Stormi. Despite running a massive makeup company, Jenner still makes sure to spend as much time with her daughter as she can. She throws Stormi incredible birthday parties, too, and spends every dime she needs to in order to give her little girl anything she wants.
Most of all, though, Jenner gives Stormi love and attention — as does Stormi's father, Travis Scott. Life can be crazy as a member of the Kardashian family, but Jenner never lets it get in the way of the close bond she's developed with her only child.