Kylie Jenner and Ex Tyga Spotted At the Same Night Club — Again
If you felt overwhelmed with the news of Kylie Jenner and Travis Scott's breakup last week, wait until you catch up on all that's happened since. Jenner and ex-boyfriend, Tyga recently appeared at the same nightclub again, despite rumors of a rekindled romance.
Kylie Jenner and Travis Scott could get back together despite cheating allegations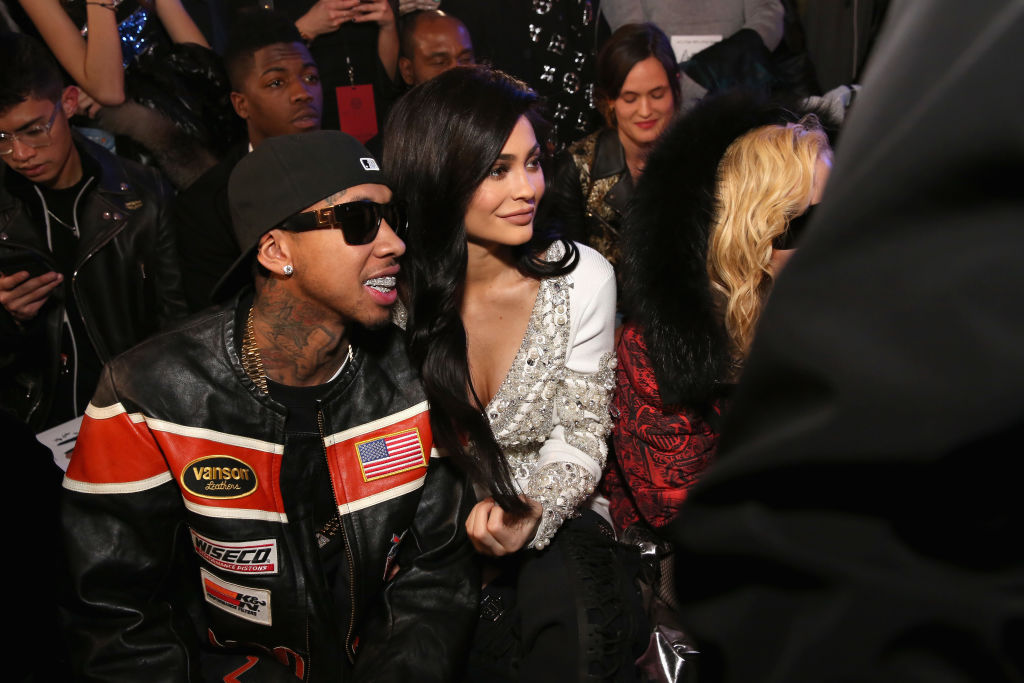 Just a few days ago, Scott addressed the allegations he chated on Jenner with Rojean Kar (also known as YungSweetRo on Instagram).
"It's really affecting when u see false things said about u once again these false stories about me cheating are just simply not true," Scott posted on his Instagram story Friday.
"Focusing on life, music, and family at this moment is what's real," he added.
The comment came after Jenner Tweeted she and Scott were amicable, and Scott's alleged mistress addressed the rumors as well.
"None of these rumors are true, it's just the internet creating a false narrative," she reportedly wrote on her Instagram Story. "Please stop spreading lies & leave him, her & I alone because it's affecting real lives. Thank you."
Regardless of news surrounding the breakup, some say Jenner and Scott wanted different things and this "break" was inevitable — at least for now. A source previously told People that Jenner had "several issues" that led to the split.
The source said Jenner "is all about family life and really wants a second baby," while Scott is focused on his career.
"She still has trust issues with Travis. He hasn't been giving her the commitment that she needs," the source explained. "Travis isn't ready to give her all that she wants."
That said, another source previously told this could be a temporary break and the two could reconcile. A source told Entertainment Tonight, "Although they aren't together now, they're both open to getting back together in the future. Above all, Kylie and Travis know their priority will and always has been Stormi."
Another source close to the couple reiterated to E! News saying, "Kylie and Travis aren't officially calling it quits on their relationship, but are taking space apart. It's not a firm split. They've been fighting again, but have still seen each other within this last month."
Is it a coincidence Kylie Jenner and Tyga partied at the same nightclub?
Immediately after news of the Jenner Scott breakup came about, Jenner was spotted out with girlfriends, Anastasia "Stassie" Karanikolaou and Kelsey Calemine. Later, Jenner and her crew were seen at a recording studio inside the Sunset Marquis. Ex-boyfriend, Tyga was there, too.
Amid reports, Jenner fired back claiming "nothing romantic is going on." The two have reportedly stayed in touch since their breakup.
Jenner and Tyga met as Jenner entered high school and the two dated around her 17th birthday. Jenner Scott got together after Jenner's split from Tyga. Go all of that straight?
Whether there's something going between Jenner and Tyga or not, the two ended up at the nightclub, Hyde, at the same time — again. Entertainment Tonight reported that Jenner and sister, Khloé Kardashian, and friends arrived via a party bus around 1 a.m.
Tyga was already in the club and reportedly left around 2 a.m. Kardashian's ex-husband, Lamar Odem, was also in attendance at Hyde. Could it be a coincidence that Jenner and Tyga ended up at the same place at the same time, or is there something more to their friendship?
Kylie Jenner and Travis Scott are focused on their careers and being parents to daughter, Stormi
Rumors aside, Jenner and Scott remain focused on their respective careers and raising their daughter, Stormi Webster. Scott released "Highest in the Room," which may suggest the issues in his relationship with Jenner.
"I'm doing a show, I'll be back soon/ That ain't what she wanna hear," the lyrics say.
While Scott tours and celebrates his newest release, Jenner's marketing her new fragrance launch in collaboration with KKW Fragrance, but Stormi is still the focus.
"Our main focus right now is Stormi," she wrote on Twitter. "Our friendship and our daughter is priority."
"They are both great parents and will co-parent," the source told Us Weekly. "They don't want their split to affect Stormi. As soon as they felt they couldn't figure out their issues, they decided to separate so their disagreements won't affect her."
"There is absolutely hope that they will get back together," the source added. "They are both young, but smart when it comes to their relationship."
Maybe Jenner and Tyga just happened to be in the same spot at the same time and there's nothing more to it. Or, maybe not.