Kylie Jenner and Travis Scott Break Up? What Are the Odds They Get Back Together?
Kylie Jenner is the world's youngest self-made billionaire, but money can't always buy happiness. Reportedly, Kylie Jenner and Travis Scott, the father of her young daughter Stormi, have broken up.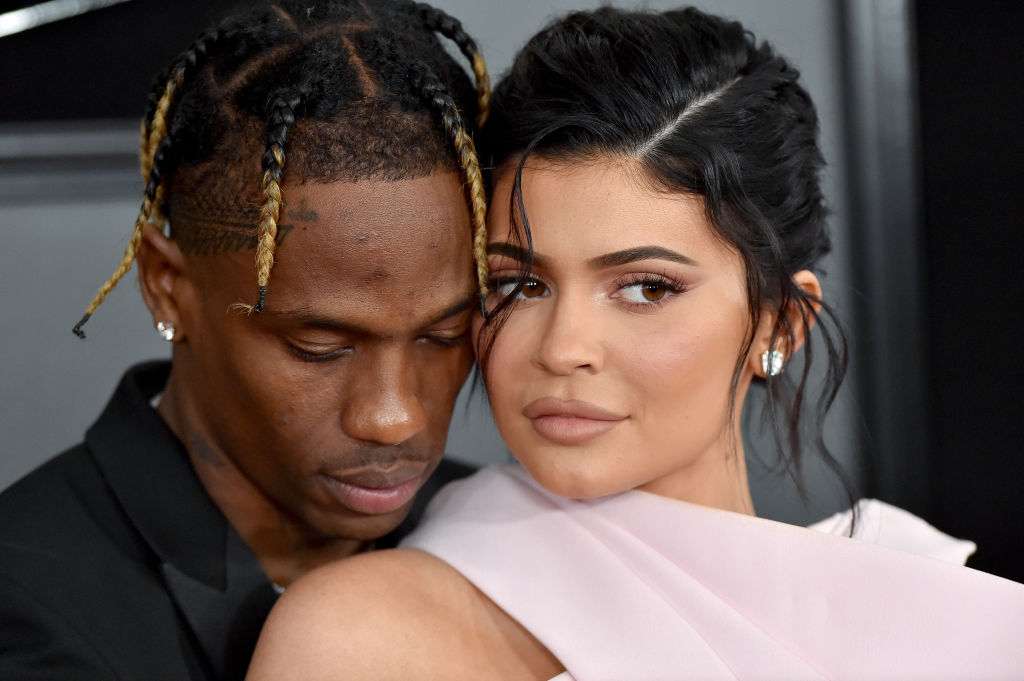 The two stars first got together a couple years ago and have weathered several breakup rumors. But if this report is true, the young couple could be stepping away for good. Read on to learn how Scott and Jenner first started dating and why sources say the two have called it quits.
When did Kylie Jenner start dating Travis Scott?
Kylie Jenner was first spotted with Travis Scott in April 2017, only a short time after she broke up with her longtime boyfriend, Tyga. Jenner and Scott were seen all over the place together, including ringside at basketball games and heading backstage at Scott's concerts. Still, Jenner and Scott refused to discuss their romance publicly, seemingly letting the paparazzi photos speak for themselves.
By June 2017, Jenner and Scott got matching tattoos, a sure sign that they were getting serious. In September of the same year, rumors started circulating Jenner was pregnant. Jenner responded by going into hiding, only stepping out in public on rare occasions and always wearing baggy clothes when she did so. In February 2018, Jenner and Scott revealed they had welcomed a baby girl. Jenner shared the news on her social media, acknowledging that she chose to keep her pregnancy private for her health and the health of her daughter, whom they named Stormi Webster.
Kylie Jenner and Travis Scott refuted breakup rumors in September
Travis Scott and Kylie Jenner have been spotted all over the world together since welcoming Stormi Webster. The two seem like truly devoted parents, and regularly share photos and videos of their adorable daughter to social media. While talk of engagement (and even a secret wedding) has persisted in the past year, neither Scott nor Jenner has ever confirmed they are engaged or married.
In spite of the fact Jenner and Scott have mainly kept their romance under the radar, they still don't shy away from raving about each other on social media. Scott loves to shower Jenner in extravagant gifts, such as covering the interior of Jenner's house with flowers for her birthday or Mother's Day.
Still, things haven't always been perfect in the young couple's world. There have been occasional rumors the two have suffered serious issues, and in late August, fans started questioning whether the two were still together. Jenner seemingly dispelled the rumors in late September by posting a sweet snapshot of herself, Scott, and Stormi to social media, shutting down the breakup chatter – at least, for several more weeks.
Did Kylie Jenner and Travis Scott break up?
On October 1st, TMZ reported that Kylie Jenner and Travis Scott had decided to "take a break" from their relationship. The source told TMZ that Jenner and Scott have been trying to make things work for a while but that the flames of romance have cooled significantly and that they just want to take a break.
While neither Jenner, Scott, or their reps have confirmed the split news, it is certainly possible the young couple has decided to pump the brakes on their romance. After all, they have had a whirlwind relationship, welcoming a daughter less than a year after they started dating. Still, if they are on a break, it might not be permanent.
The TMZ source says Stormi Webster will continue to be their top priority and that they will work on co-parenting. They have weathered relationship problems in the past and gotten back together. If the break is just that – a short break – the two could be back together by the end of the year.