Kylie Jenner Calls Daughter Stormi "A Little Rager" As She Opens Up About Which Parent The Toddler Takes After The Most
Many of us have gotten used to Kylie Jenner sharing photos and videos of her daughter, Stormi, on social media.
While we can all agree that Stormi Webster is adorable, we don't really know much about her personality.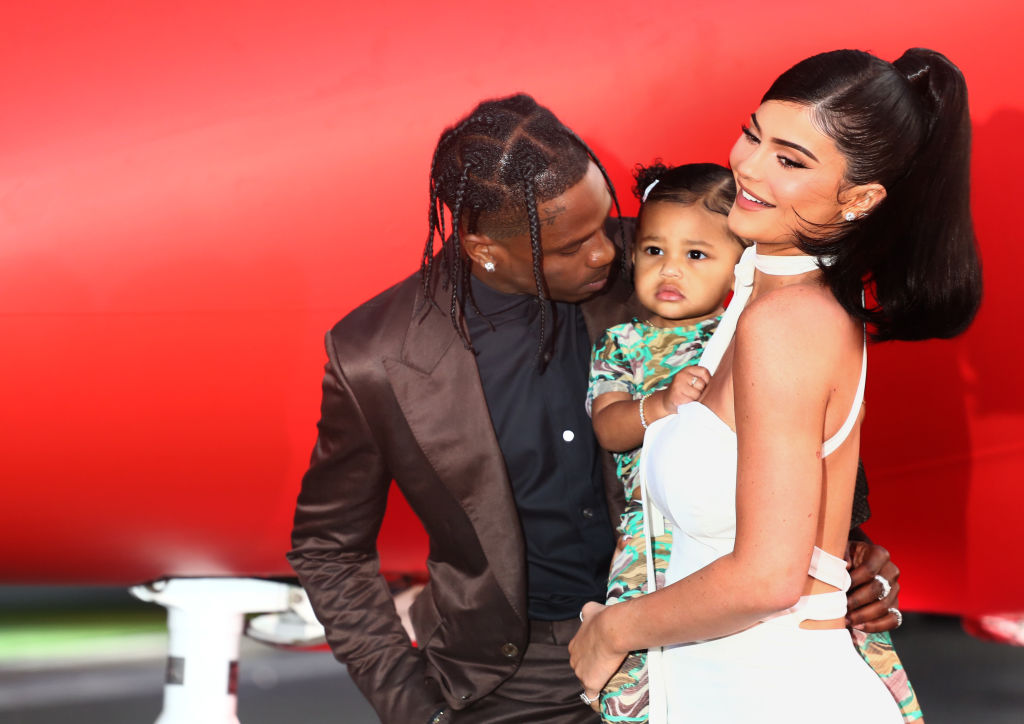 For the past year, many of us have wondered if the toddler acted more like Jenner or her father, Travis Scott?
Well, the makeup mogul recently shared who her young daughter takes after the most and her answer actually doesn't shock us at all.
Stormi Webster is a superstar in the making
Kylie Jenner may have millions of followers on social media, but recently, many of her loyal fans have been wanting the makeup mogul to post her daughter a lot more.
Stormi Webster is only a year old and already has a large fan base.
The only child of Jenner and rapper Travis Scott has been winning over everyone's heart with her insanely adorable laugh, amazing fashion, and her lavish lifestyle.
Though many of us thought we knew everything there is to know about the toddler, Kylie Jenner recently revealed what Stormi is like on a daily basis.
While appearing on The Ellen Show with her mother Kris Jenner, the makeup mogul shared which parent her daughter takes after the most.
"She's the perfect mixture of both of us," Jenner said. "She's definitely a little rager. She loves music."
Since Travis Scott is known for calling his fans "ragers" during his concerts, we can see why Jenner would call her daughter one.
Kylie Jenner even admitted to Ellen DeGeneres that the toddler was backstage dancing while she watched the audience getting down on the TV. 
We can see that Stormi has definitely inherited a few characteristics from Scott given her love for music at such a young age, but we have also noticed a few things she has inherited from her mother as well.
Aside from Stormi's love for fashion, the toddler also has a passion for food, which Kylie Jenner is very much known for.
In a recent Instagram Stories post, Jenner shared a video of Stormi chowing down on some bacon with syrup. She enjoys it so much that adorably tells her mom that she wants more.
Stormi is becoming more and more like her parents everyday
While Stormi Webster might seem like she takes after one parent more than the other, it is evident that she is the child of Kylie Jenner and Travis Scott.
Though Stormi takes after her father with her love for music and dancing, there are a few things she does that have "Kylie Jenner" written all over them.
During the interview, Jenner makes a point to mention to Kris Jenner, "You tell me Stormi reminds you a lot of me," which the momager was happy to elaborate on.
"She is like a little Kylie. It's really wild. It's like sometimes she looks at you and you think, 'I have to remind myself that's my granddaughter, not Kylie…You know for two seconds, like it catches you off-guard," Kris Jenner admitted.
Fans definitely know how Kris Jenner feels, especially since Kylie Jenner and Stormi take "twinning" to a whole new level by debuting their matching outfits every now and again.
In addition to traveling the world and living the ultimate, lavish lifestyle, Stormi recently experienced her very first red carpet, which she was a natural at.
While many of us couldn't get over how cute she looked during the premiere for Travis' Netflix documentary Travis Scott: Look Mom I Can Fly, Kylie Jenner couldn't help but shine the spotlight on her daughter.
"[Stormi] just says a new word everyday," Jenner shared with an E! News reporter during the event. "This morning it was trampoline. I'm like, 'How do you know how to say trampoline? You're one and a half.' She's so smart."
So, by the sound of things, Stormi is definitely the embodiment of Kylie Jenner's and Travis Scott as she will continue to embody them to a T!