Kylie Jenner's Daughter Singing 'Rise and Shine' Is the Cutest Thing Ever
Kylie Jenner loves showing off her daughter, Stormi. The Kylie Cosmetics founder welcomed Stormi with then-boyfriend Travis Scott back in February 2018. Jenner and Scott have since broken up, but the makeup mogul and the rapper still reportedly co-parent extremely well.
Jenner loves posting Stormi to social media whenever she can, and the little girl singing "Rise and Shine" is too cute.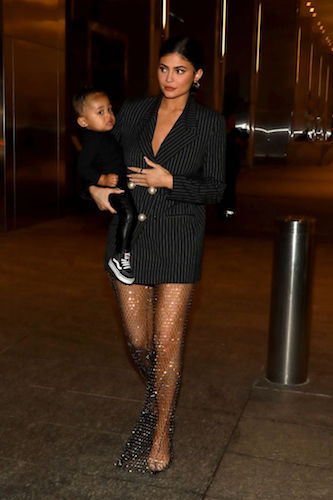 Jenner welcomed her daughter in 2018
Stormi came as a surprise to Jenner and Scott back in 2017. The two had only been dating for about two months when they learned they were expecting their first child. Surprisingly, they were able to keep Jenner's pregnancy a secret up until the then-couple introduced their baby to the world in February 2018, though many people did suspect the beauty mogul was pregnant.
Jenner and Scott stayed together for about a year and a half after Stormi's birth. Though fans thought they would last forever, the two announced their surprising breakup in fall 2019. However, they've come together for holidays since and recently worked together to throw Stormi a massive second birthday party.
Jenner loves to post hilarious photos and videos of her little girl
Jenner's social media accounts are always buzzing. She loves posting mirror pictures and solo photos showing off a new look, whether it's fun hair or a trendy outfit. Jenner also shows off her nails, usually giving fans a peek at her new nail look every few weeks.
But in between the glamorous shots, Jenner loves showing off her daughter's exciting personality. Stormi tends to make Jenner's followers laugh, such as her video trying to shoot a basketball (the cutest attempt ever) or the time she demanded her mom put on Travis Scott's music instead of the "Rise and Shine" remix.
Her recent video of Stormi singing 'Rise and Shine' is amazing
Jenner recently posted Stormi attempting to do karaoke. Stormi was speaking into a microphone that appeared to be attached to a play karaoke set, and Jenner asked her to sing "Rise and Shine." Her attempt was more of speaking the words rather than singing them, but it was still an adorable thing to watch.
"That's it, I want a baby," Winnie Harlow commented. "She is the cutest baby with the funniest little personality ever," Abigail Ratchford wrote. "Noooooooo!!!! I can't handle it!" Sofia Richie added.
Fans still hope she and Scott will get back together
Though Jenner and Scott broke up last fall, fans are still hoping the two will rekindle their romance. They seem to be on very good terms, and they've spent a lot of time together on behalf of their daughter. The two didn't reveal the reason for their split, but busy schedules might have played a role since both of them have thriving careers.
Of course, anything can happen, and Scott and Jenner might eventually get back together. But for now, they're doing a great job caring for their little girl despite no longer being the power couple they once were.