Kylie Jenner Dresses Daughter Stormi in Mini-Me Met Gala Dress, Faces Criticism for Halloween Costume
Kylie Jenner's daughter Stormi just won Halloween in a big way. While many people turn to celebrities for their Halloween costume inspiration, little Stormi didn't have to look beyond her famous mom for inspo. Jenner showed off her daughter in a replica of the Met Gala dress she wore this year and her the internet is full-on losing it.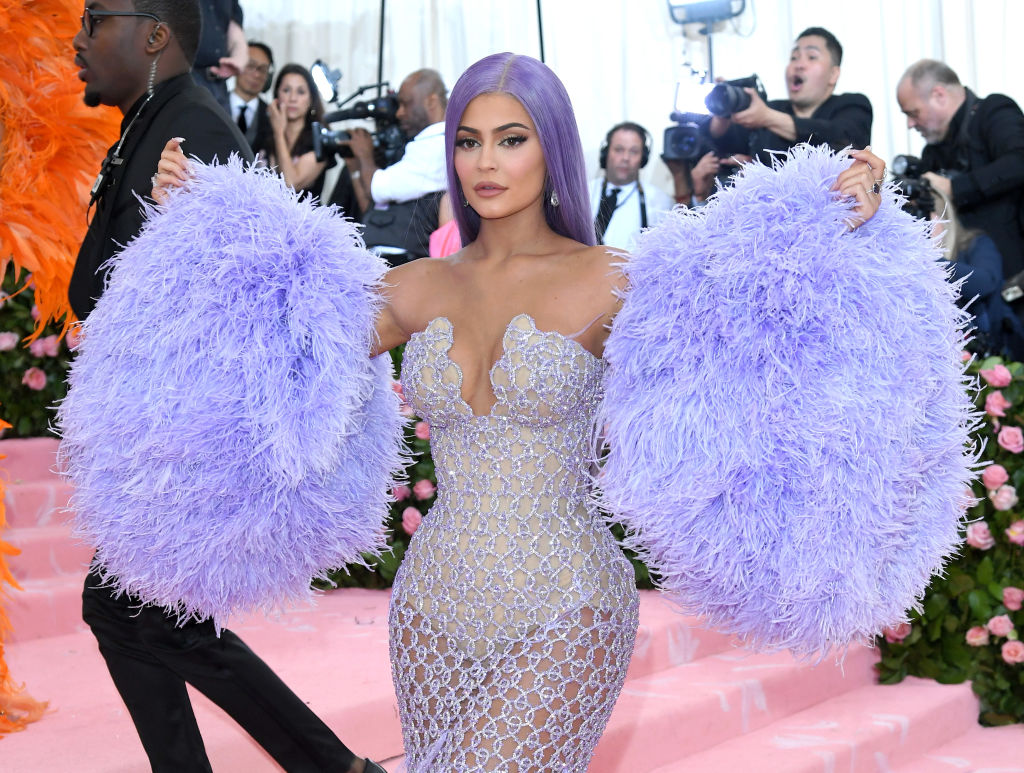 Stormi has Jenner's look down perfectly
Jenner created the perfect Halloween costume for her little one — Stormi wore a mini version of the beauty mogul's Met Gala purple dress, complete with feathery sleeves and even the purple wig.
The details are everything, with the dress styling a perfect recreation of the campy custom Versace look, including a tiny adorable handbag to complete the vibe.
Stormi and Jenner have worn matching outfits in the past, including their blue dresses on vacation and matching dresses in June. Last Halloween they wore matching skeleton pajamas. This mini-me creation is totally next level though.
Jenner posted the images and video on Instagram with the caption: "My baby!!!!!!!! I can't handle this!!!!"
The internet is divided about Stormi's look
Jenner wasn't the only one who couldn't handle it, as she got plenty of responses on the post. Pal Sofia Richie commented: "Omg I can't deal," while Vanessa Hudgens commented, "Dead," with the heart eye emoji, and Stormi's dad, Travis Scott, posted a red heart emoji.
Most fans couldn't get over how adorable Stormi is wearing the same dress as her mom, but there were critics too, naturally, with comments such as: "That poor baby. All she wanted to be for Halloween was Elsa. Her face says it all."
Others blasted Jenner, such as one commenter who wrote: "You should be ashamed of yourself. What a narcissist! Let her be her own little girl!"
Another critic wrote: "poor rich kid. hope she grows up knowing the value of money, hard work and respect, as her mommy barely moves her finger 'building empire.' the hope is with u , Stormi grow up to be better and do more good than self indulging. future is bright."
Jenner and Scott called it quits but are bosses at co-parenting
Jenner and Scott announced in October that they would be "taking some space apart, with a source telling E! News at the time: "Kylie and Travis aren't officially calling it quits on their relationship, but are taking space apart. It's not a firm split. They've been fighting again, but have still seen each other within this last month."
The insider noted: "They fight over ridiculous things and Kylie can be very skeptical about Travis. Travis has been stressed with dropping new music."
Jenner took to Twitter at the time to clear up some gossip and assured fans: "Travis and i are on great terms and our main focus right now is Stormi our friendship and our daughter is priority."
The two have been winning at the co-parenting game, even having a family fun night out along with Kourtney Kardashian and her kids.
A source told ET: "Kylie, Travis and Kourtney were extremely hands on with their kids, the source says. "Kylie and Travis especially were such a great team with Stormi. They were very involved with Stormi. They took turns pushing her around the ranch in a pink, Ariel-themed stroller. They were extremely attentive and had their eyes on her at all times."