Is Kylie Jenner's Hair Real?
One of Kylie Jenner's best accessories is her hair. It seems that with whatever outfit she's wearing, her hair always matches. From more eccentric colors such as pink and green, to an icy blonde bob or long, dark locks, Jenner's hair differs all the time. While she definitely has enough money to dye it, are any of these hairstyles actually her real hair?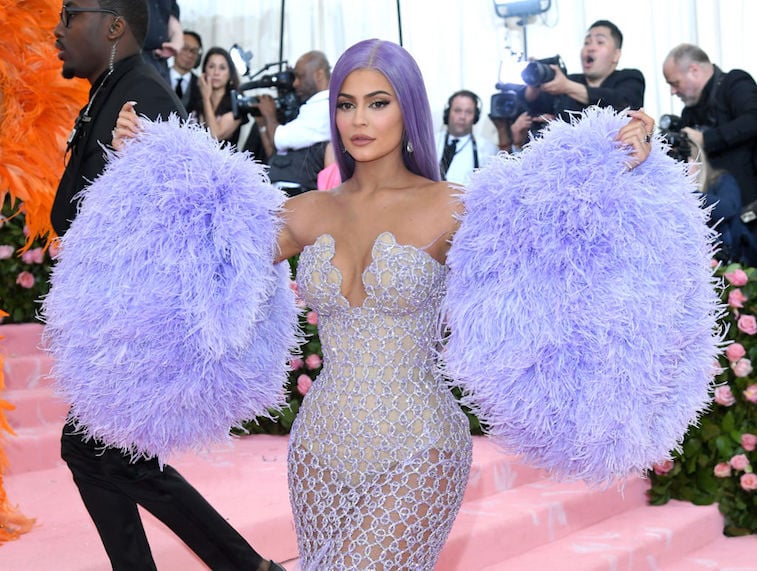 Jenner's hair might be the most interesting thing about her
Though the Kardashians are extremely famous, none of them are known for their wild personalities (except maybe Khloe, who always had a bit more of a sense of humor than her sisters). Realistically, the women aren't that interesting — no offense to them or their millions of fans. But something we all find interesting are the looks the women wear to events, photo shoots, and more. And Jenner's hair is something that changes just as often as her outfit. She had long purple hair at the Met Gala but recently posted a photo of dark hair the stretched all the way to her upper thigh. It seems that whatever her look, she has a hairstyle to match.
Jenner's hairstyles definitely aren't real — she loves wigs
Though Jenner's hair always looks on point, it's safe to say that the majority of her hairstyles are not her real hair. Jenner, along with other members of the Kardashian family, loves wigs. She has no shame with the wig game; her hair has become an accessory to her style in the same way as a piece of jewelry or a cute handbag. Recently, Jenner has been rocking extremely long, dark hair. It's possible that some of it is natural, but the length is definitely due to extensions. Her older sister, Kim Kardashian, loves to rock a wig as well, while Khloe and Kourtney Kardashian tend to simply use extensions rather than change their hair to a wild color.
She has naturally dark hair
Though Jenner has been spotted as a blonde on several occasions, anyone who has been following the Kardashians for years knows that all of them have naturally dark hair — including Jenner. In the earliest days of Keeping Up With the Kardashians, before Jenner started dying her hair and plumping her lips, she was a cute young girl with dark hair that went just past her shoulders. Since those days, she has truly come into her own; today, she's a working mother who has become one of the most famous women in the world. She has more Instagram followers than almost any other celebrity on the app, and she's built her makeup empire into a billion-dollar brand.
Jenner's looks will always keep us on our toes
Without a doubt, there is more to come with Jenner. At only 21 years old, Jenner has become an icon. She's one of those celebrities who gets extra attention because her looks always stop people in their tracks. While some of that is due to her exciting hair styles, she has also just created a brand for herself that's hard for even the biggest Kardashian-Jenner haters to ignore. It's safe to say we'll be seeing a lot more of her looks for years to come.