Kylie Jenner Isn't Actually Worth $1 Billion Dollars
Kylie Jenner is widely regarded as the world's youngest self-made billionaire. And while this is true (regardless of what we're actually considering self-made), it's also not. Jenner lives a life most people would only dream of; she most recently rented out a million-dollar yacht in Italy to celebrate her 22nd birthday. But her true net worth breaks down a little differently than we all thought.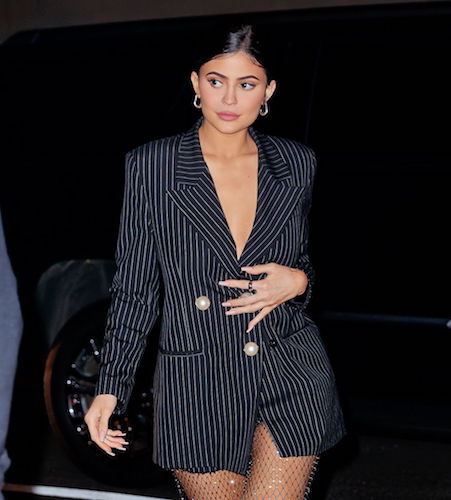 Jenner started Kylie Cosmetics back in 2015
The youngest Kardashian-Jenner was hardly out of high school when she launched her own business venture. Jenner, who had previously partnered with her sister, Kendall, for a clothing line among other different ventures, launched Kylie Lip Kits after her lips had become the most talked-about thing about her. (Jenner admitted to getting fillers after fans started asking questions.) The company was originally only lip kits, though when Jenner expanded to other products, she renamed the brand Kylie Cosmetics. The lip kits sold out in minutes, and it was soon obvious that Jenner had something major on her hands.
Jenner's personal net worth is only $100 million
Today, the 22-year-old beauty mogul is only worth $100 million, personally. It seems weird to say only $100 million, but when you're talking about a supposed billionaire, it's a stark difference. This means that Jenner has $100 million in assets at her fingertips, including investments, her homes, etc. This number is comparable to her other family members, though, and with the exception of Kim Kardashian, Jenner's personal net worth is higher than all of her other siblings, even without factoring in her biggest asset: Her company.
Her business is valued at $900 million, giving her that 'billion-dollar' net worth
At least 90% of Jenner's net worth, if not more, isn't actually tangible money. That's because 90% of that net worth comes in the form of Kylie Cosmetics, which was valued earlier this year at $900 million. This means that unless Jenner, who owns 100% of her company, sells that company tomorrow, she'll never actually have $1 billion in her hands. This is the case for pretty much everyone; the "net worth" encompasses every asset someone owns, such as a home, plus any investments, money in the bank, etc. But clearly, Jenner doesn't need to have $1 billion in the bank right now, considering she can easily afford that million-dollar vacation yacht with whatever she has in her savings at the moment.
Jenner continues to build her business and grow that net worth even higher
Though some criticize Jenner for not building her company by herself, she is still doing more than many other people would. Once Jenner's brand gave her that massive net worth, she could have easily turned around, sold it, and never done anything more with her life but sit on her money. Instead, Jenner continues to work with her team to build her brand. She recently launched Kylie Skin, a new part of her franchise, and has now broken into both the makeup industry and the skincare industry. Jenner continues to grow her net worth and her brands, and she hasn't showed any signs of slowing down.