The Real Reason Kylie Jenner Was "Scared" Of Jordyn Woods
Lately, rumors have been swirling that Kylie Jenner and her ex-best friend, Jordyn Woods, are trying to mend their broken friendship. The pair, who had been friends since their early teens, had a very public falling out surrounding an alleged encounter between Woods and Tristan Thompson. Thompson, who is the ex-boyfriend of Jenner's half-sister, Khloe Kardashian, is reported to have grabbed Woods into a kiss as she was leaving a party late one night. Now Jenner has broken her silence about her former bestie and admits that she was actually scared of her at one point in time.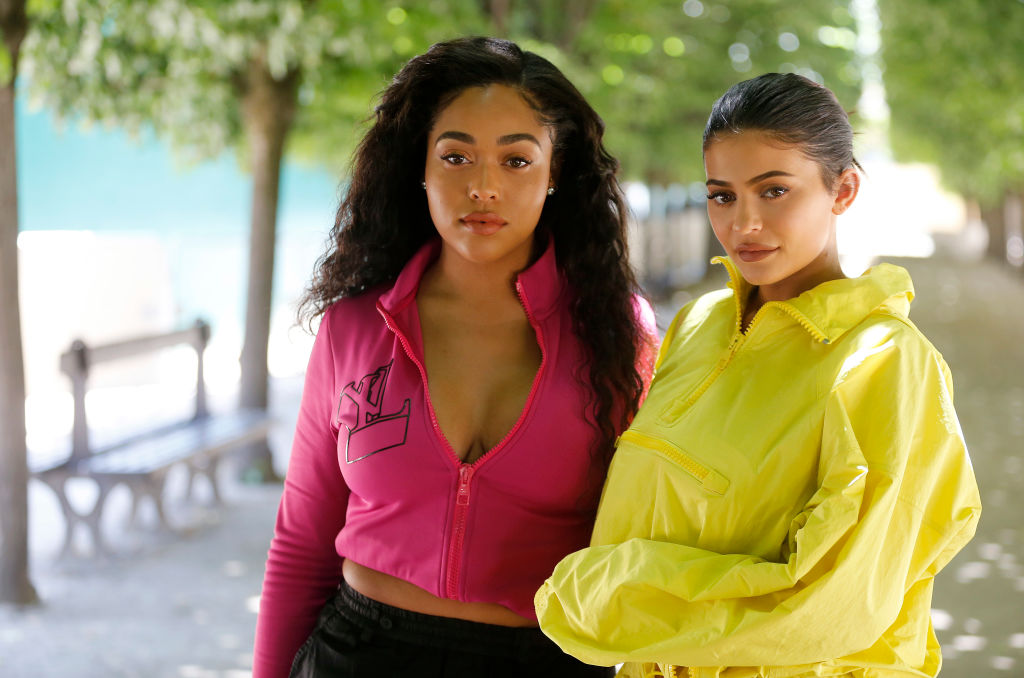 The Tristian Thompson scandal
The Internet erupted when the latest Kar/Jenner scandal hit the presses just in time for the upcoming season of Keeping Up With The Kardashians. When Khloe Kardashian found out about an alleged cheating scandal between her baby daddy, Tristan, and the girl she thought of as a little sister, Woods, she instantly lashed out in anger. When Woods went on Red Table Talk to have a candid conversation with her godmother, Jada Pinkett Smith, about her side of the story, Kardashian was quick to place the blame at Woods' feet.
Khloe's outburst
"Why are you lying Jordyn Woods ?? If you're going to try and save yourself by going public, INSTEAD OF CALLING ME PRIVATELY TO APOLOGIZE FIRST, at least be HONEST about your story. BTW, You ARE the reason my family broke up!" Kardashian twetted out in retaliation. But, after being dragged to the ends of the earth by Twitter, Kardashian very quickly had a public "change of heart" and retracted her ridiculous statement.
Kylie reacts
But how did Woods' former best friend, Kylie Jenner, take the news? Until recently, Jenner has been uncharacteristically quiet about the scandal, only admitting on Keeping Up With The Kardashians that Woods "fu*ked up." Now, on a new episode, viewers get to see the billionaire share details about a conversation she had with her former partner in crime after the scandal.
"Scared"

"I called her, and she didn't really say anything," Jenner began, giving her first-hand account of her and Woods' conversation to her sisters Khloe and Kim. "She was just crying the entire time. I was just telling her, 'I'm like scared of you now. Like, you're capable of waking up the next morning with a smile on your face.' I pretty much told her exactly what we were talking about." Jenner began.
All in the family
She then continued on to say that Woods didn't consider her family when she got herself into this situation. "Like, 'You weren't thinking about True (Khloe's daughter with Thompson and Kylie's niece) not Khloé not me, but you weren't thinking about yourself. Look what you did. You could do whatever but when it affects my family, me, that's when it's a problem." Jenner admitted.
A True Hollywood scandal
But what leg does Jenner have to stand on to place any kind of blame on Woods? If Woods' story is true, she was drinking and enjoying herself when Thompson grabbed her into a kiss as she was trying to leave the party. It's ridiculous that Jenner even said she was "scared" of her former friend. If anyone is inspiring fear in Jenner, it should be her sister's baby daddy, Thompson, for being a creep and preying on her friend while she was intoxicated. But, of course in Kar/Jenner land, common sense doesn't appear to be very common.
Amidst this never-ending scandal, we hope baby True is doing well. She is the only person in this entire debacle that is truly (no pun intended) blameless. After all, you know what they say…you can't pick your parents.