Kylie Jenner Just Gave Fans a Look Into How She Keeps Stormi Entertained
As a billionaire, Kylie Jenner has the capacity to purchase pretty much anything her daughter, Stormi, could ever want. But still, Stormi is barely a toddler, and it's up to her mother to always keep her entertained. Jenner loves posting photos and videos of her daughter laughing and smiling, but she just let us in on how she really manages to keep her almost-two-year-old having fun.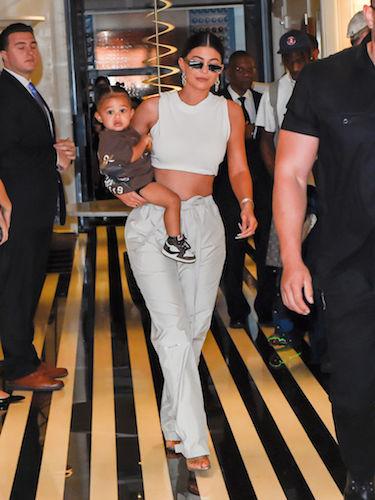 Jenner welcomed Stormi with ex Travis Scott in 2018
Jenner had only just split up from ex Tyga when she started spending time with Travis Scott. At first, the public didn't think much of it — it seemed Jenner had simply found a rebound. However, when they were still together after several months, fans started to look at them as an actual couple. And things became even more serious between the two when they learned they were expecting their first child, which Jenner hid from the public for her entire pregnancy. In February 2018, she announced that she and Scott had welcomed a daughter, Stormi Webster.
Jenner loves posting hilarious photos and videos of her daughter
Stormi has become the love of Jenner's life, and she's spared no expense to make her daughter happy. She and Scott threw her a massive first birthday party earlier this year, which reportedly cost upward of $1 million. Stormi has also taken several trips with the couple to luxury places such as Turks and Caicos and Italy. Jenner always posts hilarious photos and videos of Stormi, including a video of her asking to dance to "daddy sing" — clearly, she loves her father's music. Jenner also posted a video of Stormi playing basketball, which was adored by fans.
Jenner recently revealed Stormi enjoys spending time on the trampoline
As such a little kid, Stormi's attention span is likely pretty short. This means Jenner has to keep her entertained as much as possible. The beauty mogul recently posted a Boomerang video of her daughter bouncing on a trampoline to her Instagram story, and Stormi appeared to be loving every minute of it. She had a balloon in her hand and was bouncing up and down in the California sunshine. Stormi certainly has no shortage of toys, but it's nice to see that her mother took her outside to get some fresh air and exercise.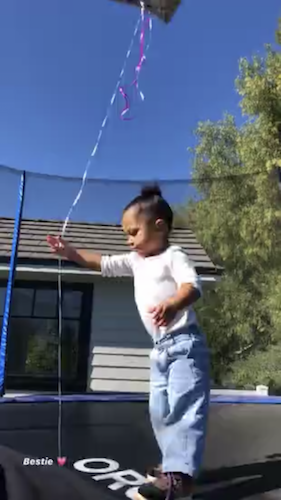 Jenner and Scott have been learning to co-parent since they split in October
Jenner and Scott dated for roughly two years, but over the summer, fans grew increasingly concerned that their relationship was on the rocks. Then, news broke mid-October that Jenner and Scott had called it quits. Since then, Jenner has been linked to other rappers, including her ex, Tyga, and Drake. However, she said that she and Scott's main focus is maintaining their friendship and taking care of Stormi. The two have been learning to co-parent as exes, which will take a while to get used to. But it's clear they both have a lot of love for Stormi and want her to have the best life possible.