Kylie Jenner Just Proved Her Daughter is Exactly Like Her
Kylie Jenner and Stormi Webster are partners in crime. The beauty mogul might be one of the world's most successful women, but she somehow does it all while raising her young daughter. Now that Jenner and ex Travis Scott aren't together anymore, she's probably formed and even stronger bond with her daughter (though she and Scott appear to be co-parenting very well). But Jenner has already proven that Stormi is just like her.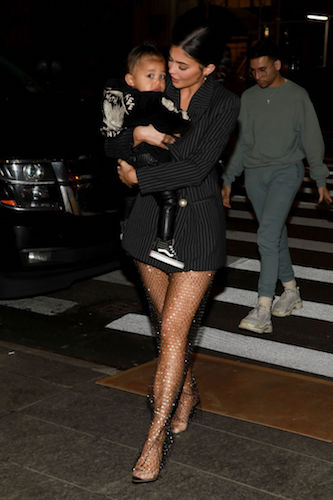 Jenner loves posting Stormi to social media
Jenner is the queen of social media. She loves posting photos of herself to the app and often posts several times per day. But as much as she enjoys putting photos of herself online (usually clad in some kind of designer brand), she also loves showing off her daughter to the world. Jenner has posted many photos and videos of Stormi, and some of them have showed her little girl's bubby personality. She's posted videos of Stormi dancing, playing sports, and now, her most recent video shows the similarities between her and her daughter.
She and Stormi spend as much time together as possible
Now that Jenner is single, she can focus her energy on two things: her daughter and her cosmetics brand. Jenner recently sold more than half of her cosmetics brand for $600 million, with the hope of expanding the brand even more globally. But in between her work, she makes sure to spend as much time with Stormi as possible. The two seem to be inseparable; she's taken Stormi on vacations with her and recently posted a photo of the two traveling on a private jet together.
Jenner recently posted a video of Stormi doing her own makeup
Though Jenner posts many photos of herself and her cosmetics on social media, she still makes sure to show off her little girl now and then. Stormi often makes appearances on Jenner's Instagram story, but Jenner recently posted a video showing her daughter doing her own makeup. Of course, it was all over the little girl's face, but Stormi kept saying how "happy" she was to be wearing makeup. Jenner loves makeup (after all, it's why she's so rich), and it's clear she and her daughter are cut from the same cloth. Fans adored the video, and it gave everyone just one more reason to love Stormi.
Jenner and Scott seem to be keeping a strong relationship for their daughter
Jenner and her ex, Travis Scott, welcomed Stormi in February 2018 after hiding the pregnancy for nine months. Although the two broke up back in October, they have worked hard to co-parent Stormi as best they can. And it appears Jenner and Scott don't have any hard feelings toward each other; she recently went to Scott's Astroworld concert with Stormi to support him. The two have showed some signs of getting back together (which fans seem to want), though they are both still single for now. It seems like they're too busy giving all of their love to their little girl.