Kylie Jenner Just Surprised Fans And Revealed What Her Real Hair Looks Like
Kylie Jenner is always sporting a new look. Her outfits are trendy-yet-bizarre, and her hair seems to change with each passing social media photo. But she's become a fashion icon, which means she needs to keep fans on their toes in terms of how she dresses and styles herself. But she recently showed off what her natural hair actually looks like.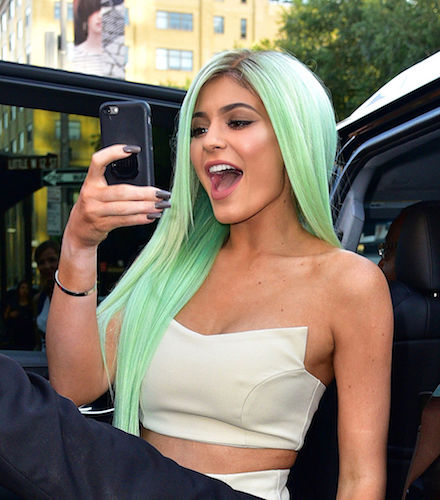 Jenner's style has greatly evolved through the years
Jenner has been on television since she was nine years old. When Keeping Up With the Kardashians first premiered back in 2007, Jenner was still a child. But we've watched her grow up, and it's hard to believe what she has turned into. She's now a billionaire running a massive makeup company (of which she just sold about half for $600 million). She's also become one of the most followed people on social media. With that, her style and image have evolved tremendously. She went from being a girl-next-door kind of teenager to having Botox, face fillers, and hair extensions.
She's almost always wearing wigs and hair extensions
Jenner's personal style has grown to largely include her hair styles. She has found a love of wigs and extensions, and she's worn hair that's almost every color imaginable. From her green and purple wigs to her icy blonde wig to her long, dark extensions, Jenner's hair has become one of the most well-known things about her. Other Kardashian-Jenners have tried new wigs and hairstyles too; especially Kim, who wears wigs frequently, and Khloé, who has become more and more blonde through the years. 
Jenner recently revealed what her true hair looks like
Jenner tends to let fans in on more personal parts of her life through her Instagram stories. And on November 26, she posted a video of herself in the mirror after her shower. She was wearing a towel and her hair was soaking wet, but the video showed what her natural hair actually looks like. "Haven't had my real hair this long since I was 15," she captioned the video.
In the recording, her hair hit just below shoulder length and appeared to be dark black, though that could have just been because it was wet. Nowadays, Jenner has so many different hair styles (and she rocks all of them), that fans had forgotten what the beauty mogul's natural hair actually looks like. Her most well-known style is her long, dark hair, but changes it up so frequently that it's hard to keep track of what's real and what's not.
The Kardashian-Jenners have been criticized for changing their appearances
Though the family is known for their ever-changing styles and influence on the fashion industry, they have received some criticism for their appearances. Fans have become concerned with the amount of filler both Kim and Kylie have used on their faces; Kim's fans once said she was unrecognizable in her Instagram photos. And others have questioned how much work Khloé has had done, too — they even suspected she was Photoshopping her daughter (though that was never confirmed). Regardless, Kylie seems to rock any look she wears, but it was nice to see her let fans in on something more natural.