Kylie Jenner's Recent Photo of Stormi Is Now a Hilarious Meme
Kylie Jenner loves being a mom, and she shows Stormi off on social media pretty often. Fans love to get a sneak peek at Jenner's daughter's life; now that Jenner and ex Travis Scott aren't together anymore, she's showing even more social media love for her daughter. And her recent post about traveling alongside her little girl has already become a hilarious meme.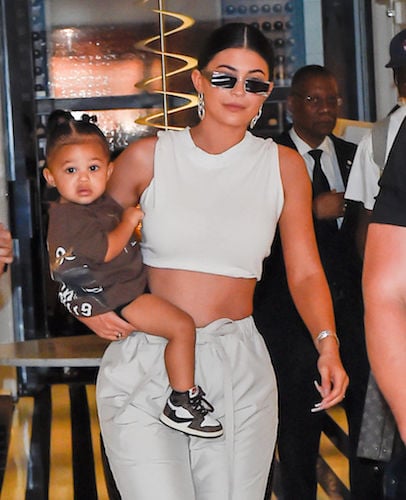 Fans arguably love Stormi more than any other Kardashian-Jenner toddler
Fans have watched Kris Jenner's children grow up and start families on television. Now, Kris Jenner is the grandmother of 10 grandkids: Four from Kourtney Kardashian, three from Kim Kardashian, and one each from Khloé Kardashian, Rob Kardashian, and Kylie Jenner. The family loves showing off the kids on Instagram, and fans have gained an appreciation for each one of them. However, it seems that every time Jenner posts a photo or video of Stormi, she receives more hype than any of the other kids.
Jenner shows off her daughter on social media whenever possible
Jenner loves social media. And with more than 150 million followers, who can blame her? It seems that no matter what she posts, fans love it. She occasionally faces criticism over some photos, but if Stormi is present, there is hardly any backlash. Jenner has posted countless photos and videos of her daughter, which fans have adored. Her video of Stormi shooting a basketball went viral, as did the video of Stormi asking her mom to play "Daddy's" music instead of Jenner's. The almost-two year old has become a star in her own right.
A recent photo slideshow of Stormi quickly turned into a meme
Jenner recently posted several photos of Stormi to her Instagram account, which were compiled into a slideshow. Stormi was sitting in the seat of a private plane and making faces at the camera; Jenner posted several of the photos to social media, calling Stormi her "cutest travel buddy." Fans loved the photos, and Stormi's various faces quickly became the subject of a popular meme. In one image, Stormi is making a distasteful face; in another, she's smiling. Meme accounts reposted the photos in their own slideshow with different hypothetical scenarios.
Jenner and Stormi have previously gone viral, specifically when Jenner sang "rise and shine" to wake her daughter up from a nap. Now, the little girl is a meme once more.
It's clear Stormi is already following in her mother's footsteps  
Stormi is already a miniature version of her mother. She dresses in high-fashion outfits (high-fashion for a toddler, that is) just like her mom. And Jenner recently confessed that Stormi has a makeup obsession. It's no secret that Jenner loves to wear makeup, and she said in a YouTube video that her daughter loves makeup as well (Jenner did not indicate that she allowed Stormi to wear makeup). She mentioned that Stormi can always tell when she's wearing lipstick. As Stormi grows up, she'll likely become more and more like her mom; the two seem to already be a dynamic duo.