Kylie Jenner Explains Why Stormi Has a Bedroom at Her Office: 'It's Hard to Manage Mom Life and Work Life Sometimes'
Billionaires, they're just like us.

During a 20-minute YouTube video, Kylie Jenner (the youngest member of the Kardashian-Jenner family) revealed that balancing work while also being a mother can be challenging. Jenner gave birth to her daughter, Stormi Webster, in Feb. 2018.

The billionaire documented a day in her life in which she had meetings at her office, a photo shoot, and a surprise birthday party for a friend on her schedule.

Why Stormi has a bedroom at Kylie Jenner's office

After getting "glam" done — hair and makeup — Jenner woke her daughter up. Then she headed to her Kylie Cosmetics office for meetings. She vlogged (video blog) the entire experience only stopping when she talked about future projects that are still under wraps.

After talking to Stormi on FaceTime while she visited an orchard, she visited Jenner at her office. A child's presence at the office was clear because a toy sports car sat in the hallway waiting for Stormi to take a spin (which she did).

Jenner spent time with her daughter in her own "bedroom" filled with toys and a Louis Vuitton handbag emblazoned with Stormi's name.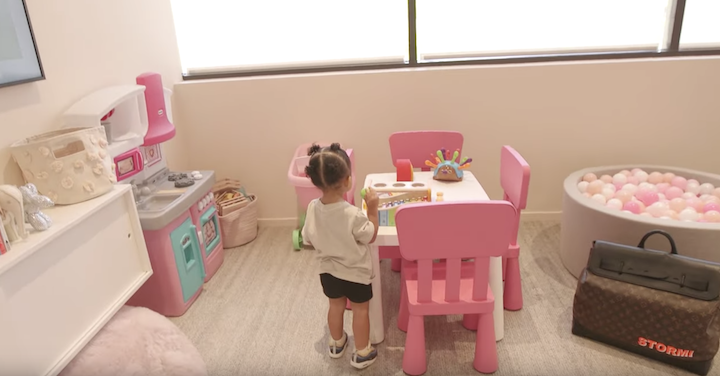 "It's hard to manage mom life and work life sometimes," Jenner explained while walking through her office after leaving Stormi to play with toys. "So that's why I made her a bedroom here so she could be with me and still have fun."

Moments later, Stormi sat on her mom's lap in a conference room. "Stormi's in all my meetings. She really is," Jenner said.

Having her daughter in meetings may be Jenner's way of striking balance between her personal and professional life.
Just recently, she expanded her Kylie Cosmetics brand to include skin care (every product in the line was sold out at the time of publication). Fans of Kylie's need not worry because the products are being restocked, Jenner explained in the video.

Kylie Jenner can look to her sisters for advice on being a mother

Not that she necessarily needs advice on being a mother, Jenner does have a wealth of resources to draw on.

She's got her sisters Kim Kardashian (who is now the mother of four), Kourtney Kardashian (she and Scott Disick co-parent their three children), and Khloe Kardashian (who shares a daughter, True, with Tristan Thompson) to turn to for advice on balancing "mom life and work life."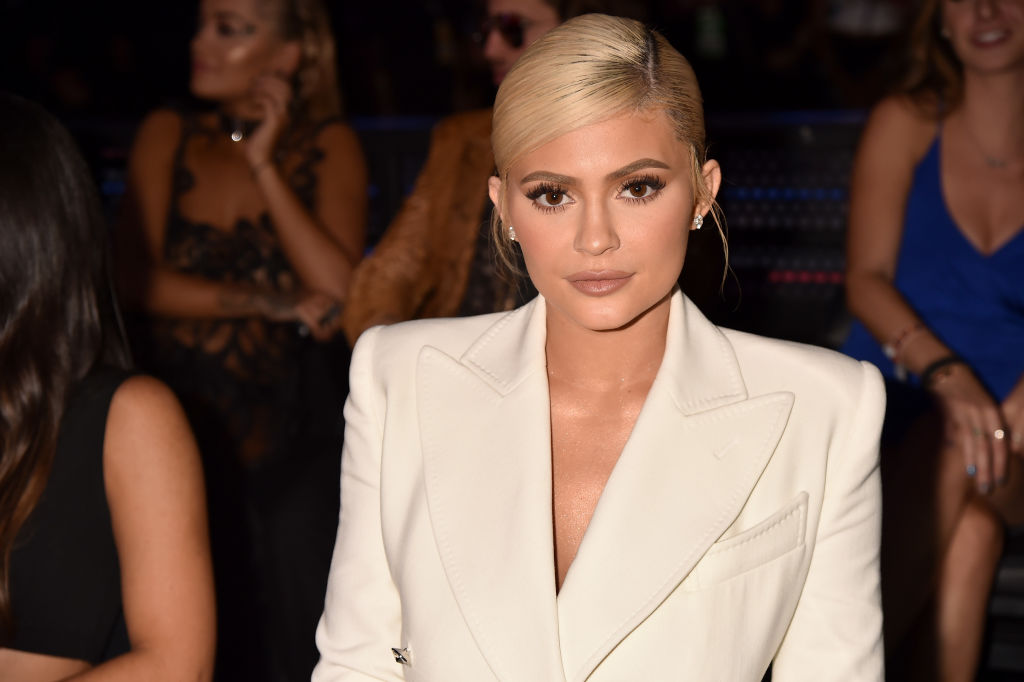 Plus, her mother, Kris Jenner, undoubtedly has a wealth of knowledge about being a mother. She raised the entire Kardashian-Jenner family after all.

Jenner's days are long

One thing we know for sure about watching Jenner's "day in the life" video is that she's a busy woman.

She started her day in the 5 o'clock hour when Stormi woke her up. Within a few hours, she had her hair and makeup done (in preparation for her friend's surprise party later that night) and got Stormi ready for the day.

She drove herself to the office, spent the day there in and out of meetings and a photo shoot then left the Kylie Cosmetics headquarters around 6 p.m. when she drove herself to the event for her friend.

We're not sure where Jenner gets the energy for such a long day but maybe she'll reveal her secrets on Kourtney's new lifestyle site, Poosh.