Kylie Jenner and Travis Scott Are Spending Christmas Together to Make It 'Special' for Stormi: Find Out How
Are Kylie Jenner and Travis Scott spending Christmas together? According to an insider, the exes are making the holiday special for their daughter Stormi.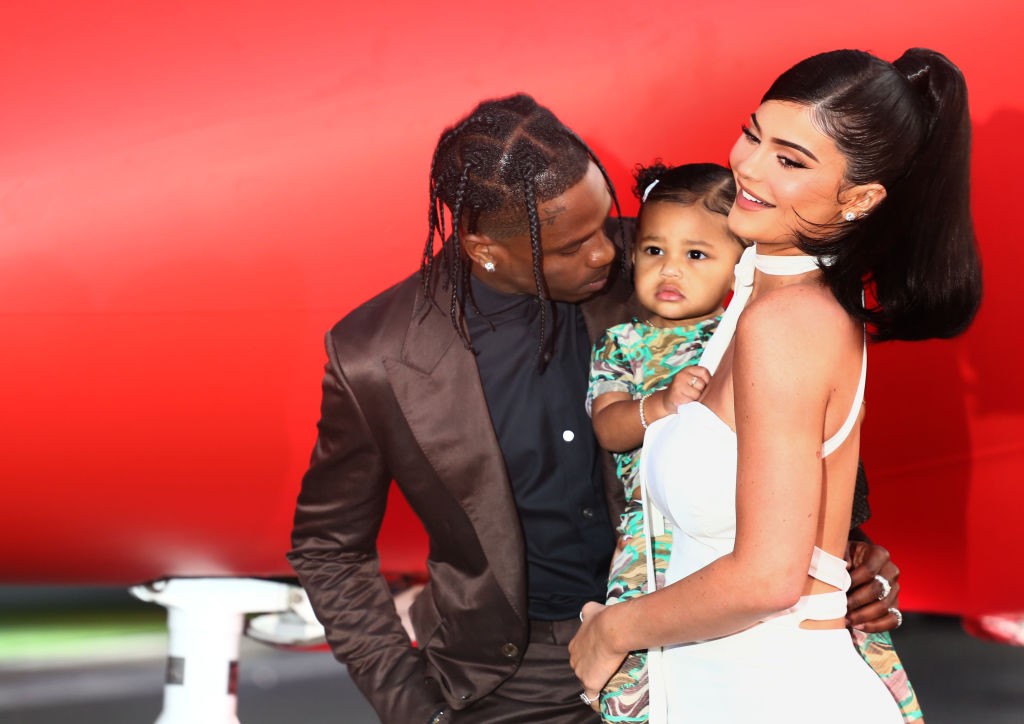 Kylie Jenner and Travis Scott are on good terms since their split
Despite their breakup, Jenner and Scott are in a good place with each other and are working on co-parenting their daughter Stormi. At the time the news of their split hit, a source close to Jenner shared: "They are taking some time but not done. They still have some trust issues but their problems have stemmed more from the stress of their lifestyles."
Rumors started swirling that Jenner had hooked up with Tyga, which the beauty mogul swiftly shot down. She tweeted: "The internet makes everything 100 times more dramatic than what it really is. There was no '2am date with Tyga'. You see me drop two of my friends off at a studio that he happened to be at."
Jenner added: "Travis and i are on great terms and our main focus right now is Stormi our friendship and our daughter is priority."
Are Kylie Jenner and Travis Scott spending Christmas together?
With the holidays upon us, many fans have been wondering if Jenner and Scott would be spending Christmas together or splitting up their time with Stormi.
A source told ET that "although they aren't a couple, Kylie and Travis will be spending Christmas together with their daughter, Stormi," adding, "The duo is planning to spend it in California as a family. Kylie and Travis have always put Stormi first and want her to be around all of her cousins and family during the holidays."
The source shared: "Kylie and Travis have done a wonderful job as co-parents and making Stormi's holiday special will be no different."
TMZ first reported the couple's holiday plans, noting, "Kylie and Travis are celebrating Christmas in Los Angeles as a fam, because both parents want to be there for Stormi when she opens presents on Xmas morning."
Further, an insider told E! News: "They will be doing stuff together as a family to make it as wonderful as possible for Stormi. Travis will be at the family party and several other gatherings as well. They are excited to give Stormi an amazing Christmas."
The insider added: "Regardless of what their relationship status is, there's no doubt they will all be together for Christmas. They are a family and that hasn't changed. It's very important to Kylie and Travis that Stormi has both of her parents there. They are making memories with her that they hope will last forever."
A second source noted that the exes "want to keep things 'normal,'" sharing, "Travis is invited to all of the family events and will be there. Him and Kylie are on really good terms and want to spend every occasion together as a family of three. Kylie would never shut Travis out of holidays with Stormi and she is glad that he is included."
They're "co-parenting amazingly"
During an appearance on The Ellen DeGeneres Show, Jenner's sister Kim Kardashian West weighed in on the exes' relationship and, while she didn't have a lot of information, she did share that their priority is Stormi.
Kardashian West explained: "I think that they are just really close friends and co-parenting amazingly." She also addressed the ring Jenner has been wearing, noting: "The big ring, definitely they're not engaged, and I think she's wearing it on a different finger. I think she bought that herself."
She added: "I don't know the status if they're together or not. I don't think they are."