Kylie Jenner Tries to Clear the Air About Tyga But People Aren't Buying It
It was recently announced that Kylie Jenner and Travis Scott had parted ways. They were an item for about two years and even had a daughter together: Baby Stormi. But, reportedly, Jenner and Scott had too many issues in their relationship to be able to make things work.
Just after news of her split with Scott came out, Jenner was spotted with her ex-boyfriend Tyga, which was an interesting turn of events for fans. According to Jenner, there is nothing going on between her and Tyga. However, her words seem to be falling on deaf ears.
Kylie Jenner dated Tyga from 2014 to 2017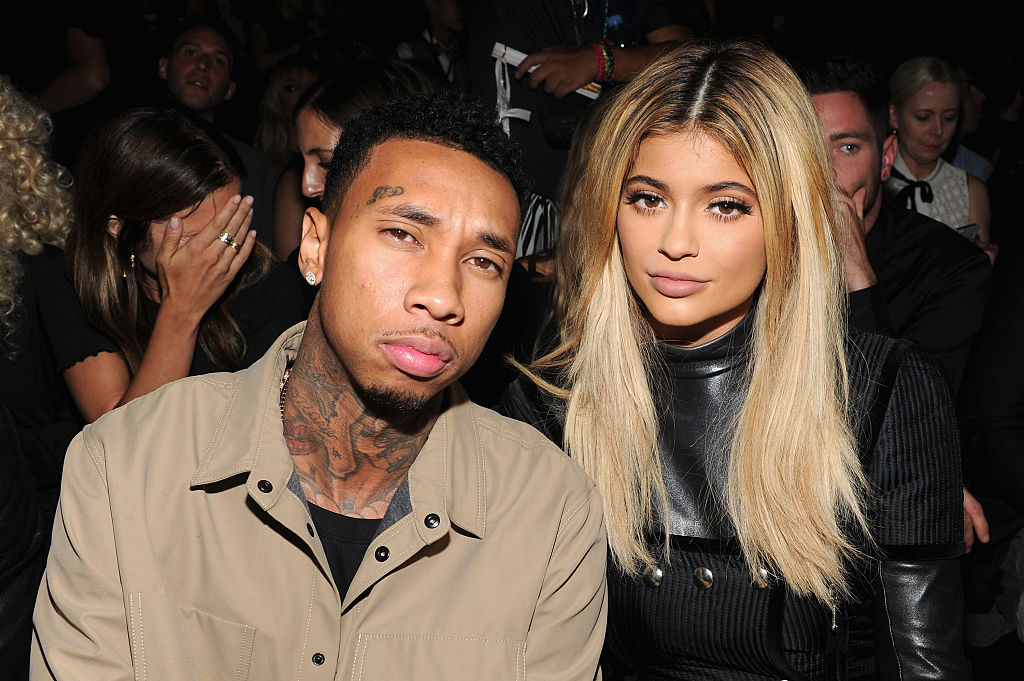 Jenner and Tyga likely met in 2011 when the rapper performed at Kendall Jenner's 16th birthday party. At the time, Kylie Jenner was 14 years old and Tyga was 22.
Rumors of them dating began surfacing in 2014 when Jenner was 17 years old. The couple tried to deny everything at first, though it soon became clear that they were very much together.
By the time Jenner turned 18, there was no secrecy surrounding her and Tyga anymore. Even though their relationship attracted a lot of criticism due to their big age difference, both of them posted a lot about each other on social media and Jenner even appeared in two of Tyga's music video.
In 2016, Jenner even got a tattoo of the letter "t" on her ankle for her boyfriend. By 2017, there were a lot of rumors about Tyga cheating on Jenner. The couple broke up some time in the spring of that year.
Kylie Jenner was reportedly hanging out with Tyga after her split from Travis Scott
Earlier this week, it was reported that Jenner had been hanging out with Tyga. According to E! News, she and a few girlfriends visited Tyga at a hotel where he was recording music.
An insider shared: "[Tyga] was with a few of their mutual friends at Sunset Marquis and invited Kylie and her girlfriends to come hangout, since they were already out."
The source also noted that the two of them "have been in touch" ever since their breakup in 2017. However, "nothing romantic is going on" and they merely ran into each other because Jenner's friend group "is small and her girlfriends know a few of Tyga's friends as well."
Kylie Jenner denied the Tyga dating rumors
Many onlookers believe that there was absolutely something romantic going on between Jenner and Tyga, though Jenner quickly took to social media to deny it.
"The internet makes everything 100 times more dramatic than what it really is," she wrote on Twitter. "There was no '2am date with Tyga'. You see me drop two of my friends off at a studio that he happened to be at."
Fans do not believe Kylie Jenner's tweet
Despite Jenner denying that she and Tyga are romantically involved, fans still believe that they are, mostly because Jenner's words do not make sense. For example, many people find it odd that Jenner would need to drive her friends to places in the middle of the night when an Uber is just a click away in this day and age.
A follower also commented: "Usually when I drop someone off I stay in the car."
"I have trouble believing anything you say since that whole pregnancy thing sis," another person said, referring to when Jenner tried to hide her whole pregnancy with baby Stormi from the public eye.
A lot of onlookers also think the timing of the event is too suspicious. "Funny how you decide to drop your friends in the same studio Tyga is at after breaking up with your baby daddy," someone else added.
Ultimately, only time will tell if Jenner and Tyga's relationship could go any further than this.