Kylie Jenner's Jordyn Woods Lip Kit is Now on Sale
Say what you want about the Kardashians and Jenners, but they have a crazy amount of loyalty for each other. In a world that wants so much from them, they can always rely on each other.

Kylie Jenner and Jordyn Woods were so close prior to this cheating scandal that the two, at one point, partook in a sort of platonic marriage ceremony to celebrate their intense friendship. Kris has even expressed concern over the two being co-dependent.

"I actually feel like I'm in a full relationship with Kylie," Jordyn said on an episode of Life of Kylie. "There are different types of relationships — we're definitely in one. Not necessarily sexual, but definitely emotional. It's draining sometimes."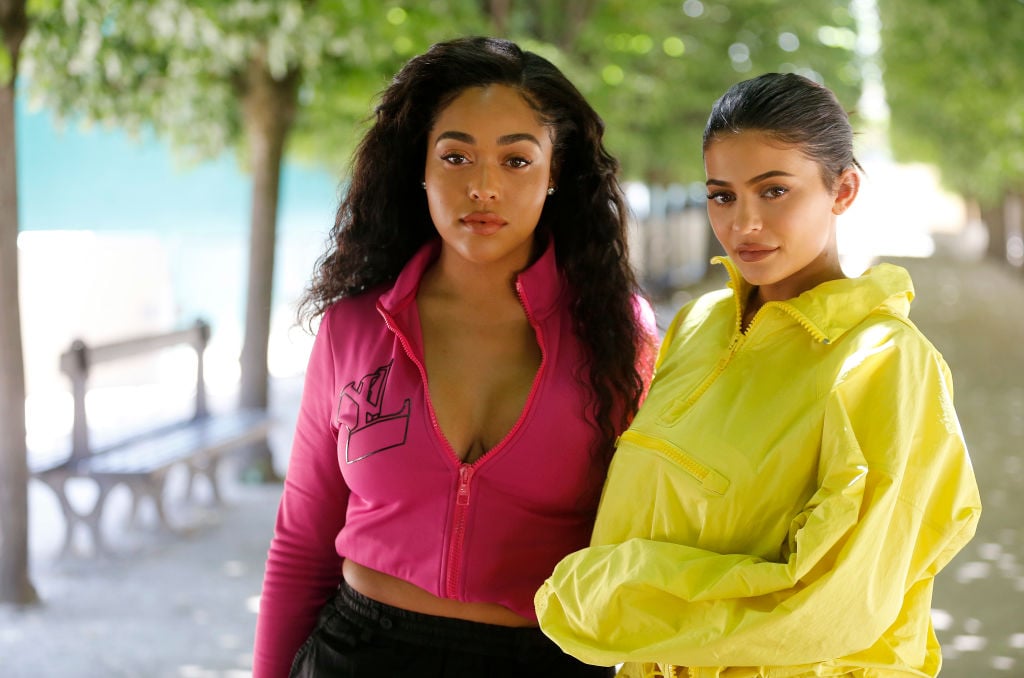 And yet, despite the women's rock solid friendship, Jenner immediately cut Woods off. Jenner had been financing much of her friend's life. Woods had been living with Jenner, and Jenner even bought her a car, a source told Cosmopolitan.

Woods moved back in with her mother and has been spending her time with family mourning the situation.
"Jordyn has been trying to apologize, and she feels terrible about what happened," the source went on to say.
Kylie cut the price of her Jordyn Woods-inspired lip kit
In a truly savage move, Jenner capitalized on the opportunity to clear out the ol' stockroom. Shortly after news of the scandal broke, Jenner reduced the price of her "Jordy" lip kit. Unsurprisingly, the kits sold out pretty quickly.
Jenner isn't the only person profiting off of the scandal. E-Bay users are cashing in as well.

"In the wake of Woods' cheating scandal, one business-savvy seller marked up the bundle to $299.90, while another is selling the whole lot for $400," reports Page Six.
Kylie and Jordyn might stay friends after all
Apparently, Kylie cutting Woods out forever isn't a done deal just yet–but she's definitely been blacklisted by the rest of the Kardashian/Jenner family.
A source told Us Weekly that the Kardashians are being realistic about Kylie cutting Woods off forever. Their reasoning being the two are incredibly close, and Woods has also already been a huge presence in Stormi's life.
"Jordyn and Kylie are sisters and inseparable best friends. The family doesn't expect them to not be friends anymore," the source told Us Weekly. "Time will dictate what happens here."
Additionally, ET recently reported that Jenner is "considering all the facts" before she makes a final decision about the status of her friendship with Woods.
"Jordyn is a sister to Kylie, and she's extremely shocked this could happen, as is the whole family," ET's source said. "Kylie is trying to get all the facts before she makes up her mind, but for now, Jordyn isn't staying at Kylie's. Kylie needs her space and also wants to respect her sister Khloé."
Is Khloe mad at Kylie?
A lot of people have been wondering how the two sisters have been since the scandal. Reportedly, their relationship is fine, as Kylie's doing everything she can to be there for her sister.
"Khloé is not mad at Kylie," a source told Us Weekly. "That's her sister."

Read more: Jordyn Woods Net Worth and How She Makes Her Money
Check out The Cheat Sheet on Facebook!