Lady Gaga and Other Celebrities Who Are Saying 'Me Too'
With the allegations against Harvey Weinstein (and other Hollywood men) coming to light and growing daily, more women have come forward to share their stories of sexual harassment and assault — mnd many of them are celebrities.
Alyssa Milano, a champion of the movement, amplified the hashtag #MeToo," a movement that has been around for a decade and was created by Tarana Burke. Now, these celebrities are adding their voice to the conversation and speaking out about their own devastating experiences.
Lady Gaga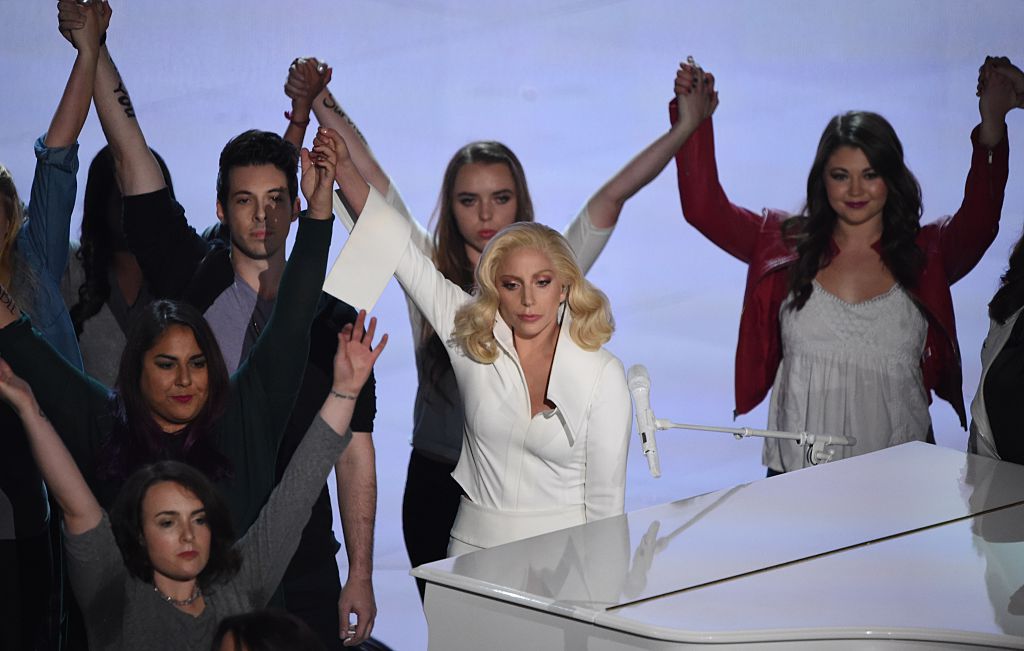 This pop singer and icon has used her platform to address many causes over the years, especially those involving mental health and sexual assault. Now, she has chimed in, simply tweeting, "#MeToo," on October 15.
Next: This actress spoke out at a recent event.
Reese Witherspoon
Celebrities are so important to this movement because of their clout. Being able to speak out in public about an issue that affects everyone, in Hollywood and beyond, is essential for bringing attention to the campaign.
That's exactly what Reese Witherspoon did. At the Elle Women in Hollywood event, the actress and entrepreneur discussed an incident when she was assaulted by director as a teenager. "I felt less alone this week than I've ever felt in my entire career," she told the audience.
Next: An Oscar winner shares her own story of sexual harassment.
Jennifer Lawrence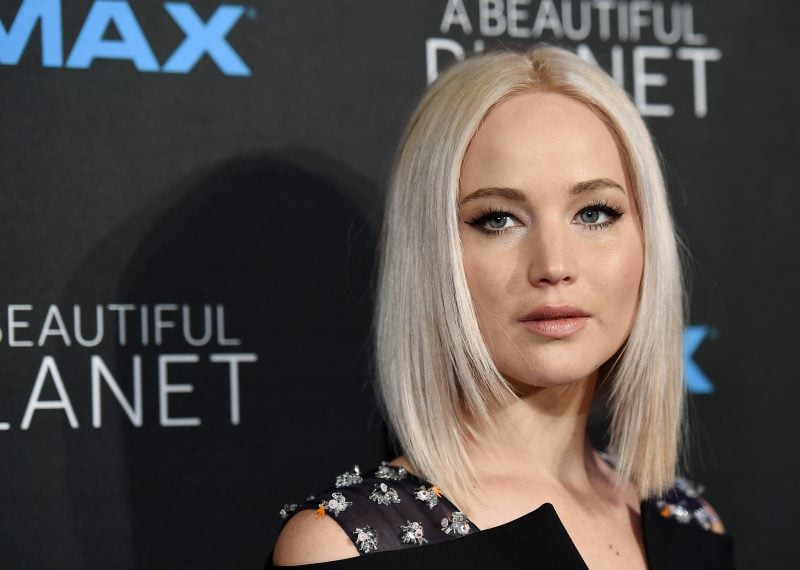 Though she's not active on social media, this Oscar-winning actress also spoke out. At the same event as Witherspoon, Jennifer Lawrence was given a platform and told her own tale.
Lawrence explained that she was forced to participate in a nude lineup, which she called "degrading and humiliating." She added that the producer later tried to "compliment" her, but only added to the issue, saying "he didn't know why everyone thought [she] was so fat, he thought [she] was perfectly 'f—able.'"
Next: A comedian uses her TV show to talk about rape culture.
Carmen Esposito
From Aug '15: in episode 102 of #TakeMyWife, Rhea & Cameron had to follow a bigger deal comic who tells a rape joke. #MeToo pic.twitter.com/BAhD6wrDad

— Cameron Esposito (@cameronesposito) October 16, 2017
Both Carmen Esposito and her wife, Rhea Butcher, are comedians. In fact, they created a TV series together, Take My Wife, all about their experiences as a lesbian couple in the comedy world.
On Oct. 16, 2017, Esposito shared a clip from their show, in which they both admit to being survivors of sexual assault, after hearing a fellow comic who told a rape joke on stage. The clip ends with others chiming in and saying, "I am, too."
Next: An activist and actress shared how a popular saying should be changed.
Sophia Bush
Few women in Hollywood have used their clout for good as much as Sophia Bush. The actress and activist took to Instagram to share her thoughts on the #MeToo hashtag.
Bush shared an image that has been circulating on the social media platform of a cross stitch that reads "Boys will be Boys" — only the second "boys" is crossed out, and the words "held accountable for their f***ing actions" are added. She captioned the image with the additional hashtags,"#WomenWhoRoar" and "NoMoreExcuses."
Next: One TV star has used her rebooted show's popularity for good.
Debra Messing
Me too https://t.co/ScX67Kmmiy

— Debra Messing✍? (@DebraMessing) October 15, 2017
The best time to speak out? When your influence is at an all-time peak — and actress Debra Messing knows this better than anyone.
As the rebooted Will and Grace has been bringing her into the spotlight constantly, Messing has continued to shine a light on what's going on in the news cycle, all while keeping up with media appearances. The actress amplified the experiences of others, while adding in her own #MeToo.
Next: She stars on a show that often addresses social justice issues, so it's no surpise this actress spoke out.
Tracee Ellis Ross
https://www.instagram.com/p/BaVKlj6D9ES/?taken-by=traceeellisross
Black-ish star Tracee Ellis Ross was quick to join in on the conversation. The actress, who is the daughter of singer Diana Ross, shared the above image on Instagram, with the accompanying hashtag.
The point being made by the quote, which is attributed to writer Shannon Stirone, is an important one. This hashtag was, in part, meant to show the disbelieving men on social media just how frequently sexual harassment and assault happen.
Next: She's responsible for amplifying the movement in the wake of the Weinstein scandal.
Alyssa Milano
.@Alyssa_Milano on #MeToo: "This was about showing that this happens everywhere. That it's not just Hollywood." https://t.co/E5tePoKBPJ pic.twitter.com/m97eedVJAX

— Good Morning America (@GMA) October 19, 2017
Of course, the woman who brought the hashtag back into circulation, Alyssa Milano, must be mentioned. After first tweeting on Oct. 15, 2017, Milano has continued to discuss why she did so and the importance of the conversation spreading.
Appearing on Good Morning America, Milano said about the movement, "Really, this is about showing that it happens everywhere. That it's not just Hollywood, that it's not just actresses … What Tarana Burke has really enabled us to do is put the focus back on the victims … and what that enables us to do is say 'No more.'"
Next: This actress shared an upsetting story about her own sexual assault. 
Evan Rachel Wood
https://twitter.com/evanrachelwood/status/919771424868278272
https://twitter.com/evanrachelwood/status/919771676073590784
Many of the women retweeting or using the hashtag don't give any explanation — and that's OK. No one should feel that they have to share their story to know that it is valid, but actress Evan Rachel Wood has decided that she wants to share hers.
In a series of tweets, Wood explained how a romantic partner raped her while she was asleep and that it happened repeatedly. She detailed how she has suffered from PTSD ever since, adding, "Sharing my stories and feeling less alone really helps. So thank you for listening."
Next: One actress defends the movement and looks to help it grow.
Rosario Dawson
All too pervasive… Me too. #MeToo #TogetherWeRise https://t.co/ju5K3USDt8

— Rosario Dawson (@rosariodawson) October 16, 2017
She may be the thread that ties the Defenders together onscreen as Claire Temple, but Rosario Dawson is just as tough in real life. And she's speaking out for assault victims everywhere.
Dawson added her #MeToo, while calling the issue "all too pervasive." She also added that she wants to help continue to expand the discussion so that it is more inclusive.
Next: She shines a light on why discomfort isn't a reason not to help victims of sexual harassment.
Jenny Slate
Bc I thought ppl wld blame me or my sense of humor (which they DID, btw) it was scary&degrading to speak out re: harassment at work. #MeToo

— jenny slate (@jennyslate) October 16, 2017
Comedic actress Jenny Slate may be best known as the awful Mona Lisa on Parks and Recreation, but she is clearly nothing like the character. Slate has done a lot for women, including starring in Obvious Child, a groundbreaking film about, among other things, abortion.
Slate took to Twitter to add her own thoughts on #MeToo. She said, "If [you] feel uncomfy about saying 'Dont[sic] speak that way about women' while in a social setting, imagine what it feels like to be the subject."
Next: This actress first experienced sexual harassment many years ago and spoke out then.
Caterina Scorsone
Many of the women accusing Weinstein are no longer in Hollywood, having left due to their experiences. One celebrity, Caterina Scorsone, also quit showbiz after a brush with sexual harassment, and what's even more unique is that she was given a platform to speak then.
Scorsone, who now stars on Grey's Anatomy, shared an image of an article she wrote as a teenage actress in Canada, detailing an incident in which a director tried to convince her to have sex with him for a role. She explains that no one took her accusation seriously, which left her disheartened and frustrated with the industry.
Next: A talk show host makes us laugh while getting real about this issue.
Ellen DeGeneres
This hilarious woman is almost always silly on her talk show, The Ellen DeGeneres Show. But Ellen DeGeneres has always been an advocate and was quick to add her voice this time around.
DeGeneres posted the hashtag on Twitter and then spoke in a segment on her show, saying, "This is a not a male thing or a female thing … it's a human thing." She went on to throw in some jokes surrounding social media etiquette, but ended by saying, "As hard as this is to talk about, at least we're talking about it … hopefully, conversations that we're having now will free all of us."
Next: This actress is asking a question about sexual harassment that many other women have wondered.
Evangeline Lilly
A lot of women have one major thing in common when it comes to their stories: They haven't spoken up because they don't know if what happened to them was "bad enough." Actress Evangeline Lilly is among them.
Lilly shared a simple image with the hashtag on Instagram. She went on to explain her hesitation, adding, "This level of institutional change is a war, not a battle."
Next: Her new book talks about her own sexual assault, and she's joining in to investigate all angles of the movement.
Gabrielle Union
Thank you for the opportunity to speak my truth. #WereGonnaNeedMoreWine #MeToo https://t.co/KNZQvFxYxM

— Gabrielle Union (@itsgabrielleu) October 18, 2017
Many celebrities, especially those of color, have been about sexual assault and harassment for years. The conversation around Harvey Weinstein and Hollywood must involve discussing race, and actress Gabrielle Union is on it.
While promoting her new book We're Going to Need More Wine, which discusses her own sexual assault at the age of 19, Union has embraced the "Me Too" movement. But she is also quick to point out the things we're not talking about, retweeting a BuzzFeed article about the different angle the story takes for women of color, adding, "Important read!"
Read more: Reese Witherspoon Says Agents Pressured Her to Remain Silent About Being Sexually Assaulted
Check out The Cheat Sheet on Facebook!