Lady Gaga Has Not Addressed Bradley Cooper Pregnancy Rumors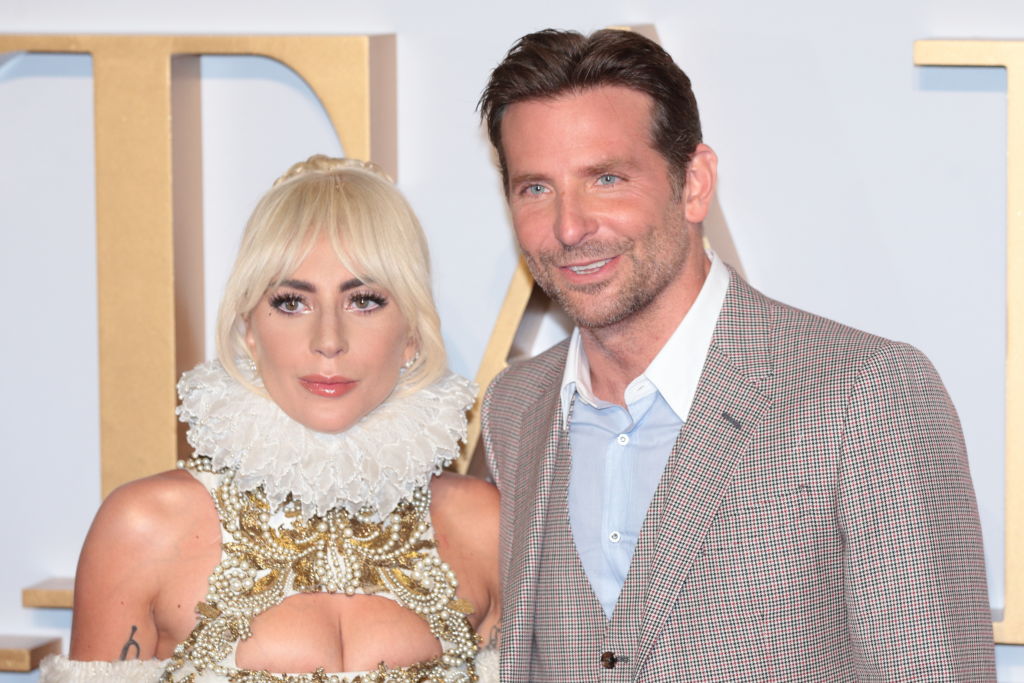 Editor's note, 7/3/19: An earlier version of this article mistakenly reported that Lady Gaga responded to pregnancy rumors with Bradley Cooper via Twitter. A fan account did; Lady Gaga herself did not through her official Twitter page.
Ever since the pairing of Bradley Cooper and Lady Gaga hit the screen in A Star is Born last year, rumors have been swirling of a possible romance between the two. Adding fuel to the rumor fire is news of both stars calling it quits with their significant others. Both deny anything other than a friendship, yet speculation continues, including one tabloid magazine cover.
Quite the cover
The In Touch cover, dated for July 8, pictured an image of Cooper with his arm around Gaga touching her stomach, with the headline "Gaga and Bradley's Baby Shocker! But No Plans To Marry – Yet!" Also featured was a starburst with the text "Irina's worst nightmare!"
A Gaga fan account tweeted the cover with the caption "This is getting out of hand" and the laughing/crying emoji. Lady Gaga has not responded publicly to these latest rumors.
Gaga has addressed rumors in the past
The rumors of Gaga and Cooper becoming romantically involved increased after Gaga revealed in February that she had broken off her engagement to fiancé Christian Carino. According to Today, she recently referred to the split for the first time at one of her Las Vegas performances. "Last time I sang this song, I had a ring on my finger, so it'll be different this time," Gaga told the audience, then sang "Someone to Watch Over Me."
Cooper's split with supermodel Irina Shayk in early June also shined a light on his relationship with Gaga, leaving many to assume the chemistry they shared on set was now spilling over to real life. Cooper dated Shayk since 2015 and they have a 2-year-old daughter, Lea De Seine.
Gaga talked about the rumors to Jimmy Kimmel after her buzzworthy performance with Cooper at the Academy Awards of their hit song "Shallow" from A Star is Born.
"[Shallow] is a love song, A Star Is Born is a love story," Gaga told Kimmel, according ot People. "It was so important to both of us that we were connected the entire time… When you're singing love songs, that's what you want people to feel."
Gaga chalked up their steamy performance to their acting chops. "Yes, people saw love — and guess what? That's what we wanted you to see … when you're singing love songs, that's what you want people to feel," she said. "I'm an artist and I guess we did a good job and fooled you."
Still, the two obviously have a unique bond. "She knows everything about me — everything. There is not one thing she doesn't know, and I believe the same for me," Cooper told EW. "It's just so funny how life works. It's like, 'So in five years you guys will be inseparably close.'"
Gaga told TIME she sensed a kinship with Cooper immediately, and as well as a fellow musical talent. "From the moment we met, I felt a kindred spirit in him," she said. "And as soon as I heard him sing, I stopped dead in my tracks. I knew he could play a rock star. Actually, he's the only actor on the planet who could play this one."
They may team up again
Since they sizzled in A Star is Born, moviegoers are wanting an encore of the Cooper-Gaga coupling. According to Yahoo Entertainment, Gaga is being tapped for voicing a role in the next release of the Guardians of the Galaxy series. The character would play the love interest of Rocket Raccoon, who is voiced by Cooper.
Here's hoping we get to see this powerhouse pair back on the silver screen sooner rather than later.