Lamar Odom Gets Dragged By His 17-Year-Old Son Over Recent Engagement News
Lamar Odom will soon become a married man again!
The former Dancing with the Stars contestant recently revealed that he popped the question to his girlfriend of four months, Sabrina Parr, and she said yes.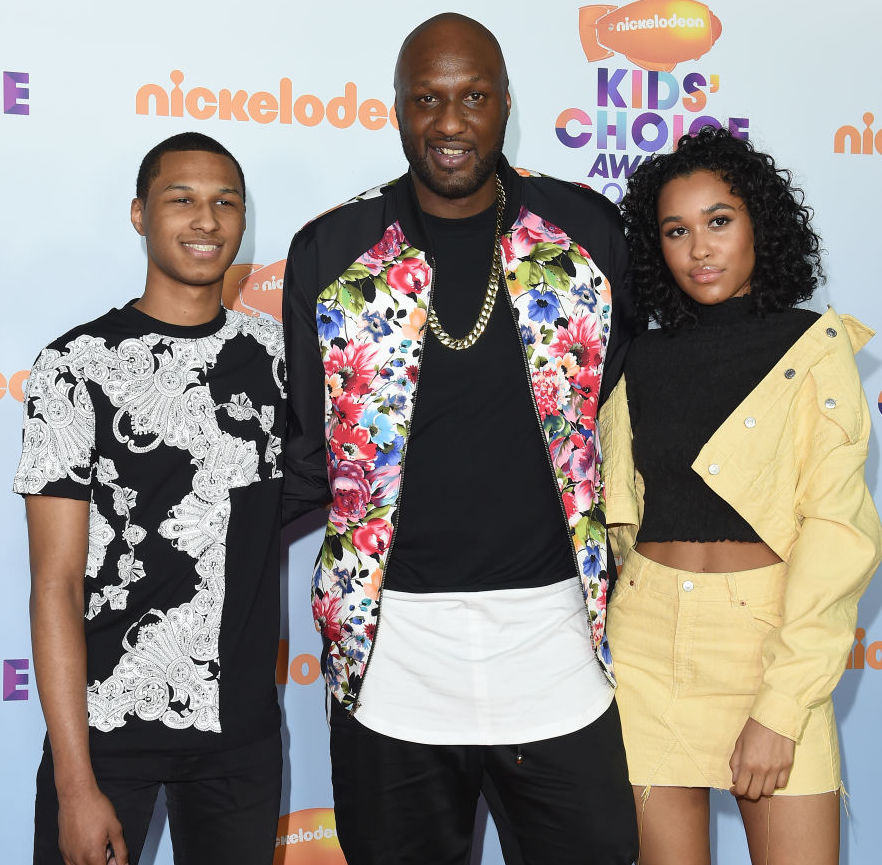 While many people are happy and a little shocked that Odom is taking this big step with Parr, the NBA player's family isn't too thrilled by this news and are letting him have it on social media.
Odom recently announced his engagement on Instagram
After just four months of dating, Odom is ready to fully commit to Parr.
On November 10, the NBA player took to Instagram to announce that he proposed to her and she graciously accepted.
In the snapshot, Parr can been seen standing over her soon-to-be husband all while her massive diamond ring is on full display.
"Introducing my new fiancée!! Soon to be Mrs. Parr-Odom," he captioned the post. "She the ONE!!!!! @getuptoparr."
After sharing this exciting news, Parr took to Instagram to share a slideshow of videos showing off her new rock.
"I SAID YES!!!!💍👰🏽@lamarodom#mrsparrodom#lamarandsabrina," she captioned the post.
While many people are shocked that Odom and Parr are already engaged after only dating for a few months, others aren't too surprised that the NBA player popped the question.
Just last month, Odom took to Instagram to confess his love for Parr all while revealing that he plans on marrying her one day in the near future.
"What she does for me and everyone around her is so impressive," he captioned an up close photo of them together. "I'm not sure how she gets all this stuff done but she does it. I love this woman! Our bond is strong and getting stronger by the minute! I'm trying to build up the courage to make her Mrs. Parr-Odom !!!!"
Well, it didn't take long for him to build up that courage and now, he can finally start planning out the life he and Parr are looking forward to sharing.
Lamar Odom Jr. was 'hurt' he found out about the engagement online
After announcing this news on Instagram, many people took to the comments to congratulate Odom on his engagement.
While fans and fellow celebrities are happy for their soon-to-be married couple, Odom's family isn't really jumping with joy over this news.
Soon after sharing his post, Odom's 17-year-old son, Lamar Morales Odom Jr., took to the comments to bash his father for not sharing this news with the family before revealing it the world.
"Not a text or a phone call to see how people who've know this dude his whole life to see how we would feel or react," Lamar Jr. wrote in a now-deleted comment. "Knew shawty for 4 months and already got you twisted."
He then went on to claim that the family doesn't even approve of Parr and went on to say that he's not surprised that Odom did this to the family.
"Family n friends already don't approve of homegirl but already she got your a** inna sunken place. Shame family gotta find out on social media but that's been how life been all the time as the son of an Odom," the 17-year-old concluded.
Shortly after deleting his comment, Lamar Jr. took to Instagram to share how much of a surprise his father's engagement was and apologized for what he initially wrote.
"Last night I was emotional seeing my father got engaged through social media," he commented under a childhood photo of himself, his sister, Destiny Morales-Odom, and their dad. "I was hurt and caught off guard."
He continued, "At the end of the day, I am a teenager, that is becoming a young man. I have to be responsible for what I post, I have nothing but love for my dad and want what's best for him."