Larry King Dreamed of Interviewing O.J. Simpson One Last Time
Larry King interviewed thousands of people in his lifetime, and yet there were still interviews on his bucket list. The top of the list was O.J. Simpson, a controversial figure, to say the least. King did extensive coverage of the trial in the 1990s, and he said in a 2020 interview that he wanted a full-circle moment with Simpson. He didn't have the chance to speak with Simpson again before his death on Jan. 23, 2021.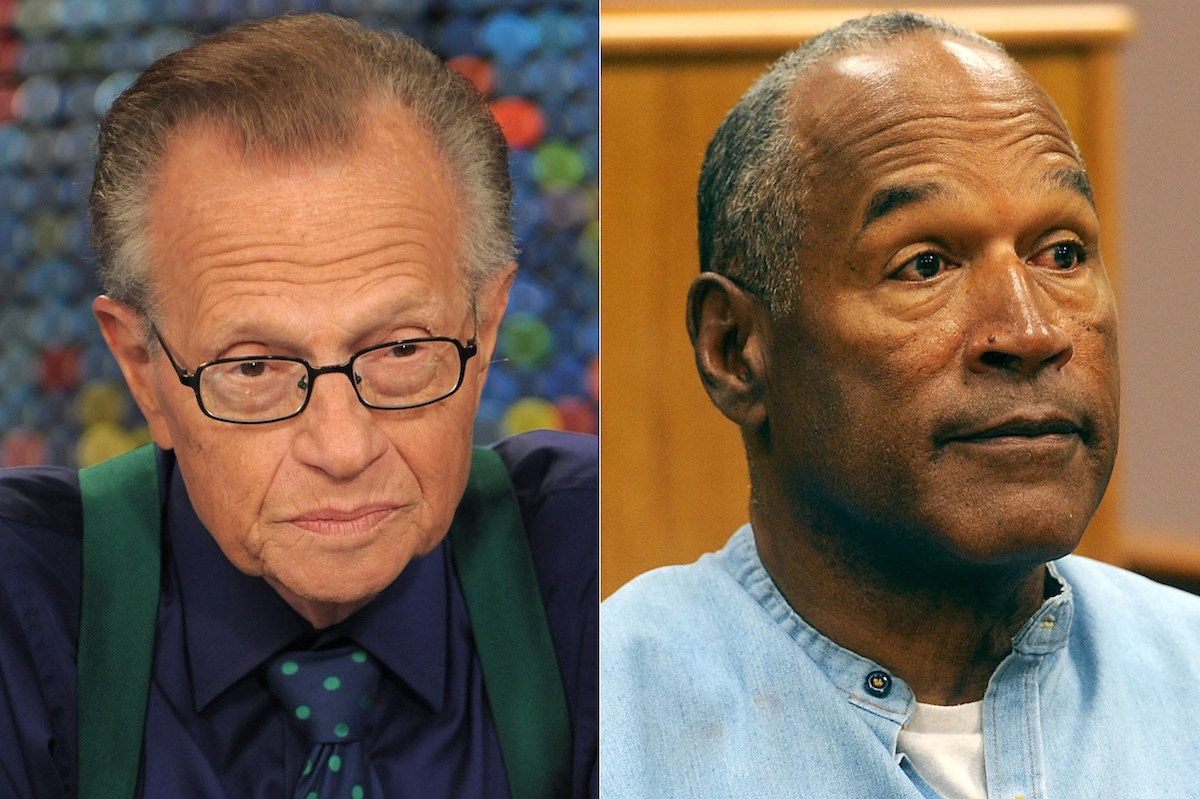 'Larry King Live' was the go-to source for O.J. Simpson trial coverage
King went live on CNN when the infamous white Ford Bronco chase started, and he stayed on for two and a half hours. The broadcast raked in two thirds of American TV audiences that day, according to Time, and from that point on, Larry King Live was the go-to source for Simpson updates.
For the entirety of the scandal and throughout the entire trial, King shared updates on his show and interviewed people involved. He aired interviews with Faye Resnick (an interview that was recreated in American Crime Story: The People v. O.J. Simpson), and members of Simpson's legal team Robert Shapiro and Johnnie Cochran.
RELATED: Larry King Shouted 'Somebody Get Us a Room' After Filming a Scene With Connie Britton
Larry King was criticized for giving O.J. Simpson an interview the day after his acquittal
His interview with Cochran came the day after Simpson was acquitted. Simpson called into the interview and spoke with King for about 4 minutes, during which he thanked King for being "fair" in his coverage of him. King said to Cochran after the call wrapped that Simpson's voice sounded "strong," which was admittedly an odd thing to say about someone who many were convinced murdered two people.
King was slammed by other outlets for going easy on Simpson. The Washington Post said at the time that King's call with him was "talk show equivalent of taking the witness stand without having to undergo cross-examination."
RELATED: What Was Larry King's Net Worth at the Time of His Death and How Many Times Did He Marry?
Larry King said his questions for O.J. Simpson 'boggle' his mind
In a June 2020 interview with Too Fab, King said he had a slew of follow-up questions he wanted to ask Simpson that were eating at him.
"At this point, we discussed it today, would be O.J.," he said. "He's in the Hall of Fame, he's a Heisman Trophy winner, and he's a convicted killer. And I knew him pretty well. He used to come on my old show." He continued:
"It would be so interesting to look back on his life since all of this. That's fascinating. What is O.J. like? What happens when O.J. goes out to dinner? Do people still haunt him? Has he really been able to start a new life? Does he have a girlfriend? How are his children? See, these are the things that boggle my mind."
King died on Jan. 23, 2021, in Cedars-Sinai Medical Center in Los Angeles. While a cause of death has not been revealed, he had been hospitalized for COVID-19.