'Last Week Tonight': 5 Reasons to Watch John Oliver's Hit HBO Show
If you've logged onto Facebook, Twitter, or any other social media platform in the last few days, chances after you've seen the word Drumpf. No, it's not a new celebrity power couple's name mash-up or a new Internet nickname for some reality television star you've never heard of. It's presidential candidate Donald Trump's family's original last name — and there's one person the current Republican frontrunner can thank for its virality: John Oliver, the host of HBO's highly acclaimed talk show, Last Week Tonight.
In a scathing 20-minute segment that unpacked Trump's popularity and called into question his effectiveness as a leader, Oliver managed to make him the talk of the Internet — not because of his campaign antics or off-the-cuff remarks, but because of the anchor's pointed commentary about him. It was a rare feat — but making headlines isn't anything new for Oliver. For years, he made Daily Show fans laugh as the series' Senior British Correspondent. Then, after taking over hosting duties for Jon Stewart briefly in 2013, he struck out on his own.
Last Week Tonight has become a frequent source of viral content for fans of Oliver's meticulous and pointed political commentary. Currently in its third season on HBO, it's become a prime example of what great late night television can offer. If you're not already tuned in, here are five reasons you have to check out Last Week Tonight.
1. John Oliver is the new Jon Stewart
Since taking over for Jon Stewart in September 2015, Trevor Noah has proven himself to be a perfectly capable anchor of The Daily Show. But it's impossible to ignore the fact that the Comedy Central series feels different now. And that's because Stewart's incredulous, vehement, and rarely measured delivery stood in stark contrast to Noah's more subdued and succinct style. Viewership for The Daily Show has fallen dramatically since Noah took the reins from Stewart — and critics claim that Noah's lack of bite is at least partially to blame.
But for fans of Last Week Tonight, Oliver has helped to fill the gap that Stewart left when he retired last year. Because though Oliver's delivery is different from Stewart, both in cadence and style, his enthusiasm for exposing hypocrisy is every bit as potent as that of his former boss. On Last Week Tonight, Oliver picks up where Stewart left off, consistently delivering data points about his topics with a fast-paced and quick-witted tongue. And he offers another take on world events that, like on The Daily Show, you can't see anywhere else.
2. It has some of the smartest political commentary on TV
It's easy for political pundits and news anchors to pass off opinions as fact or color fact with their own opinions. And no one will claim that Oliver doesn't shape the content on his HBO series based on his own opinions. But what's so refreshing about Last Week Tonight is that Oliver and his team go to seemingly exhaustive lengths to build their stories, only to boil them down into easily digestible and highly entertaining segments. It's not uncommon to see him drag a stack of documents onto his desk, or witness him citing multiple sources, all in the name of backing up a point he's trying to make. The result is that Last Week Tonight rarely feels like a rant — even when Oliver has dialed his anger up to an eleven — but rather an organized and engaging argument about why what he's talking about is important.
3. It takes on more than just trending news topics
These days, we don't have to look far to find extensive commentary on a hot topic. But it's more challenging to find content about issues that aren't making headlines — especially here in the U.S. One of Last Week Tonight's strengths is that it often highlights political and social issues that we don't hear a lot about. In its three seasons on the air, the half-hour program has covered major topics, sure. But it's also gone in depth on world politics, corruption within corporations and institutions, education, and even the widespread malfeasance within soccer's governing body, FIFA. Though these issues may not impact our daily lives, understanding them makes us smarter and more aware of what's going on around us. And Oliver's ability to break these issues down for his audience without ever feeling like he's lecturing us makes Last Week Tonight one of the most tolerable shows about current events on television today.
4. It's actually impacting policies worldwide
From televangelism to translators, Oliver has explored a wide range of topics on Last Week Tonight. And often, his pieces feature him expressing outrage about what he perceives to be flagrant examples of misuse, abuse, or bureaucratic failings. But Oliver's pieces are often so convincing in their systematic dismantling of an issue that they bring about concrete changes after they've aired. In three seasons, Last Week Tonight has been attributed to several changes in local, state, and federal government, and even in policies overseas. After a piece aired critiquing the FCC — and viewers crashed their website in a rush to leave feedback — the agency voted to adopt net neutrality guidelines. A feature on the Miss America Pageant led to a boost in scholarship donations to other organizations nationwide. And after Oliver showed just how easy it is to establish a tax-free church by creating his own, Our Lady of Perpetual Exemption, there was intense scrutiny surrounding IRS loopholes. The John Oliver effect is real. And for viewers, it's satisfying to know that you don't just have to get mad about the issues he raises — there could be substantial change in the works.
5. It's one of the funniest shows on TV right now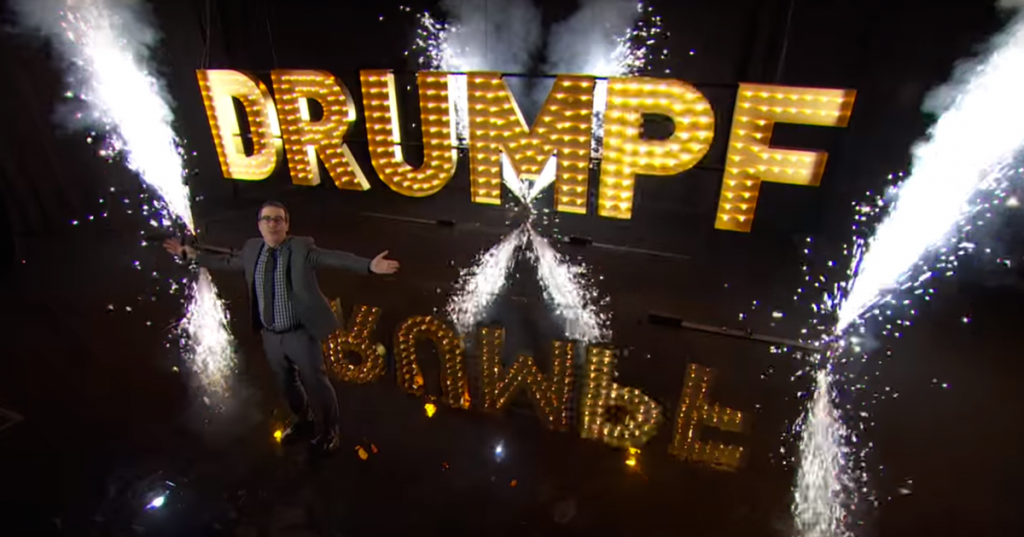 With unique content, a charismatic host and a strong team of writers, it's a no-brainer that Last Week Tonight has become a must-see series. But there's one element that's essential for the series' success: Despite its often heavier topics, Last Week Tonight is routinely one of the funniest shows on television. Chalk it up to Oliver's frenetic energy as he's delivering his monologues. Then add his no-holds-barred approach and self-deprecating attitude. Whether he's making off-the-wall analogies or creating elaborate campaigns to make his point, Oliver has the ability to make even the most dire of topics seem so ridiculous, you can't help but laugh.
Last Week Tonight airs Sundays at 11 p.m. on HBO.
Follow Katherine Webb on Twitter @katiedoubleyew.
Check out Entertainment Cheat Sheet on Facebook!  
More from Entertainment Cheat Sheet: