Selena Quintanilla and Other Latino Celebrities Honored With Star on Hollywood Walk of Fame
Fans of Selena Quintanilla were thrilled when it was announced that the late singer would receive a star on the Hollywood Walk of Fame. Selena was the top Latin artist in Mexico and the U.S. before her tragic death in 1995.
On Nov. 3, 2017,  a record crowd turned out as Selena's star was placed at 1750 N. Vine Street right in front Capitol Records, the label in which the Tejano singer released her first album. Selena joins a long list of other Hispanic celebrities who have also been honored with a star on the world's most famous sidewalk. Here's a look at the famous faces honored with a star on the Hollywood Walk of Fame.
1. Jennifer Lopez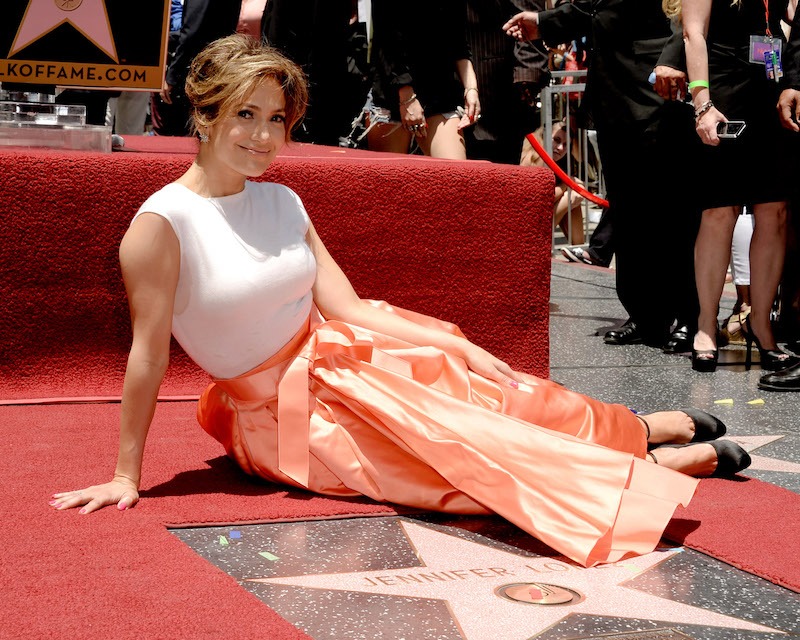 Singer and actress Jennifer Lopez, who played Selena in the 1997 film of the same name, has her own star on the Hollywood Walk of Fame.
The Puerto Rican actress and singer was recognized with the 2,500th star in 2013. Many of her family and friends attended the ceremony and the guest speakers included Pitbull, Jane Fonda, and Benny Medina.
Next: Cuban-American actor honored
2. Andy Garcia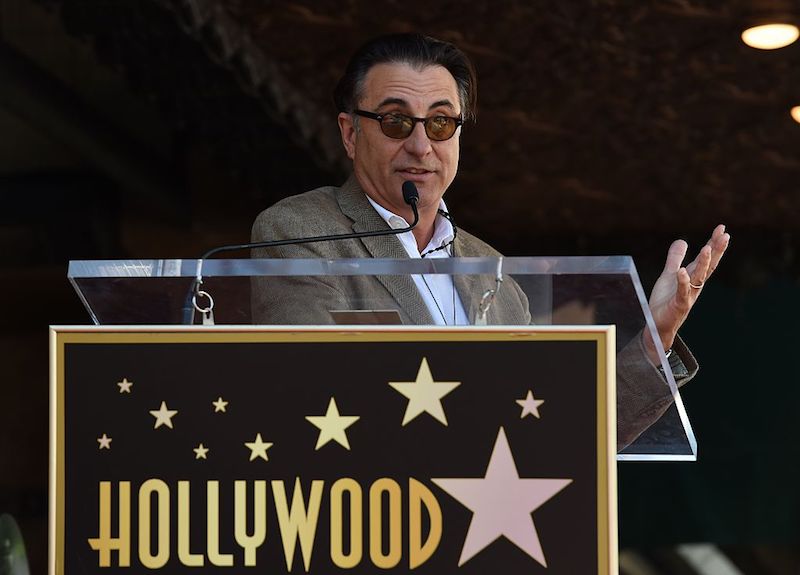 Born Andrés Arturo García Menéndez, Andy Garcia received his star on the renowned sidewalk in 1995. The actor has had a successful career with roles in many Hollywood blockbusters, including The Godfather: Part III, The Untouchables, When a Man Loves a Woman, and the Ocean's Eleven films. 
Next: Academy Award-winning actress receives star
3. Penelope Cruz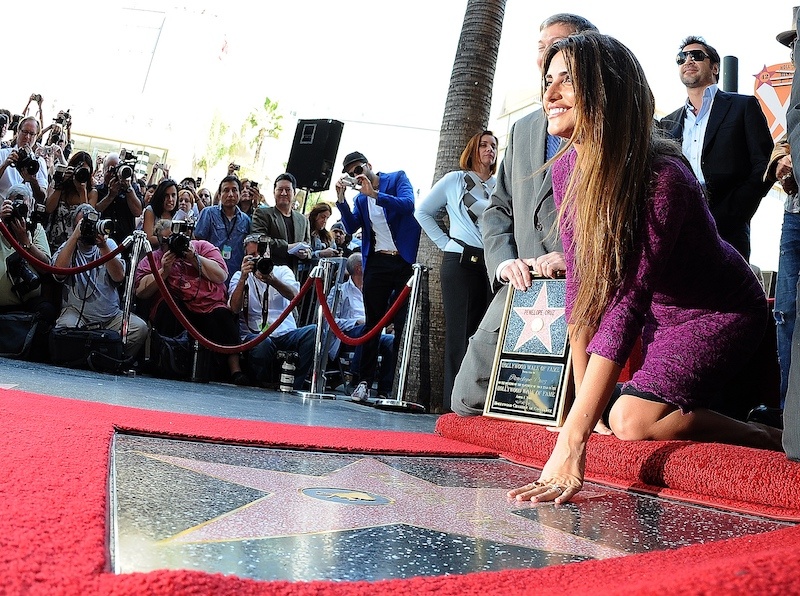 In 2011, Penelope Cruz was inducted to the Walk of Fame She was accompanied to the ceremony by her family and her Pirates of the Caribbean co-star Johnny Depp.
During her speech, the Spanish actress thanked directors Pedro Almodóvar and Woody Allen, as well as her parents, her siblings, and husband Javier Bardem for supporting her career.
Next: Spanish actor earns spot on walk
4. Antonio Banderas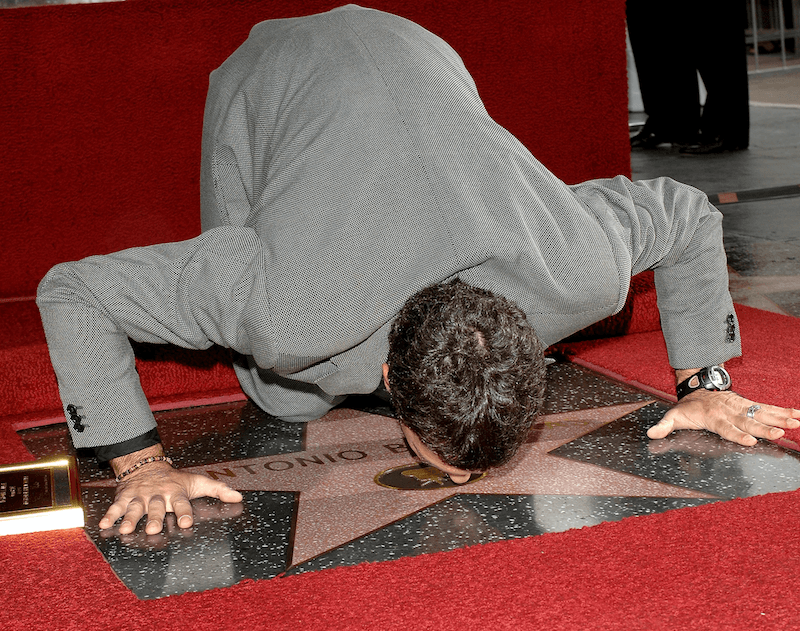 In 2005, Antonio Banderas got a star on the famous walk. He has several film credits to his name including Evita, Interview with the Vampire, Philadelphia, Desperado, The Mask of Zorro, The Legend of Zorro, Spy Kids, and the Shrek sequels.
In 2000, director Ridley Scott offered the actor a part as a peasant in the film, Gladiator. Banderas accepted and received $50,000, which is a world record for the highest salary of an extra.
Next: Film star gets shining star
5. Cameron Diaz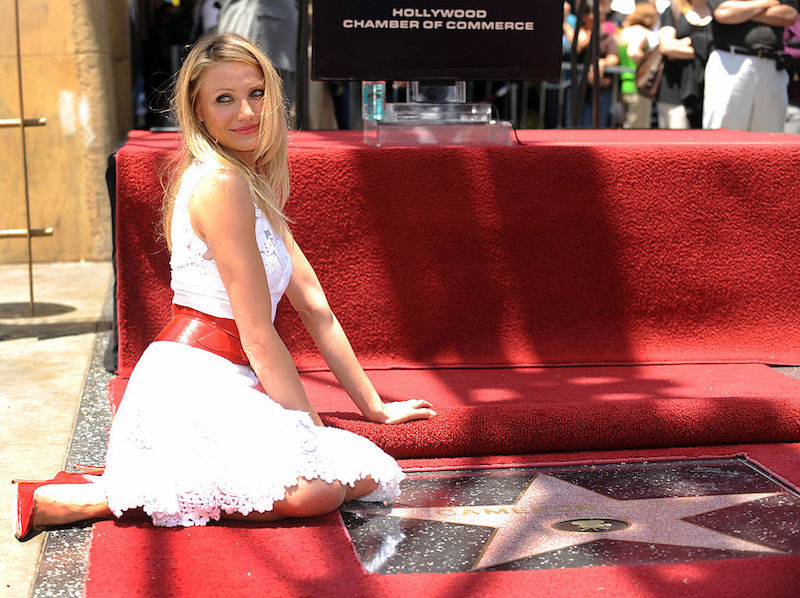 In 2009, Cameron Diaz, who is of Cuban descent, was honored with a star. The actress made her feature film debut in 1994 when she played Jim Carrey's love interest in the comedy The Mask.
She went on to star in several hit movies, including There's Something About Mary, My Best Friend's Wedding, and Vanilla Sky to name a few.
Next: Comedian's dream comes true
6. George Lopez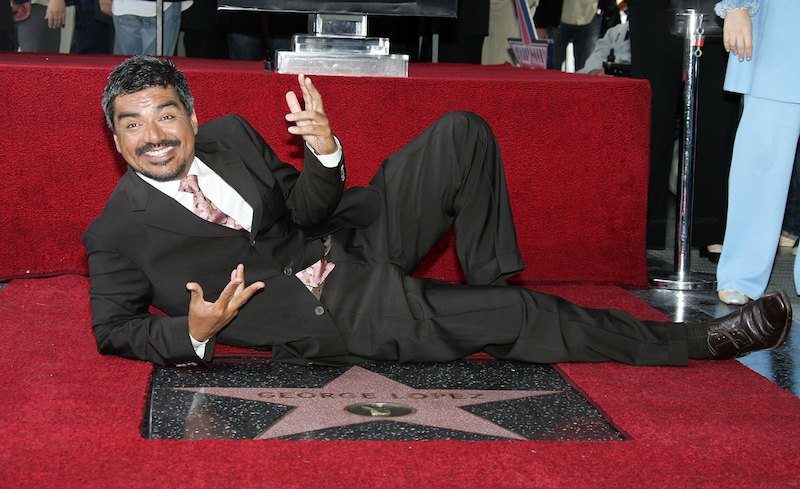 Funnyman George Lopez has always said that it was a dream of his to get a star along the famous boulevard and in 2006 that dream was fulfilled. The Mexican-American comedian, who is known for the ABC sitcom George Lopez as well as his stand-up routines, received the 2,306th star on the walk.
He also earned several awards for his work in the Latino community and received the 2003 Imagen Vision Award, the 2003 Latino Spirit Award for Excellence in Television, and the National Hispanic Media Coalition Impact Award.
Next: Colombian songstress earns star
7. Shakira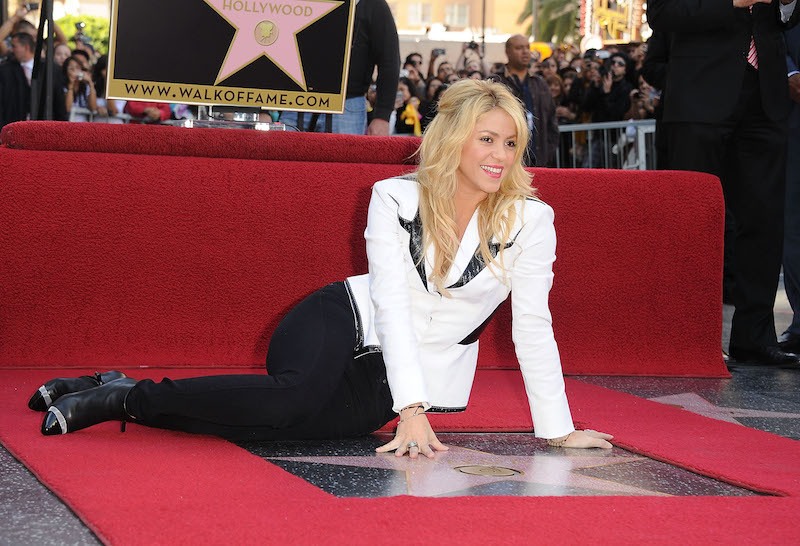 Singer Shakira got her star on the Hollywood Walk of Fame in 2011. The entertainer released her first album, Magia, when she was just 13 years old and has since become the highest-selling Colombian artist of all time with multiple Grammy Awards, Latin Grammy Awards, and Billboard Latin Music Awards.
Next: Menudo member goes solo, gets star
8. Ricky Martin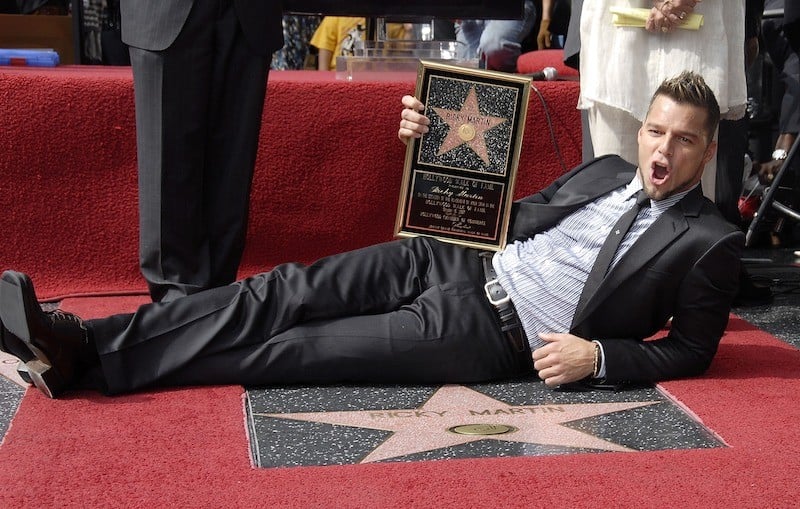 In 2007, Ricky Martin received his star on the Walk of Fame. The singer was a member of the Latin boy band Menudo in the '80s, but he gained fame as a solo artist with his smash hit "Livin la Vida Loca" in 1999. He accepted the honor in front of hundreds of adoring fans waving the Puerto Rican flag.
"This is an incredible moment," he told the crowd. "Everything I do, I do with love and passion."
Next: Pop princess honored with star
9. Christina Aguilera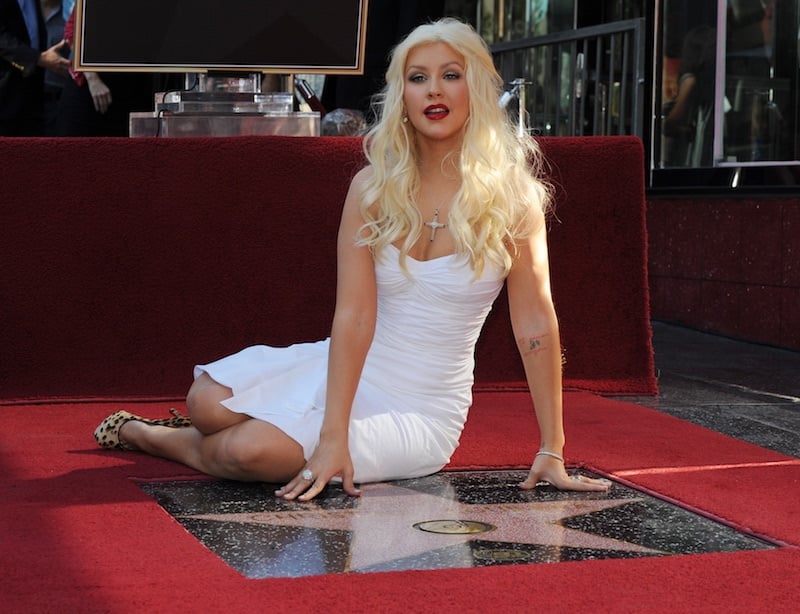 In 2010, Christina Aguilera was honored with a star on Hollywood Boulevard. Aguilera, whose father is Ecuadorian, participated in many talent shows as a youngster and finally got her break on Star Search in 1992.
She then landed a gig on the Disney Channel's The New Mickey Mouse Club and got her first record deal in 1999.
Next: Actor joins wife with star on walk
10. Javier Bardem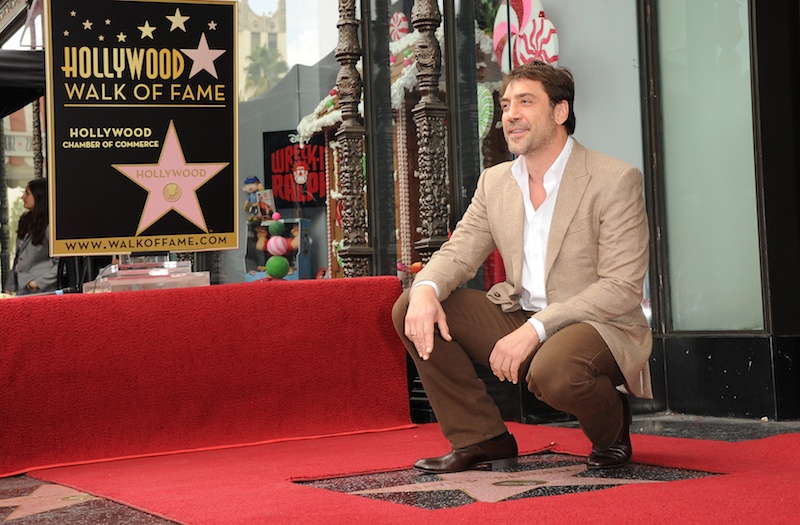 In 2012, Javier Bardem joined his wife, Penelope Cruz, with his own star on the famed sidewalk. Both fans and critics alike have praised him for his versatile performances.
In 2008, Bardem received an Oscar for Best Supporting Actor in No Country for Old Men. An Academy Award is another achievement he and Cruz each have. Is there anything this couple can't do?
Next: Cuban American singing icon receives star
11. Gloria Estefan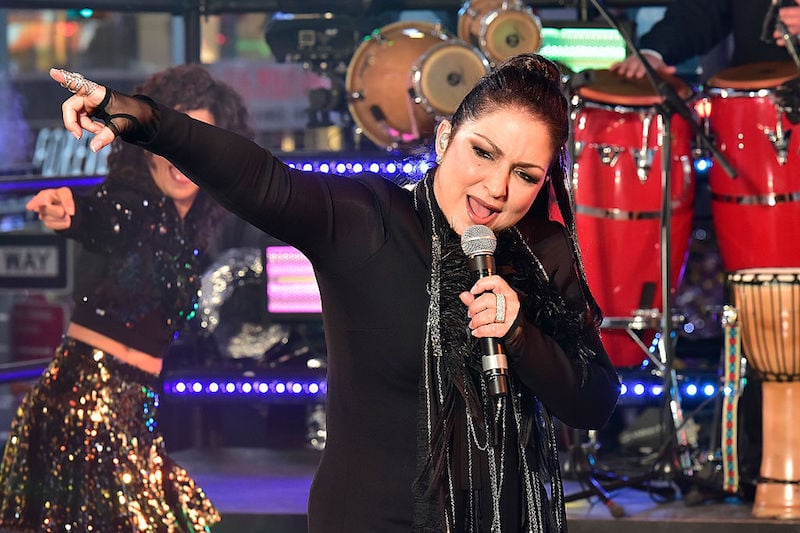 Icon Gloria Estefan was inducted to the Walk of Fame back in 1983. The "Conga" singer started her career off as the lead vocalist for the Miami Sound Machine. After dropping the group's name, she became credited as a solo artist.
Estefan is one of the most successful crossover performers in Latin music and also has a star on the Las Vegas Walk of Fame.
Next: Her other half also gets a star
12. Emilio Estefan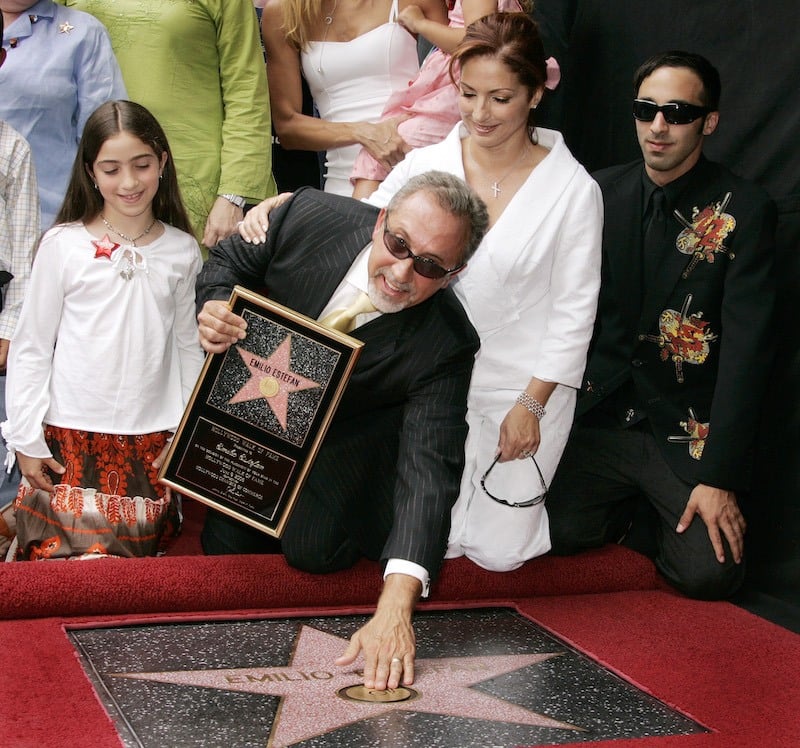 Gloria Estefan's husband, Emilio Estefan, received his own star on the walk in 2005. The music producer was recognized for his work with so many successful acts over the years. The star is located next to that of his famous wife.
Next: Spanish musician earns star on walk
13. Julio Iglesias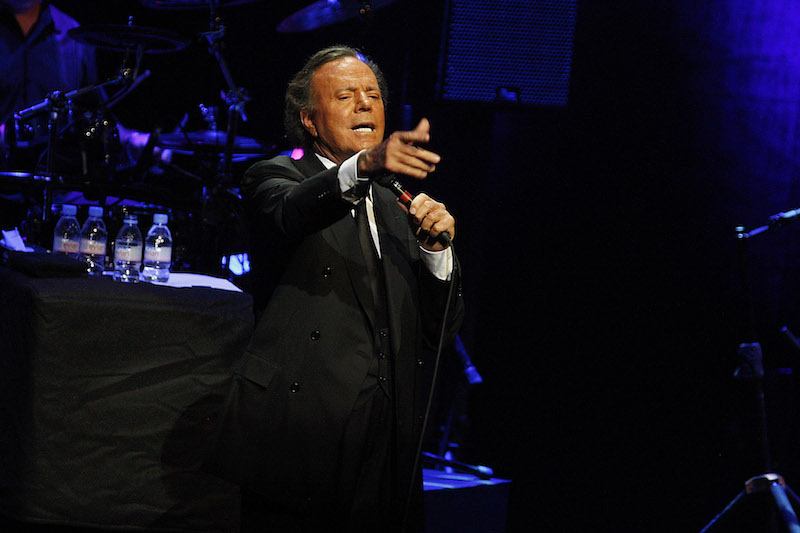 Julio José Iglesias de la Cueva, better known as Julio Iglesias, was honored with a star in 1985. The singer has had a string of hits throughout his career including "To All the Girls I Loved Before" recorded with Willie Nelson.
He's also earned multiple awards for his mark on the industry including a Grammy, Latin Grammy, World Music Award, Billboard Music Award, American Music Award, and Lo Nuestro Award. Music definitely runs in the Iglesias family as his son is singing sensation Enrique Iglesias.
Next: Legendary Puerto Rican performer honored 
14. Rita Moreno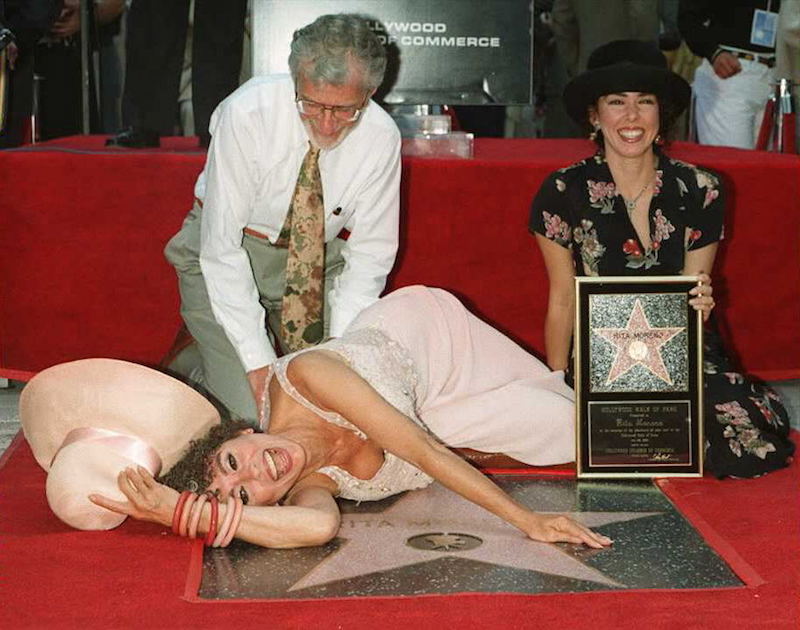 Actress Rita Moreno received a star on the Hollywood Walk of Fame in 1995. Moreno was the first Hispanic actress and one of only a few performers to have won an Emmy, an Oscar, a Grammy, and a Tony.
She is known for her work in classic films such as Singin In The Rain, The King And I, and West Side Story.
Next: Actress thrilled over star
15. Eva Longoria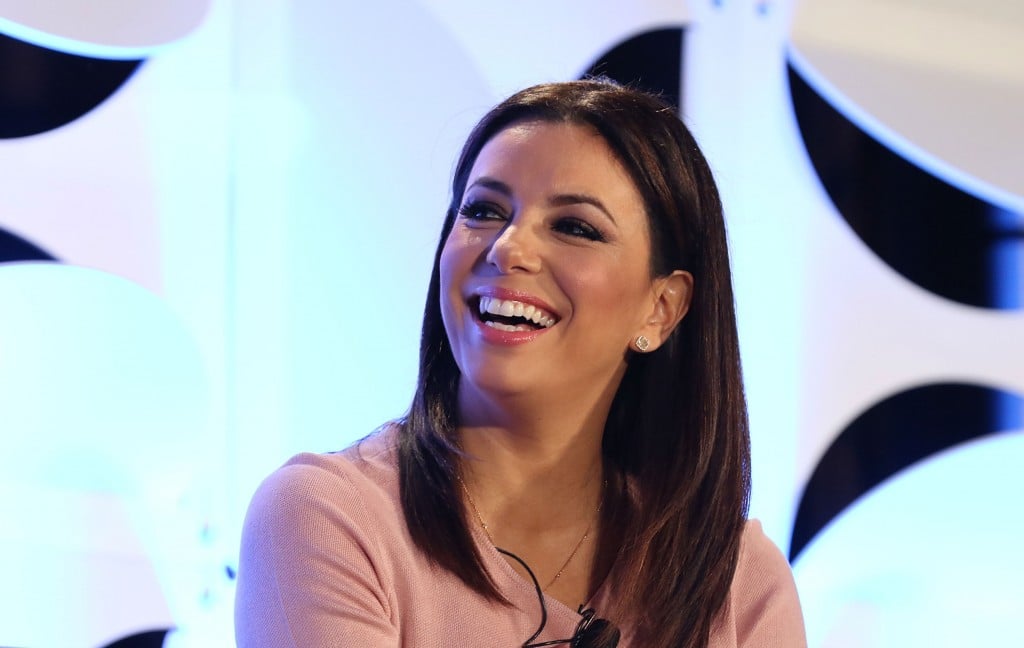 Like Selena, Eva Longoria was a 2017 Walk of Fame inductee. The actress talked about how thrilled she was to receive the honor on the same day as the late singer who hailed from the same Corpus Christi, Texas, town she does.
OMG I'm so honored to be receiving a star on the Hollywood Walk of Fame! I remember moving to Hollywood nearly 20 years ago and going straight to the iconic street and look at the stars and saying "I wanna have a star on this street one day!" I remember it so clear, I was on the corner of La Brea and Hollywood Blvd. What makes this even sweeter is that I stand side by side with my idol Selena Quintanilla!
Follow Michelle Kapusta on Twitter @philamichelle.
Read more: Selena Gomez and More Popular Hollywood Stars Who Stormed Out of Interviews
Check out The Cheat Sheet on Facebook!