Lauren Zima Posts A Steamy Photo Of Her And 'Bachelor' Host Chris Harrison To Celebrate Their One-Year Anniversary
Entertainment Tonight reporter Lauren Zima and Bachelor host Chris Harrison have been dating for one year.
In an interview with former Bachelor Nick Viall on his podcast, The Viall Files, Zima revealed that she made the first move.
"Oh, I DM'd him," she said.  "I will say, I DM'd after a bit of a vibe."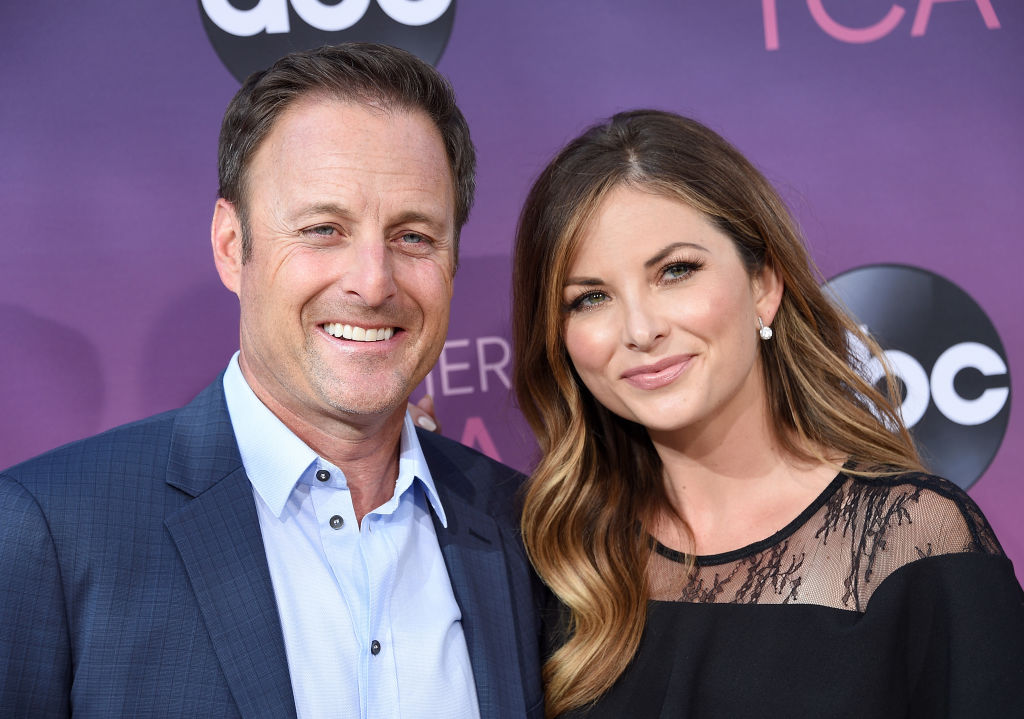 The two had worked together in a professional sense for years. But Zima said, one day, the energy between them changed.  
"It was always incredibly professional," she said. "Not in a negative way … but I never looked at him and ever considered [if] I found him attractive."
Zima says the nature of their relationship changed after a conversation they had at a craft service table.
"He just gave me a different vibe," she said. "It was fairly overt. He mentioned something about picking his kids up or something. He somehow brought up being single, I think. And then I said something like, 'I'm single now,' and he was like,' Oh.' But I said it in a more eloquent way. God, I don't know. Somehow it was communicated … I opened the door and he walked through."
And the rest is history.
The photo Lauren Zima posted of her and Chris Harrison in celebration of their one-year anniversary
The two are pretty active on social media together, always commenting on the other's posts. So it's no surprise that Zima posted a sweet photo of the two of them in honor of their anniversary.
"Happy anniversary ❤️ In this year I've leaned on you, laughed with you and fallen in love with you for the incredible man that you are. Thank you for adding to my life with your positivity, perspective and patience, and for supporting me in becoming exactly who I want to be. Thank you for being a source of joy, and for knowing that life is good when love is easy. Oh, and big thanks for the copious amounts of wine," she wrote.
Bachelor Nation flocked to the comments to wish the couple well.
"Here for it," wrote Colton Underwood.
"Cuties," commented Hannah Godwin along with a heart-eyes emoji.
"Love this so much," commented JoJo Fletcher.
"Love you two together!! 🌹 Happy anniversary," commented Annaliese Puccini.
"Hot," wrote Viall.
"Hell freakin yes!" commented Jason Tartick.
Before Lauren Zima
Prior to dating Zima, Harrison was married for 18 years to Gwen Jones, his high-school sweetheart. The former couple has two children together. At the time of his divorce, Harrison wasn't keen on the idea of being single again.
"I guess I am a bachelor now, which scares the holy hell out of me—I'm not going to lie—because I haven't been one since the early '90s, and I thought those days were over—and I was happy to have them over! I was never one of those married guys that was like, 'Man, I wish I was at the club at 4 a.m. with those guys! I am so happy to be home, I love my life at home," he told E! News back in 2012.
He also told the publication that he's hoping for "another great marriage" someday.
We'll have to wait and see if Zima and Harrison choose to give each other their final roses.
Read more: 'The Bachelorette': Fans Are Finally Chilling Out With The Negative Comments On Jed Wyatt's Instagram