'Law & Order: SVU' Season 21, Episode 4: 'The Burden of Our Choices'
The new season of Law & Order: SVU has no signs of slowing down. They're taking on controversial topics and this week was no different. Episode 4 of season 21 is called The Burden of Our Choices and involves a pro-choice and pro-life debate for the ages.
Det. Amanda Rollins has her child baptized
The episode starts off with a new detective joining the ranks of SVU, Katriona "Kat" Tamin (Jamie Gray Hyder) who helped on the Sir Toby (Ian McShane) case. Det. Amanda Rollins' (Kelli Giddish) child gets baptized, and Captain Benson (Mariska Hargitay) is on hand as one of the godparents.
The detectives search for Evangeline
The case gets going when it's revealed that a young 13-year-old is missing from Ohio, Evangeline Miller (Kira McLean), who has come to the Big Apple to get an abortion. Her parents think she's there to see a man named Isaac (Stanley Simons). The detectives track down Isaac, who says Evangeline needed a place to stay and he let her "crash" at his place. Isaac also lets it slip that she was in search of money so he let her borrow his dog and told her to go panhandle.
The victim is pregnant and suffered abuse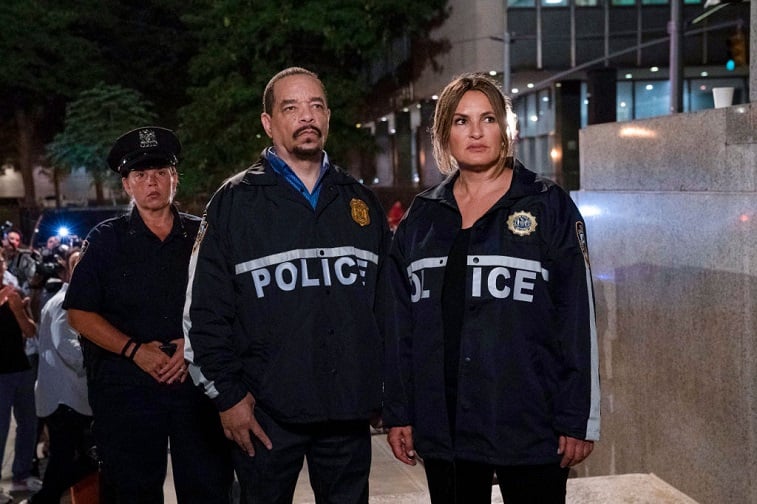 The detectives track her down panhandling and they take her to the hospital when she passes out. It's soon revealed that she's pregnant and also has vaginal scarring. She's clearly been abused for a number of years.
Evangeline came to New York to get an abortion. She clearly feels overwhelmed. The detectives try to help her take the necessary steps to get the abortion she wants. "New York has full reproductive rights for girls of any age," Benson says.
Evangeline reveals the truth
Meanwhile, Evangeline's parents arrive on the scene and immediately start talking about her keeping the baby. Child protective services end up taking Evangeline. At the court hearing, Evangeline finally reveals the truth. She doesn't want to return to Ohio because of her stepfather, Jim Miller (Zach Gilford), who has been abusing her for years. "No I can't, because he put this baby inside me," says Evangeline as she points at her stepfather.
Evangeline finally tells the detectives that her stepfather was abusing her since the age of 11. She even says she told her mother, Tammy (Lucy Walters). It's clear where her mother stands. "She can't kill our grandbaby," her mother tells the judge.  
A lawyer tries to get them all arrested for helping Evangeline
A lawyer from Ohio tries to have everyone arrested that is involved in helping Evangeline. It becomes clear it's going to be a pro-choice and pro-life argument. "The baby is innocent of sin," the lawyer argues. He wants them all charged with conspiracy to commit murder for anyone helping Evangeline have the abortion. He tries to get them all sent to Ohio to face charges, which of course doesn't happen. The court ends up denying the request in the end.
Evangeline gets justice
Evangeline tries to commit suicide by throwing herself down a flight of stairs. This ends up being the wake-up call her mother needs to believe her about her stepfather's abuse. The situation clearly stuns Tammy who is given a choice between believing her daughter and cutting her husband out of their lives, or her daughter will enter the foster care system. She chooses her daughter in the end.
Jim is finally confirmed to be the father by Ohio authorities and he is charged with child rape. Evangeline is able to get the abortion and Det. Rollins is there with her before she goes in.