Leslie Jones Breaks Her Silence on 'SNL' Exit
It was recently revealed that Leslie Jones will no longer grace our television screens on SNL. Fans are understandably upset at the thought of Jones no longer on Saturday Night Live. She is absolutely hilarious and will be dearly missed. It could be that with all of her other projects she has going on right now, that she is just moving on to other things. Jones voiced a role for The Angry Birds Movie 2 recently and is hosting her own Netflix special. After a lot of speculation, Leslie Jones has finally broken her silence and talks about her exit from SNL.
Leslie Jones releases a statement on social media
Jones released a lengthy statement through her Twitter account, confirming that she will indeed not be returning to the show after being a part of it since 2014. "Yes it's true I am leaving Saturday Night Live," wrote Jones. "I cannot thank NBC, the producers, writers, and amazing crew enough for making SNL my second home these last five years. Lorne Michaels, you've changed my life in so many ways! Thank you for being my mentor and confidant and for always having my back. You not only have my loyalty but you have my heart too! You have shown me skills I never imagined I had. I leave a better performer because of you."
Jones thanked the cast members of 'SNL'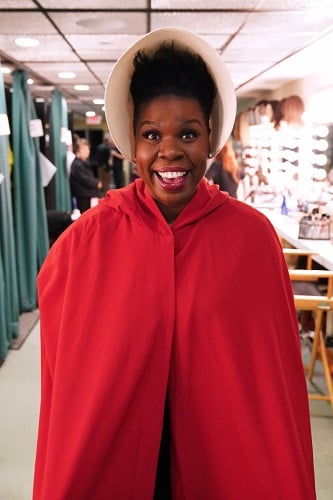 Jones continued and thanked the cast members, who she will dearly miss. "To the incredible cast members: I will miss working, creating and laughing with you. I will miss holding it down with Kenan everyday, I will miss Cecily's impression of me making me laugh at myself often, I will miss Kate's loving hugs and talks when I needed. And of course Colin, you porcelain-skinned Ken doll," wrote Jones. "I will miss all my cast mates!! Especially being at the table reads with them!! Everyone needs to know Leslie Jones couldn't have done any of the things I did without these people."
She also gave love to her fans
Jones also gave a shout out to the fans and teased what's to come in her future. "One last thing," Jones continued. "to the fans — you are the BEST!! Thank you for all the love and support through my SNL years and I know you will be as excited as I am when you see some of the amazing projects and adventures that I have coming up very soon! Love you all!! #iamnotdeadjustgraduating."
Leslie Jones has been nominated for her work on 'SNL'
Jones has been nominated for her work on SNL twice for an Emmy Award in Outstanding Supporting Actress in a Comedy Series in 2017 and 2018. This year she is nominated for another Emmy in Outstanding Original Music and Lyrics. She co-wrote the lyrics to "Upper East Side," a song that was featured on SNL.
Jones is joining Netflix
Jones is joining a host of other comedians who have their own Netflix stand-up specials. Jones' project will arrive on Netflix in early 2020. She visited Jimmy Kimmel Live! and announced the stand-up special that's soon to come.
"I am doing a Netflix special," Jones explained to Kimmel. "So ya'll finally get to see what I really do."
She talked about how stand-up is actually her main profession. "I mean, it's great to be an actress but I'm actually a stand-up, hardcore. That's what pay the bills."
Fans will miss seeing Leslie Jones on SNL, but it is comforting to know that soon she will be on Netflix in her own comedy special. She also has other projects in the works, so this is definitely not the last we see of her.