Liam Hemsworth Reportedly Wanted to Reconcile With Miley Cyrus Until This Happened

By now, you've probably heard the news that Liam Hemsworth filed for divorce after seeing those infamous photos of Miley Cyrus making out with Brody Jenner's ex, Kaitlynn Carter. While the two had already been estranged, sources previously said he was heartbroken to see Cyrus move on "so quickly" and "so publicly."
But his feelings on the makeout session reportedly aren't the only things that prompted him to file for divorce. Apparently, his family's reaction to it reportedly also influenced the actor to break things off with Cyrus for good.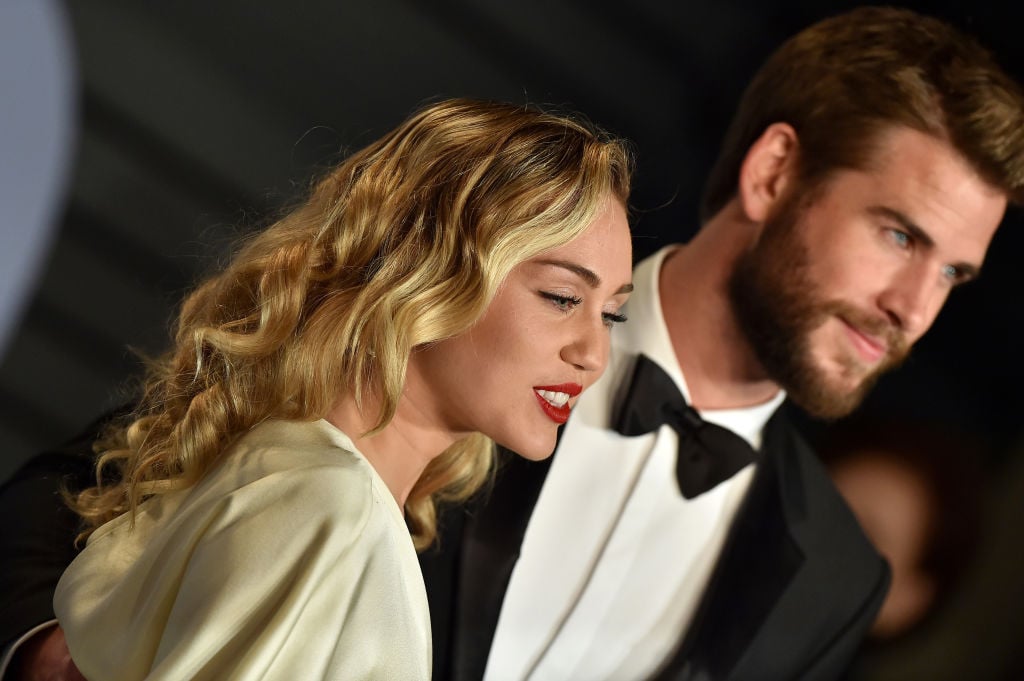 More on Hemsworth's decision to file for divorce
A source told Us Weekly on Aug. 28 that Hemsworth initially believed that he and Cyrus could "work it out." But he ultimately decided to file because Cyrus was "being so open about her relationship with Kaitlynn."
"He thought they could work it out, but all those pictures of her and Kaitlynn ended that," the source explained. "Liam comes from a very conservative family and his family was freaked out by it."
An E! News source made similar comments on Aug. 23.
"Even though Miley and Liam were separated for a while before she was photographed making out on the yacht with Kaitlynn, once Liam saw those photos he decided it was time to file for divorce," the source said. "That was it for him, seeing those photos."
Another source echoed those comments to Entertainment Tonight on Aug. 21, saying that Hemsworth's family is "relieved it's over."
Where Hemsworth and Cyrus stand now
According to the E! News source, the divorce process is "amicable." 
Hemsworth wished nothing but the best for Cyrus in an Instagram post shared shortly after the news of their split broke, and he's also letting her keep all 15 of their pets.
"Liam has come to terms that it was time to move on," a source told Entertainment Tonight on Aug. 21. 
Meanwhile, Cyrus is reportedly a little "disappointed" by their impending divorce. But, at the same time, sources say she's doing OK.
"She didn't expect it and is a bit disappointed, but she is still doing well and has obviously moved on as well," a source told People on Aug. 21.
"What she and Liam had for a long time was very special," the source continued. "It's just hard for her to think that she will never have this again with Liam. There are really so many things that she loves about him."
Shortly after the divorce filing, Cyrus got an apparent breakup tattoo. "My head was feeling scared, but my heart was feeling free," it reads. The lines are lyrics from a song called "The Thing" by the alternative rock group the Pixies.
So, what's going on with Cyrus and Carter?
At this point, it seems like the newly-single women are enjoying their time together. When they're not hitting events like the 2019 MTV Video Music Awards, they're "staying together" in Los Angeles.
"They are both going through similar stuff right now and are bonding over it," an insider previously explained to People. "Miley is very close with Kaitlynn. It's romantic, but also a friendship," the source added.
It's unclear what will happen with these two from here. But we'll definitely keep you posted with any updates.