Liam Hemsworth Reveals Why He Finally Married Miley Cyrus
Australian actor Liam Hemsworth and singer Miley Cyrus finally tied the knot a few days shy of Christmas last year. While the pair have been together for almost a decade, fans thought they would never get married! There was just so much time between their engagement and their actual marriage, not to mention the breakup rumors that regularly came and went.
Given Cyrus had mentioned she had no desire to get married while she was so young, what could have pushed the couple to finally say their vows?
Liam Hemsworth and Miley Cyrus fell in love on set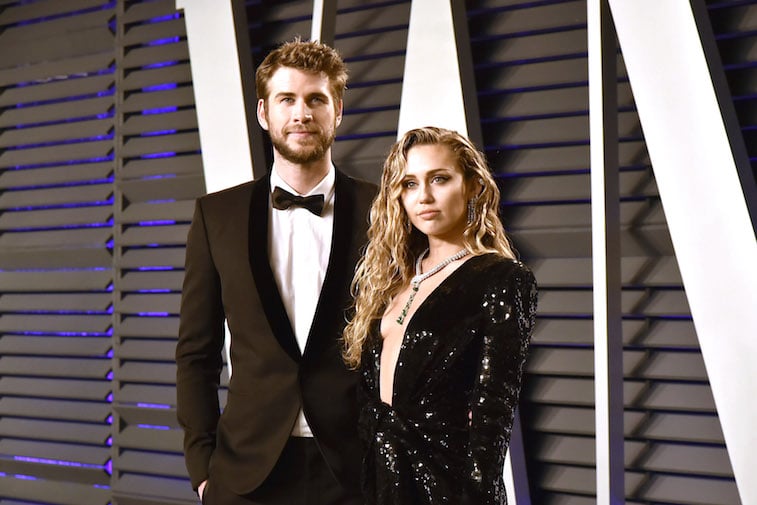 There's nothing more romantic than reading stories about movie stars falling in love on set. While GOT superstars Kit Harington and Rose Leslie are one of the newest fan-favorite fairy tale romances, Hemsworth and Cyrus took the cake back in their day!
It was during the filming of the 2010 teen drama The Last Song that the two stars met. In the film, Cyrus plays Ronnie Miller, a rebellious girl who connect with her estranged father through their mutual love of music. Where does Hemsworth fit in? Ironically enough he plays Will Blakelee, the boy she falls in love with. Well as it turns out, the film was a blueprint for their real-world romance.
Hemsworth and Cyrus experience trouble in paradise
In less than a year, the two made their relationship "red-carpet" official. While fans fell in love with the charming duo, the honeymoon phase wouldn't last very long. Cyrus said that Hemsworth was the inspiration for her album Can't Be Tamed.
With a title like that it probably makes sense that they took a break two months later. Sources stated that summer breakup was a result of their overwhelming work schedules, but you have to admit Can't Be Tamed certainly sounds like a much more personal breakup track.
They rekindled their relationship in early fall only to publicize another split before Thanksgiving. Once again sources came to the rescue to put rumors to rest, "[It's] just a time out."
June 2012 marked their engagement!
It was official! The cute couple were taking things to the next level! Just three months after they acted together on set, the two were engaged. As far as fans were concerned their relationship had stabilized and everyone was expecting a wedding.
Both Cyrus and Hemsworth shared their happiness about the growth in their relationship. Cyrus was especially ecstatic saying, "I'm so happy to be engaged and look forward to a life of happiness with Liam."
That's why the announcement that the two would be scrapping their engagement in September 2013 shook fans. Looks like all the news surrounding their romance was just too much for the couple to handle. Well, as the old saying goes, "Love finds a way"! Their engagement was back on after four years apart.
Miley Cyrus lets the world know she doesn't plan to get married right away
In a 2017 interview, Cyrus opened up about her plans with Liam.
I don't envision marriage. I'm 24. I hope I get to live a little bit more. I have too much living to do [before I get married]. Three years ago, if you'd asked me if I'd be here, this happy with this man, I'd have been stunned. I'm just riding this out. In some relationships, you lose yourself by being with someone else. Actually, it made me find myself more. I have no idea what the next three years will bring, but if it's possible to get even happier, I'll take it.
While fans were waiting with bated breath to finally see the fairytale romance hit its peak, they were more than willing to wait for the perfect moment. Then the two suddenly tied the knot in less than a year, both shocking and elating fans worldwide.
So, why did Liam Hemsworth and Miley Cyrus finally get married?
Ironically enough the latest news surrounding the couple was they had once again separated. This came after the singer's social media blackout in July last year. But then in a complete turn around the two went from "separated" to Mr. and Mrs. Hemsworth in just a few months. What triggered the couple to suddenly have a change of heart?
The pair lost their Malibu home in a tragic turn of events. A fire swept through and wiped out everything they had built together over the years.
Despite the danger, Hemsworth swooped in and rescued their animals from the burning building. It was at that moment that Cyrus realized just how much she loved Hemsworth.
It was really the tragedy and the reminder that tomorrow is never guaranteed that brought the two closer then they have ever been. As the pop star said, "I'm not sure without losing Malibu, we would've been ready to take this step or ever even gotten married, who can say? But the timing felt right and I go with my heart," the singer told Vanity Fair. "No one is promised the next day, or the next, so I try to be 'in the now' as much as possible."