Liam Hemsworth's New Girlfriend, Gabriella Brooks, Is Getting Dragged On Instagram for Just Leaving a Relationship
There's a lot going on in the world of celebrity romance. And if there's one famous person who's been tough to keep track of in 2019, it's Miley Cyrus. Cyrus is currently dating Australian singer/songwriter Cody Simpson, and before that, she was dating Brody Jenner's ex, Kaitlynn Carter. And of course, all of Cyrus' more recent dating ventures came after her decade-long romance with Liam Hemsworth ended.
Hemsworth and Cyrus might have to go to court in 2020 for their divorce. But for now, they're both moving on — and Hemsworth is allegedly dating supermodel Gabriella Brooks after a brief romance with actress Maddison Brown.
There might be some trouble in paradise, however. Brooks' Instagram followers are dragging her for ending her long-term romance with her famous ex. Here's what's going on.
Liam Hemsworth was spotted with Maddison Brown post-breakup from Miley Cyrus
Hemsworth and Cyrus just tied the knot at the end of 2018, and it was a shock to all of their fans when they decided to split up during the summer of 2019. All eyes were on Cyrus when she was first spotted with Carter over the summer, too. Though by October 2019, it was Hemsworth who was turning heads with Brown.
In the fall, Hemsworth and Brown were reportedly spotted kissing while in New York. And a source even told People, "It's very new. Liam is taking it slow, but he's definitely interested in her."
Some reports even claimed Hemsworth and Brown were talking about Cyrus' antics behind her back. Perez Hilton reports an insider told Radar Online, "[Hemsworth] was pretty annoyed when pics surfaced of them making out in New York. So now they're keeping it all behind closed doors — and laughing at Miley's immature attention-seeking in the process."
Hemsworth and Brown remained quite tight-lipped about their romance, however. Hemsworth never discussed it publically. And when reporters asked Brown for details, she told them, "I'm not answering that question. My rule is not talking about my personal life."
Hemsworth reportedly has a new girlfriend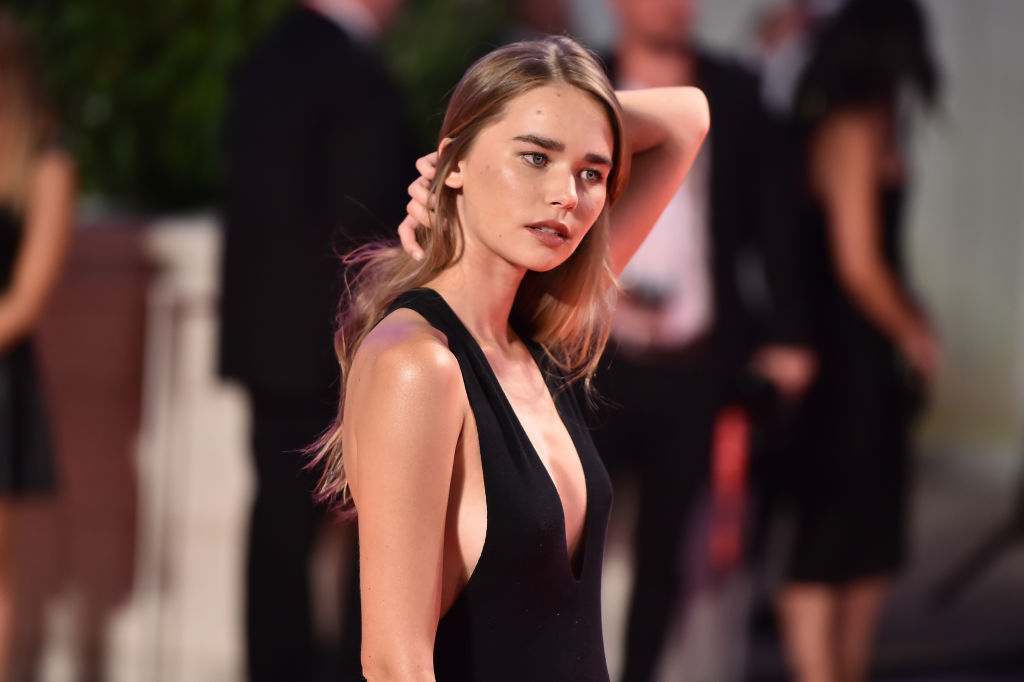 While several news outlets seemed to push the idea that Hemsworth and Brown were quite happy together, it seems their romance is totally over. Now, Hemsworth has been spotted with supermodel Gabriella Brooks.
People reports Hemsworth already brought Brooks home to mom and dad, too. The 21-year-old met the Hemsworths in mid-December, and they appeared to all get along quite well. The reports claimed Brooks greeted Hemsworth's mother with a smile and was also seen hugging her.
A source spoke to Us Weekly about Hemsworth's budding relationship, too. "Liam feels comfortable with Gabriella," the source alleged. "His family approves of her and really likes her, which is very important to him."
So, now that Hemsworth is happy with Brooks, what happened to Brown? Considering he was just seen kissing the actress two months prior to his new relationship, some may assume they had a massive and abrupt fallout — but that may not be the case. Instead, it seems the two may not have been all that serious to begin with.
"Liam and Maddison weren't that serious and were mainly having fun together," the source confirmed.
Gabriella Brooks is getting dragged on Instagram for her previous relationship
So far, fans seem to feel positive about Hemsworth moving on with any woman who isn't Cyrus. But Brooks' Instagram followers are confused about her relationship status, as she was dating The 1975's frontman, Matthew Healy prior to her current relationship with Hemsworth.
Capital FM reports Brooks and Healy were in a relationship for four years before she grew tired of his partying ways. The publication notes a source told The Sun, "He parties a lot at home when he's there and Gabby had just had enough. She doesn't want to lead her life like that."
Brooks' Instagram followers aren't happy. As one of Brooks' Instagram followers commented, "lmao you really left matty for liam?!?"
Another wrote, "Daily Mail ran an article you're dating Liam Hemsworth pls shut this down and let that gossip column know you're dating Matty."
Brooks has yet to comment on her new romance, and there's a good chance she'll keep her personal life private. But we're curious to see just how serious she and Hemsworth will be.
Check out Showbiz Cheat Sheet on Facebook!